We have a very short four game slate this afternoon with two of these games having potential rain issues. Let's take a look at some of the targets I like today to get you ready for this slate. As always, you can get me on the ol' Twitter machine @SBuchanan24.
Pitchers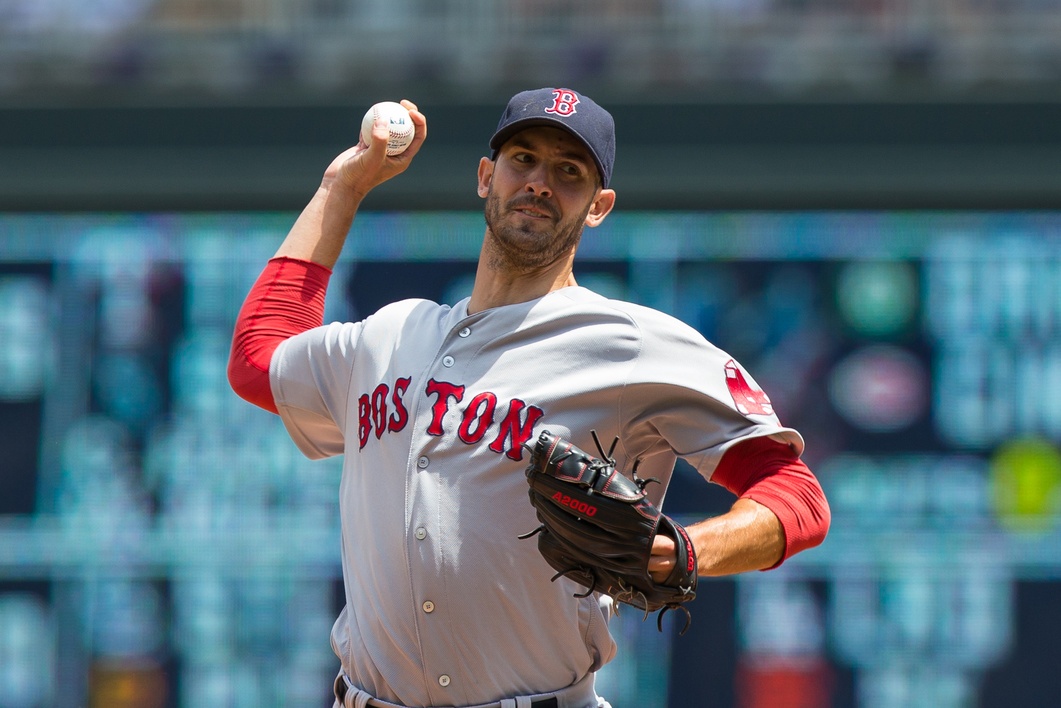 Studs
Rick Porcello – BOS vs. CHW – $9,900 – You would think it would be the opposite when pitching at Fenway Park, but Rick Porcello is pitching much better at home than he is on the road. Coming into today, Porcello owns a 3.03 ERA at Fenway, averaging 22.9 FPPG in six starts with a K/9 of 9. Porcello's teammates have been making the White Sox look like one of the best hitting clubs in the league these past few games, but we all know that simply isn't true. On the season, the White Sox own a team .301 wOBA against righties with a .308 OBP and a .384 SLG. Even with the aid of Fenway Park, they shouldn't be looking as good as they have these first three games of this series. With Porcello somehow managing to use Fenway Park to his advantage, he should be able to grab a solid start in this spot this afternoon.
Values
Jerad Eickhoff – PHI vs. MIN – $9,400 – I would hardly consider $9,400 a value, figuring that Porcello cost just $500 more. However, on this slate, you're not going to do much better with what is below Eickhoff, believe me. Eickhoff comes into today sporting a 3.49 ERA with a 1.21 WHIP and averaging 16 FPPG. He's been much better at home than on the road this season, but does have a fairly decent matchup against the Twins. This is a team that owns a .306 wOBA against right-handed pitching with a .313 OBP and a .396 SLG. Eickhoff did have a nice outing on the road two starts ago, where he faced off against the Blue Jays and threw six innings allowing no runs on three hits with a 5:4 K:BB ratio. Facing a much less intimidating Twins team, Eickhoff could be in line for another solid road start.
---
Batters
Studs
David Ortiz (1B) – BOS vs. CHW – $5,600 – Ortiz taking on Shields today has home run written all over it. Shields is letting up home runs left and right since coming over to the AL, with five in just three starts. With a .396 wOBA to lefties on the year, you have to love Ortiz in this spot.
Nelson Cruz (OF) – SEA vs. DET – $4,500 – Daniel Norris is starting his first game in the majors this season after spending some time in Triple-A. Last season, Norris saw some major league action and struggled immensely at home. Norris carried a 6.19 ERA with a wOBA of .333. Today, he faces off against Nelson Cruz, who continues to crush left-handed pitching, especially on the road. Coming into this start, Cruz owns a .553 wOBA with a .918 SLG against lefties on the road this season. "Hi, I'm here for the smoke show, reservation is under Cruz."
Buster Posey (CATCH) – SFG vs. PIT – $4,600 – Jonathon Niese is pitching "better" at home than he is on the road this season, but that really isn't saying much. Today he faces off against the Giants and Buster Posey. He's been great against left-handed pitching on the road this season, owning a .367 wOBA with a .543 SLG. Even though Niese has allowed a ton of home runs, 17 to be exact, only four of them have come at PNC Park. Not saying it's impossible, but that's fairly impressive, even though I'll be hoping for a big fly from Posey.
Miguel Cabrera (1B) – DET vs. SEA – $5,200 – I can't keep up with Cabrera and his every changing salary for the day. Checking in at $5,200 today, the home field-hitting machine takes on Adrian Sampson this afternoon. Cabrera really has been crushing it at home this season, averaging 10.7 FPPG with a .477 wOBA and a .705 SLG, he's almost matchup proof at this point. At home against a right-handed pitcher, Cabrera owns a .610 wOBA with a .963 SLG and a .528 OBP.
Xander Bogaerts (SS) – BOS vs. CHW – $5,400 – I think almost everyone on the Red Sox is in play this afternoon going up against Shields. Did you know in his three starts since joining the White Sox, Shields has not allowed less than seven runs in a start? Pretty awesome if you're on the Red Sox, isn't it? Bogaerts continues to mash, especially at home this season where owns a .394 wOBA with a .504 SLG. Just another Red Sox hitter to add to the list for today.
Values
Melky Cabrera (OF) – CHW vs. BOS – $2,700 – Cabrera is crazy cheap this afternoon, and I'm not really sure why. Averaging 6.9 FPPG, I wouldn't say that's someone deserving to be under the $3K mark, but I'm not mad about it. What I found interesting is that Cabrera always hits well at Fenway Park and has done so all throughout his career. In 196 at-bats Cabrera owns a .319 average with a .471 SLG with 17 doubles, two triples and two home runs. I'll take those numbers for $2,700!
Franklin Gutierrez (OF) – SEA vs. DET – $3,400 – Gutierrez had that monster two home run game against the Red Sox just about a week ago and hasn't really followed it up with anything impressive since. I do like his chances against Norris, who is a left-handed pitcher, this afternoon. On the season, Gutierrez owns a .441 wOBA against lefties on the road this season with a .654 SLG and four of his eight home runs. He won't crush you salary wise, but he could crush it in points today.
Josh Jaso (1B) – PIT vs. SFG – $3,200 – Jaso isn't exactly crushing it lately, but I like this kind of pick on a slate like this because even today, Jaso should be overlooked. You're going to have to differentiate yourself somehow so this could be a nice way to do so. Against right-handed pitching this season, Jaso owns a .343 wOBA with a .430 SLG. These numbers jump up slightly at home and I like that Albert Suarez, pitching for the Giants today, has a .358 wOBA against lefties this season.