We have 10 games going this afternoon to kick off our Saturday. I'll get you set with some of my favorite targets for this solid slate of games. As always, you can get me on the ol' Twitter machine @SBuchanan24.
Pitchers
Studs
Zack Greinke – ARZ vs. PHI – $13,000 – Overall, I'd say this isn't the best slate for pitching, so Greinkie taking on the Phillies has to be one of the top match ups. I think it's safe to say that Greinke is back to his old self, averaging 26.3 FPPG over his last five games. On the road, Greinke has been fantastic for the Diamondbacks. Owning a 1.54 ERA with a .229 wOBA and a 9.7 K/9, Greinke lines up perfectly in this start against the Phillies. The Phillies continue to struggle at the plate against righties, owning a .285 wOBA with a .283 OBP and a .376 SLG. Even with Greinke being the most expensive pitcher on this slate, he should be a fantastic play regardless of where you play him.
Danny Salazar – CLE vs. CHW – $11,400 – After a couple of less than stellar starts against the Red Sox and Orioles, Salazar rebounded nicely with two solid outings against the Royals and Angels. In those two starts, Salazar pitched 13.2 innings allowing two runs on six hits with a 17:9 K:BB ratio. Aside from the shaky control, Salazar has been fantastic this season, especially when playing at home. In five games at Progressive Field, Salazar is averaging 28.2 FPPG with a 1.50 ERA and a K/9 of 9.5. The White Sox continue to dwell near the bottom of the league against righties with a .301 wOBA and a .382 SLG with a 20.6 K%. Again, another expensive pitcher for today, but one that should be a fine play.
Values
Tyler Chatwood – COL vs. MIA – $8,400 – I think it's all the more impressive that Chatwood owns a 2.89 ERA while pitching half of his games at Coors Field. I think that speaks a lot about his talent in my opinion. He's been FANTASTIC on the road this season, dare I say, near untouchable. Chatwood owns a 0.65 ERA with a 0.84 WHIp in six road starts this season, averaging 23.6 FPPG. While his 28:11 K:BB ratio on the road could be a bit better, it's really hard to find something to complain about here for Chatwood. At $8,400, he's a nice value play going up against the Marlins, who own a .298 wOBA at home with a .309 OBP.
---
Batters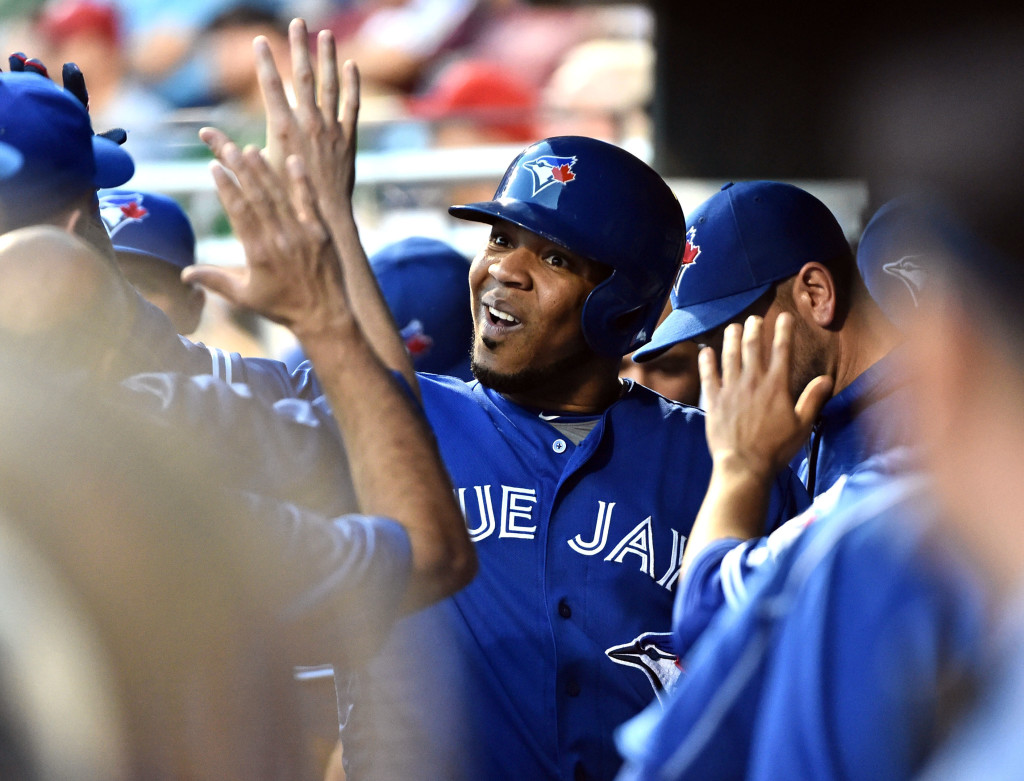 Studs
Edwin Encarnacion (1B) – TOR vs. BAL – $5,500 – I think this game has the potential to really get out of hand for the Orioles. They're starting Yovani Gallardo off the 15 day disabled list today and the reports from his rehab have not been good. With a fastball that isn't even touching 90, you have to imagine this is an incredible spot for the Blue Jays to jump on Gallardo often and early. Against righties this season, Encarnacion owns a .347 wOBA with a .485 SLG and 12 of his 18 home runs.
Carlos Santana (1B) – CLE vs. CHW – $5,400 – The Indians are fortunate enough to get James Shields today, who has REALLY been struggling on the mound. Actually, I don't even think struggling is the right word for this. Anyways, Shields is coming off his third straight game in the negative points and doesn't have a very favorable matchup today, either. In one of the best hitting ballparks for hitters, Shields will take on Santana, who is a fantastic candidate to take him deep. Shields has allowed 13 home runs this season, while Santana has hit six of his 14 at home. A switch-hitter, Santana owns a .363 wOBA against righties at home this season with a .476 SLG.
Nolan Arenado (3B) – COL vs. MIA – $4,700 – I would never say that $4,700 is a cheap price, because it certainly isn't. However, getting Arenado at this price DOES feel like it is a bit cheap. Averaging 8.6 FPPG on the road, Arenado has been smashing left-handed pitching this season and goes up against Wei-Yin Chen today. With a .420 wOBA to go with his .597 SLG, Arenanado has been a force against lefties this season.
Buster Posey (CATCH) – SFG vs. TBR – $4,300 – Posey was slumping for a bit this month, but he looks to be back on track. Averaging 8.4 FPPG over his last ten games, Posey gets a nice matchup against Matt Moore at Tropicana Field today. Moore is allowing a .344 wOBA to righties with 11 of his 14 home runs allowed. Posey owns a .318 wOBA against righties this season with a .176 ISO.
Jose Altuve (2B) – HOU vs. CIN – $5,500 – Hard not to include one of the best hitters in all of baseball right now. Altuve continues to do it all for the Astros, even if the rest of his team isn't doing the same. He faces off against Cody Reed, who is making his major league debut today. Fortunately for Altuve, Reed is a lefty pitcher, which falls right into his wheelhouse. Against lefties, Altuve owns a .462 wOBA with a .593 SLG and a .220 ISO. He's expensive, but should be worth it as he almost always is.
Xander Bogaerts (SS) – BOS vs. SEA – $5,400 – Bogaerts gets to face another pitcher getting the call up today in Adrian Sampson. Bogaerts has been smashing anyone that gets put on the mound against him, owning a .382 wOBA against rightes. Fenway Park has been a favorite for Bogaerts, owning a .393 wOBA with a .405 OBP. One of the most consistent hitters in the league this season, Bogaerts is always in consideration.
Values
Zack Cozart (SS) – CIN vs. HOU – $3,800 – Cozart is always a great value play in my opinion, as he bats leadoff for the Reds and is always getting on base. Coming into today, Cozart owns a .282 average to go with nine home runs, 26 RBIs with a .801 OPS. Going against Dallas Keuchel today, who is allowing a .347 wOBA to righties this season, Cozart owns a .366 wOBA against lefties. If you don't want to pay up for Bogaerts, Cozart could be a nice value at shortstop.
David Peralta (OF) – ARZ vs. PHI – $3,900 Peralta may still be working off some of that rust from recently coming off the disabled list, but he's always an option when facing right-handed pitching. Peralta owns a .329 wOBA against righties this season with a .464 SLG. Facing Jerad Eickhoff who is allowing a .334 wOBA to lefties with five of his nine home runs. Peralta will certainly be someone who is overlooked on this slate.
Tommy Joseph (1B) – PHI vs. ARZ – $2,900 – If you're looking for a punt play with some player and will be extremely underowned, look no further than Tommy Joseph. His matchup against Greinke certainly isn't one I'm all excited about, but Joesph owns some solid power against right-handed pitching with five home runs in 28 games against right-handed pitchers. Greinke has given up his fair share, with 10 on the season.