We have eight games going this afternoon with a very light pitching selection. After a night like yesterday with so many big name pitchers going, the hitters will certainly rule this slate. I've showcased some of my favorite picks for this afternoon below. As always, you can get me on the ol' Twitter machine @SBuchanan24.
Pitchers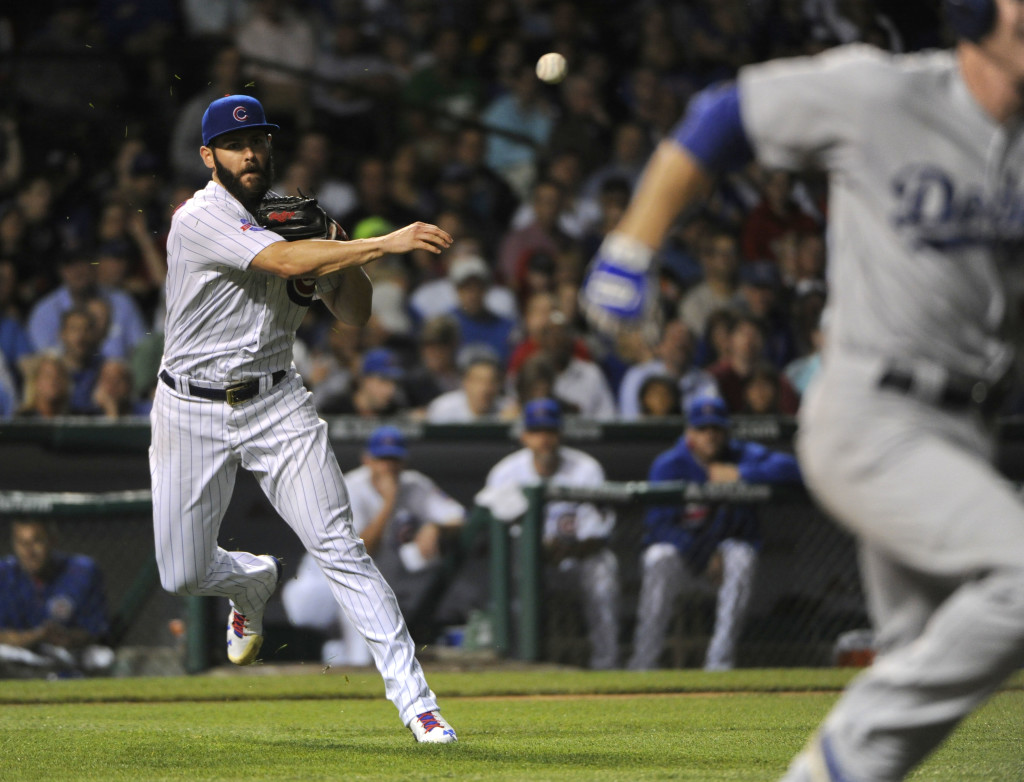 Studs
Jake Arrieta – CHC vs. ATL – $13,500 – Get ready for Arrieta to be over 60% owned in almost all formats today! Going up against the Braves, Arrieta is the no brainer favorite pitcher on this slate in a very underwhelming list of pitchers going today. With the Braves struggling in every offensive category known to man, Arrieta should be able to breeze through this start with no issues. The only concern I have with Arrieta is that he has been getting pulled a bit early lately. In his last four starts, he's made it only five innings twice, against the Diamondbacks and the Cardinals. Granted, the Braves are NO WHERE near the caliber of these offenses, but's just noteworthy in my opinion. Averaging 26.7 FPPG this season, Arrieta and his $13,500 price tag will certainly be one of the most popular picks of the afternoon.
Chris Archer – TBR vs. HOU – $10,400 – I really don't want to give Archer the "stud" title because he's been anything but that this season. To be honest, this start against the Astros is extremely boom or bust, but with what we have for choices this afternoon, Archer lands here by default. Archer has been essentially alternating good start for bad start this season, look at his 10-game log on DraftKings, you'll see it. One factor that goes his way for today is that the Rays are playing at home where Archer has been his best. In five home starts, Archer owns a 2.03 ERA with a 1.13 WHIP with an 11.3 K/9. With the Astros ranking 3rd in the league in K% against righties at 25.2%, this COULD end up being a stellar start for season, but I've said this about him before this season and we got anything but that.
Values
Dan Straily – CIN vs. OAK – $7,300 – Straily is interesting to me, you don't have a ton about him, but he's been pretty solid for the Reds thus far. Interestingly enough, he's pitched better at home than on the road this season, which feels backwards figuring he's pitching at the Great American Ballpark. He takes on the A's today who hit about the league average on the road with a .307 wOBA and a .404 SLG. At home this season, Straily owns a 2.84 ERA with a .261 wOBA to opposing hitters. Straily isn't a huge strikeout guy at home, owning a 6.6 K/9 at home, but he's cheap enough that grabbing score in the mid-teens should do it, and I think that's obtainable.
---
Batters
Studs
Nolan Arenado (3B) – COL vs. SDP – $5,600 – Boy is Arenado expensive or what? As the most expensive hitter on this slate, Arenando shouldn't be as hard to fit in as you may think, as we have so many inexpensive pitchers going today. His matchup is a fantastic one taking on Erik Johnson. Making only two starts this season, Johnson has already allowed FIVE home runs with all of them coming against the Chicago White Sox. At Coors Field against a right-handed pitcher, Arenado owns a .423 wOBA with a .685 SLG.
David Ortiz (1B) – BOS vs. MIN – $5,400 – Kyle Gibson returns from a lengthy stint on the DL, as he makes his first start since April 22nd. In his return he faces the Boston Red Sox. Yeah, good luck with that. Ortiz has always CRUSHED it at Target Field (the team that cut him), and has been mashing righties on the road. Ortiz owns a .392 wOBA with a .633 SLG and a .354 ISO.
Wil Myers (1B) – SDP vs. COL – $5,000 – To say that Myers is on a tear right now would be an understatement. Over his last 10 games, Myers is averaging 17.2 FPPG. Let me type that one more time, 17.2 FPPG!!!! How is that even possible? Well, this is how; Myers is 18-41 with six home runs, 15 RBIs with 12 runs scored. Whew. Hitting in the friendly Coors Field certainly helps his cause today.
Evan Longoria (3B) – TBR vs. HOU – $4,800 – Mike Fiers has not been good on the road this season. Averaging 2.9 FPPG on the road this season in five starts, Fiers takes on the Rays at Tropicana this afternoon. Against righties this season, Longoria owns a .353 wOBA with a .528 SLG and 12 of his 14 home runs.
Michael Conforto (OF) – NYM vs. MIL – $4,300 – Conforto hasn't been crushing the ball as of late, but that's nothing a start against Wily Peralta can't fix. Conforto owns a .390 wOBA against righties this season with a .290 ISO and a .572 SLG. Peralta continues to struggle in almost every start and is allowing a .413 wOBA to lefties at home this season.
Eduardo Nunez (3B/SS) – MIN vs. BOS – $4,100 – If Eduardo Rodriguez struggles again in this start; Nunez could be one of the reasons for that. Nunez continues to crush the ball this season, especially against lefties. At home against lefties this season, Nunez owns a .558 wOBA to go with his overall .452 wOBA against lefties. At just $4,100, Nunez can nicely fill your shortstop position with a solid chance to bring some production.
Values
Jose Altuve (2B) – HOU vs. TBR – $4,100 – Even if Chris Archer ends up with a solid game today, Altuve at $4,100 is value city. Averaging 11 FPPG, Altuve batting leadoff at this price is something you want to take advantage of. Hitting .340 on the season with 10 home runs, 37 RBIs and 18 steals; Altuve has the ability to reach his value very quickly in this game. Truly, I would have a really hard time leaving him on the board at this price.
Adam Jones (OF) – BAL vs. TOR – $4,000 – Jones seems to have gotten his mojo back after being slotted into the lead off spot. Averaging 10.4 FPPG over his last ten games, Jones is 10-43 in that span with two doubles and four home runs with 9 RBIs. J.A. Happ owns a .318 wOBA against righties with all nine of his home runs allowed. Jones could be a nice play at this price, especially with his spot batting lead off.
Khris Davis (OF) – OAK vs. CIN – $4,100 – Khris Davis playing in a hitters park is always something I consider. Ironically, he's hit more home runs at Oakland this season than on the road, but that's a story for another day. He plays in one of the best hitter's parks today against Dan Straily, who has allowed eight home runs on the season. You're essentially rostering Davis for that big fly only, so with this ballpark in his favor, Davis is certainly a consideration for today.
Kelly Johnson (2B) – NYM vs. MIL – $3,200 – If you're looking to punt at a position, second base may be the spot to do it with Kelly Johnson. This matchup is more about how poorly Wily Peralta is against lefties than Johnson facing righties. Peralta owns a .382 wOBA against lefties this season with a .505 SLG. With Johnson now on the Mets, he has a MUCH better lineup surrounding him, which brings more opportunities for him. At this price, you can't expect much but could end up being surprised.