Pitchers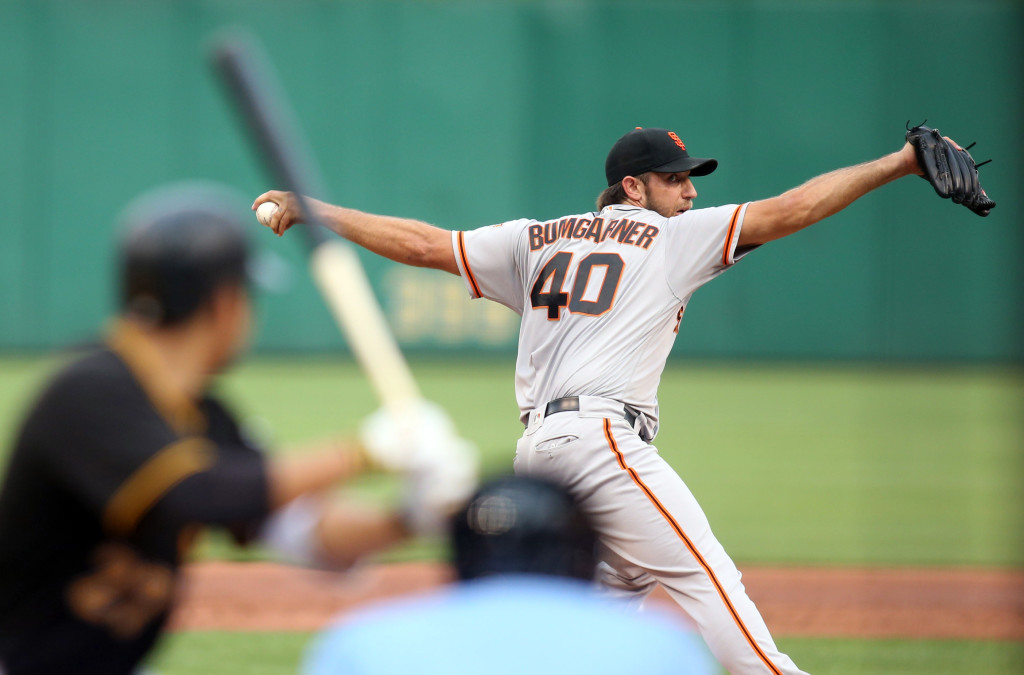 Studs
Madison Bumgarner – SFG vs. CIN – $13,200 – Bumgarner is by far the most expensive pitcher on this slate at $13,200, which is $2,400 more than Brandon McCarthy. He faces the Reds this afternoon at home in a prime matchup. The Reds come into this game owning a .311 wOBA with a .307 OBP, a .415 SLG with a 23.3 K%, which ranks 8th in the league. Bumgarner has been fantastic at home this season with a 10.1 K/9 and holds opponents to a .225 wOBA with a .264 SLG. He needs to be considered the top pitching option on this six game early slate.
Values
Adam Conley – MIA vs. PHI – $9,000 -Conley is another pitcher who has a great matchup on tap, taking on the Phillies. It's been a really rough year for the Phillies and it won't get much easier this afternoon. Facing left-handed pitching, the Phillies rank dead last in wOBA at .278, OBP at .288 and 28th in SLG at .356. Then we add in the fact that they rank 4th in K% at 23.6% and Conley quickly becomes one of the most attractive options on this slate. With an 8.6 K/9 on the season, Conley has a solid start against this Phillies team under his belt already, going six innings and allowing one run on eight hits with a 5:1 K:BB ratio.
---
Batters
Studs
Josh Donaldson (3B) – TOR vs. SDP – $5,400 – Donaldson gets to face the gas can that is Luis Perdomo this afternoon at the Rogers Centre. Perdomo has flashed his talent at times this season, but he still carries a .398 wOBA against righties with a .520 SLG. Possessing immense power, Donaldson has been fantastic at home owning a .448 wOBA against righties with a .667 SLG.
Michael Saunders (OF) – TOR vs. SDP – $4,600 – Saunders has been fantastic against righties at home this season; so once again, we'll be talking about Perdomo. On the road, Perdomo owns a .417 wOBA against lefties with a .602 SLG. On the flip side, Saunders owns a .398 wOBA against righties at home with .552 SLG and five home runs.
Angel Pagan (OF)- SFG vs CIN – $4,000 – Pagan has been fantastic at AT&T Park against righties this season, so this afternoon should be no different. Pagan owns a .377 wOBA against righties at home with a .519 SLG and a .366 OBP. He's been hitting the ball well as of late, averaging 8.9 FPPG with two doubles, a triple and two home runs.
Travis Shaw (1B/3B) – BOS vs. DET – $4,100 – Shaw doesn't do much against left-handed pitching, so when a right-handed pitcher is on the mound, I take interest. At home against righties, Shaw owns a .380 wOBA with a .521 SLG with 7 of his 12 home runs. He has a tough matchup against Michael Fulmer today, but overall this is a tough slate for hitters.
Howie Kendrick (OF) – LAD vs. TBR – $4,700 – I'm not a big fan of the price tag for Kendrick this afternoon, but truly the options are quite slim. He's been hitting much better as of late, averaging 10.6 FPPG over his last ten games. He's facing off against left-handed pitcher Matt Moore, who is allowing a .323 wOBA against righties. Kendrick has a .333 wOBA against lefties with a .372 OBP. I think he'll be low owned because of his price, which hopefully makes it a plus for you.
Daniel Murphy (2B) – WAS vs. CLE – $5,100 – I'm not a big fan of the matchup, but I'm a fan of the hitter. Murphy has been one of the best hitters in the league this season, batting .350 with 19 home runs, 74 RBIs and averaging 9.6 FPPG. He faces Carlos Carrasco, who has been solid this season, but he's been "weaker" against lefties, owning a .281 wOBA with five of his 13 home runs allowed. Believe me, I know it's a stretch, but as I've mentioned this is a really tough slate for hitters.
Values
Ryan Schimpf (2B) – SDP vs. TOR – $3,400 – R.A. Dickey has been getting crushed by lefties this season, so Schimpf at $3,400 is one of the top value plays on the afternoon. Against lefties, Dickey owns a .363 wOBA allowing 11 of his 24 home runs. Schimpf may not have great overall numbers, but he owns a .402 wOBA against righties with a .628 SLG with eight of his nine home runs.
Alexei Ramirez (SS) – SDP vs. TOR – $2,400 – Ramirez has been struggling almost this entire season as he enters this game with a .244 average to go with three home runs, 35 RBI and averaging 5.3 FPPG. He does have some decent numbers in a small sample size against Dickey this afternoon, so taking a chance on that at just $2,400 is something I'm ok with doing. Ramirez is 5-13 against Dickey with a double, two home runs and five RBIs.
Buster Posey (CATCH) – SFG vs. CIN – $3,400 – Posey is just too cheap this afternoon and you have to think he's going to be highly targeted. Against right-handed pitchers this season, Posey owns a .331 wOBA with a .340 OBP. AT&T Park doesn't exactly do him any favors, but the catcher position is looking mighty ugly tonight.
---
I am a promoter at DraftKings and am also an avid fan and user (my username is Steveazors) and may sometimes play on my personal account in the games that I offer advice on. Although I have expressed my personal view on the games and strategies above, they do not necessarily reflect the view(s) of DraftKings and I may also deploy different players and strategies than what I recommend above.