Wednesday's early-only slate has a lot going on. We have seven games on the docket and four teams with implied-team totals at or above five runs. The 'fade Coors' team is going to have a difficult time today because some of the matchups are just too good, but as you'll see below, we have some very familiar names at suppressed prices which makes lineup construction intriguing on this Wednesday afternoon. Let's dig in. Oh, and find me on Twitter, @RyNoonan.
Pitchers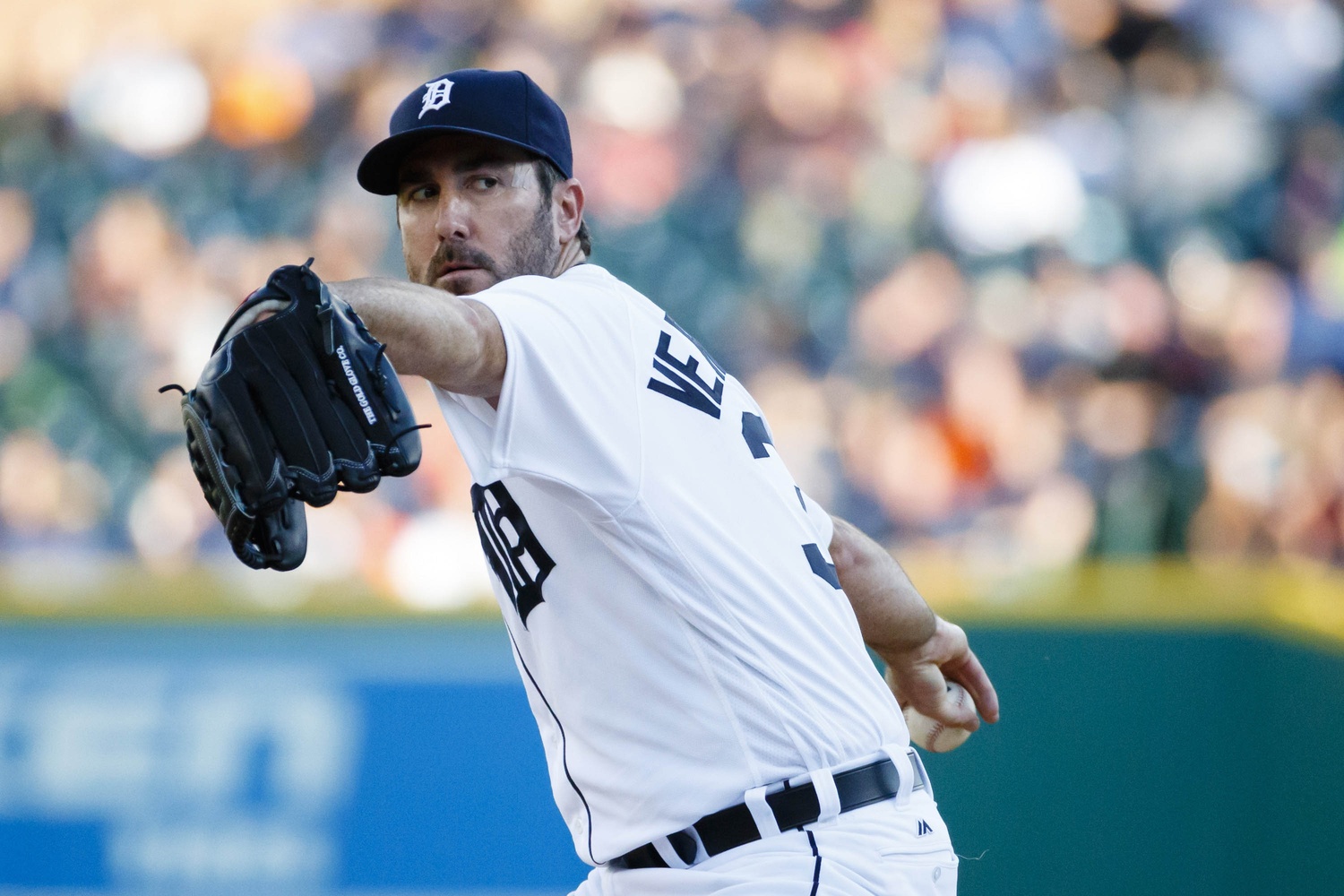 Studs
Justin Verlander – DET vs. MIN – $11,000 – We're going to have a difficult time paying up for pitching AND loading up on Coors bats, so it's an either/or for me today. If you go with the pitching route, I like Verlander's spot the most. He's pricey but the Twins offer little resistance against right-handed pitching, entering play ranked 20th in terms of wRC+ with a middle-of-the-pack strikeout rate. He's been really consistent this season and has flashed the elite-level K upside that he showed early in his career, including 10 punch-outs against the Twins earlier this season.
Carlos Carrasco – CLE vs. KC – $10,400 – Carlos Carrasco hasn't been particularly sharp his last couple of times out, but I think that increases his tournament appeal today. He has a four-pitch arsenal of swing-and-miss stuff and his 27.8% strikeout rate since the start of last season backs that up. The Royals can be feisty, but they enter play ranked 22nd with a 93 wRC+ and .314 wOBA against right-handed pitching.
Values
Chris Archer – TB vs. COL – $5,700 – This is not for the faint of heart. Obviously targeting the pitcher who's facing the team with the highest run projection of the day is not the smartest idea, but there's a ton of strikeout upside here with Archer. He's struggled with command all season long, and home runs in particular have been his undoing. On DraftKings K's are King, and Chris Archer can still provide those in spades for just $5,700.
Doug Fister – HOU vs. OAK – $6,400 – Doug Fister is essentially the anti-Archer play. He's been solid yet unspectacular all season long, but his lack of strikeouts make him an easy DFS fade most times out. Today he's a viable SP2. He keeps the ball down, and that pitch-to-contact approach mitigates the damage done by his opponents. The positive park shift in Oakland doesn't hurt his cause either.
---
Batters
Studs
Josh Donaldson (3B) – TOR vs. ARZ – $5,500 – Josh Donaldson against a lefty in a positive park shift? Yes, please. He's the highest priced option at a LOADED third base position, and a great alternative if you're fading Coors.
Jake Lamb (3B) – ARZ vs. TOR – $5,400 – My preferred play at the position is Jake Lamb. He'll go under-owned today due to the plethora of options, but his .448 wOBA and 180 wRC+ vs. right-handed pitching are both higher rates than Donaldson's hitting against lefties.
Steve Pearce (1B/2B) – TB vs. COL – $5,300 – I don't want to bombard you with Rays and Rockies here, but truth be told they're all in great spots. The Rays are the best offense in the league against left-handed pitching, so Pearce, Brandon Guyer, Evan Longoria and company are all in play.
Carlos Gonzalez (OF) – COL vs. TB – $5,000 – Of all the Rockies' bats, I think Carlos Gonzalez is still the best play. He has elite level power against right-handed pitching, and we know Archer is giving up more fly balls and home runs than ever. I'd rather spend up on Tampa Bay, but a Rockies' stack needs CarGo.
Logan Forsythe (2B) – TB vs. COL – $5,200 – It's hard to not use Logan Forsythe today. A likely leadoff hitter on the road, Forsythe has extreme handedness splits and is always a viable play against a lefty due to his nearly 180 point spike in isolated power (.307 vs .127). Factor in Coors and it's easy to understand why he'll be a very popular selection.
Edwin Encarnacion (1B) – TOR vs. ARZ – $4,900 – Edwin Encarnacion is mostly split neutral offensively, but his 155 wRC+ against lefties this season is good enough to find him in the top-30. Patrick Corbin has been #bad of late, and E5 makes for a nice mini-stack with Donaldson if you're laying off Rays and Rockies.
Nolan Arenado (3B) – COL vs. TB – $4,600 – This is a fairly flat price for Nolan Arenado. He's not seeing the home field spike like most of his Colorado teammates are, and that alone presents an opportunity to buy.
Carlos Santana (1B) – CLE vs. KC – $4,800 – There may be players with more upside at the position, but Carlos Santana is a great way to spend up in cash games today. He's set to hit leadoff against Ian Kennedy, and he's been the catalyst of that red-hot Indians offense lately.
Values
Miguel Cabrera (1B) – DET vs. MIN – $3,800 – Anytime that Miguel Cabrera is below $4,000 he's worth a long, hard look. Facing Ervin Santana today, Cabrera's in a great spot to get on track in the second half. He's handled right-handed pitching better than left this season, showing a nearly 100 point difference in isolated power.
George Springer (OF) – HOU vs. OAK – $3,700 – While the majority of his teammates prices have held form, George Springer's took a nose-dive today. He's typically at or above $4,500, so this makes for an intriguing play based on price alone. Assured of nine innings of at-bats on the road in Oakland, Springer is an excellent cash game play.
Nelson Cruz (OF) – SEA vs. CWS – $3,500 – Nelson Cruz against a right-handed pitcher is one of my favorite tournament plays on most slates, and it's even easier to do when he's just $3,500. His .253 ISO against righties is significantly lower than it is against lefties, but it's still elite and one of the best marks in baseball. He's just THAT good against lefties.
Eric Hosmer (1B) – KC vs. CLE – $3,100 – It's a tough spot for the Royals against Carlos Carrasco, but they're priced accordingly. Hosmer and Salvador Perez are very much in play if you need to save money.
Yoenis Cespedes (OF) – NYM vs. CHC – $3,900 – Yoenis Cespedes has been one of the better split neutral bats in all of baseball since he entered the majors, until this season when he started destroying left-handed pitching. He's done so while maintaining his success against righties though, and his power upside is hard to ignore at $3,900.
Brian Dozier (2B) – MIN vs. DET – $2,600 – I feel like this price is a misprint. It's just so far out of line when considering that Brian Dozier has been priced above $5,000 more over the past month than he's been under $4,000, so yeah, $2,600 is appealing. Yes, he's significantly better against left-handed pitching, but he still has power against righties and is an easy punt play if you're spending up elsewhere.
---
I am a promoter at DraftKings and am also an avid fan and user (my username is RyanFix) and may sometimes play on my personal account in the games that I offer advice on. Although I have expressed my personal view on the games and strategies above, they do not necessarily reflect the view(s) of DraftKings and I may also deploy different players and strategies than what I recommend above.