There are five day games today, and another ten at night. We have contests for both groups of games, with game sets at 3:05 and then 7:05 EST. This article will contain daily fantasy baseball targets from both groups, at every position and price range. Good luck!
Enter the MLB $100K Payoff Pitch – Early (3:05 EST) and Late (7:05 EST) – $27 Entry >> DRAFT NOW!!
Starting Pitchers
Studs
Gio Gonzalez @ PHI ($9,100) – LATE – He would have been the most expensive guy on the board no matter the matchup, but he's also got the Phillies. He averaged a strikeout an inning last season, and he could outpace that figure in this matchup. That's the reason he is number one on the list of daily fantasy baseball targets for today.
Jonathan Niese @ ATL ($7,500) – LATE – Niese being in the two slot here definitely speaks to a distinct lack of aces to chose from today/tonight. But that being said, the Mets have a deep rotation, which ends up meaning the talent on the mound for them will often be superior to their opponent as they get to starters 4 and 5 – and this is made even more clear in week 1, when everyone's rotation are still on the same schedules.
Values
Dan Haren vs. TB ($6,400) – LATE – He's not as consistently good as he once was, but he managed a very respectable ERA and WHIP last season, and has had good stuff this spring. He had three K's in as many innings against the Nationals last time out, and the Rays have some free swingers, with 26 K's already on the season.
Hector Noesi vs. MIN ($5,500) – EARLY – If you are playing in the early contests, you don't have a lot of elite options at pitcher, which might make you more inclined to just save your money. But you still want someone who is not going to kill you, which you can hopefully find by looking at the other side of the Twins schedule.
Catchers
Studs
Wilin Rosario vs. Travis Wood ($5,300) – EARLY – It's nice to be able to get him into your lineup – it's a wonder the Rockies don't seem to always feel the same way. But he should be in there for this one, and he was dominant against lefties last year, never mind at home – he slugged over .600 with a .950 OPS, numbers that make him worth this price.
Jonathan Lucroy vs. Jeff Locke ($4,600) – LATE – He and the rest of his team are off to a slow start, but you just don't find a catcher hitting second, with the potential for a .300 season. It's going to turn around.
Values
Travis d'Arnaud @ Eric Stults ($3,800) – LATE – He is young, and he can hit. Two things to love about your team's catcher. He's got a hit in every game so far, at least, and if this is a hot streak, then you might as well ride it – and if it is just a progression in his game, then you might as well take advantage of this price while you can get it.
Stephen Vogt vs. Taijuan Walker ($3,500) – LATE – Generally speaking, Walker's name is one you should keep an eye on, because the young Seattle pitcher has shown an ability get guys out. Vogt isn't in the lineup every night, so double-check before gametime, but he typically sits only against lefties.
First Basemen
Studs
Paul Goldschmidt vs. Brett Anderson ($5,600) – Anderson gave up three runs on seven hits in 1.2 innings during his last spring training game. And Goldschmidt, who is 1-3 with in his only other matchup with this pitcher, is likely going to be right in the thick of any success they have offensively in this one.
David Ortiz @ Nathan Eovaldi ($4,900) – LATE – I'll take Ortiz in a Yankee Stadium that seems almost designed to accentuate left-handed power, against a pitcher against whom lefties hit almost .300 on his career, every single time.
Values
Logan Morrison @ Drew Pomeranz ($3,700) – LATE – Morrison hasn't done much so far, but it is encouraging that he has at least seen all the action at first in every game so far. With the easiest pitching matchup of the year so far, at least on paper, this could be a game where the Mariners break out.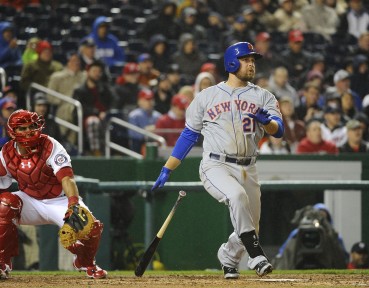 Lucas Duda @ Eric Stults ($3,500) – LATE – He is not going to sit every time against lefties, but will sit either tonight or Sunday, so he doesn't have to face two in three days. That being said, if the Mets only ever faced right-handed pitchers, his price would be a lot higher than this, so a slight drop against lefties is actually built in. And you have to imagine the Mets are giving him the chance because there is at least the possibility of him improving on last year's numbers. But also remember that built-in lefty weakness on nights when the Mets are facing a righty. That could prove to be built-in value most nights.
Second Basemen
Studs
Robinson Cano @ Drewm Pomeranz ($5,000) – LATE – Cano is a central cog in what should be a much-improved offense, and he finally got on track for this young season on Wednesday, roping two doubles in a 5-3 loss to the Angels. He can be an extra base hit machine at times, and when he is, he is well worth being one of the highest-priced players on the board.
Dustin Pedroia vs. Nathan Eovaldi ($4,500) – LATE – Pedroia hasn't had a hit since his 2-HR performance on Opening Day, but with a good matchup, in a hitter-friendly park that he has torn up a few times in the past, I think tonight there is as good a chance as ever of him breaking out again.
Values
Daniel Murphy vs. Eric Stults ($4,000) – LATE – He has a hit in each of his last two, which should at least make you feel comfortable that he didn't return too fast from the oblique injury he suffered in the spring. His runs and RBI should both improve with the move to the fifth slot in the batting order this season, and if the Mets can manage a big night against Stults, he should be a prime beneficiary.
Brett Lawrie vs. Taijuan Walker ($3,600) – LATE – Lawrie bounced back from his embarrassing four strikeout (on 12 pitches) game earlier in the week with four hits since then, and he is a guy that if nothing else, he can often make contact with fastballs thrown by righties (listen, you gotta take your compliments where you get them). He could be productive against a hard-throwing guy like Walker who might not yet be able to finesse his way through an at-bat.
Third Basemen
Studs
Josh Donaldson @ Bud Norris ($5,700) – EARLY – With two hits in their last game, Donaldson finally looked like the guy who was tearing it up all spring, hitting five home runs and maintaining an average well over .300. This Blue Jays offense should bust out in a big way plenty this season, on their way to a top-ten finish in runs scored (or close to it, at the very least), and Donaldson will be a big part of all of that.
Ryan Zimmerman @ Jerome Williams ($4,700) – LATE – Zimmerman is one of those guys who maybe fell in your roto draft because of injury concerns. Well, he is healthy right now, so you take advantage of it. If he gets hurt down the road, you move on. Ah, DFS. He has never faced this pitcher, but suffice it to say, the young arm from the Phillies better have his A-game with him to get through this lineup unscathed repeatedly.
Values
Mike Olt @ Tyler Matzek ($3,700) – EARLY – No one was happier about Kris Bryant opening up the year in the minors than Mike Olt, who looks like he will hold down third base for the Cubs until Bryant takes his job (which is probably happening before the end of the month). He is not someone to trust very often, but he DOES have power, which could translate against this pitcher, in this park, into a nice fantasy performance.
Mike Moustakas @ Hector Santiago ($3,500) – LATE – It is not easy recommending Moustakas in a matchup against a guy who can deal like Santiago, especially since the personal history is not good (0-9 for his career). However, Moustakas is only 26 years old, and the way he has been hammering the ball all spring and to start the season is making me at least start to wonder if this is an overall value progression and not merely a blip mon the radar.
Shortstops
Studs
Hanley Ramirez @ Nathan Eovaldi ($5,200) – LATE – Ramirez is 2-5 with a double in his career against Eovaldi, and he has started off the season well so far for the Sox. Playing in the friendly confines could help a hitter who has evolved into more of a power threat than anything else at this point in his career.
Ian Desmond @ Jerome Williams ($4,700) – LATE – The only player in the majors to hit 20 HRs and steal 20 bases in each of the last three seasons, Desmond had his best game of the young season last night, hitting two doubles and drawing a walk. He will look to continue that trend as the Nats look for a W against what figures to end up being one of the weakest squads in the league this season.
Values
Brad Miller @ Drew Pomeranz ($3,800) – LATE – He homered the only other time he's faced Pomeranz, and even though he is slated to bat ninth in this order, he should still benefit from any increase in production from the top of the order, especially if he can keep his OBS anywhere near the .400 mark where it is sitting right now.
Yunel Escobar @ Jerome Williams ($3,700) – LATE – Escobar is playing third right now, and he should have plenty of opportunities to produce hitting second in this lineup. Tonight could be a big night for a lot of Nationals, all of which could end up helping Escobar.
Outfielders
Studs
Mike Trout vs. Jason Vargas ($5,100) – LATE – A hit in every game so far, a couple of extra base hits peppered in, a couple of RBI – yup, he's still Mike Trout, and he's still the top outfielder in today's daily fantasy baseball targets.
Carlos Gonzalez vs. Travis Wood ($5,400) – EARLY – Gonzalez has started off the season on a tear, and on the road. You have to think coming back to the best hitters park in the league is going to help, but he is also facing a lefty. Luckily, his real struggles against left-handers come against power guys, which Wood is not, so he could definitely still do damage in this one.
Yoenis Cespedes @ Zach McAllister ($5,000) – EARLY – McAllister has good stuff, but he isn't someone who scares you away, and Cespedes already has five hits on the year, including a double and a triple. No matter what you think of the Tigers' chances this year, Cespedes is certainly going to be at the center of anything good they do.
Jason Heyward @ Jason Marquis ($4,900) – LATE – Looking at last year's run-production numbers is meaningless, as Heyward landed in a much better lineup this year, but there are definitely concerns about the direction taken by his power numbers. Nevertheless, a 3-5 start to the season got him off on the right foot with his new teammates, something he is obviously looking to continue.
Values
Angel Pagan @ Brandon Morrow ($4,000) – LATE – You have to love being able to save a little money and still grab a guy hitting in the heart of an order, like Pagan does for the Giants, sitting at third. True, it's a relatively weak-hitting lineup, but whatever production they do have, Pagan should be part of it.
M.A. Taylor @ Jerome Williams ($3,700) – LATE – Taylor looks like as long as he can keep up some production, he will play almost every day in center field and atop the batting order for the Nationals. That spot in the order could lead to lots of run production with some big hitters coming up right behind him, a trend that could easily show up in this one.
Jake Marisnick @ Derek Holland ($3,600) – EARLY – He sat out Wednesday, but that should not be too much of a concern for you on a daily basis, as he will likely get the vast majority of the starts. In this matchup Houston could actually see some offensive production, which is why you want to jump on these starting options when you can – lots of nights, the cheap options on these middling offenses are basically unusable.
David Murphy @ Alfredo Simon ($3,500) – EARLY – With another righty on the mound, I would expect to see Murphy in this one, most likely as DH. He can be a very productive bat for the Rangers in that role, with plenty of power to both fields to drive in his fair share of runs.
Whether you're getting into the early games or the late – or both – good luck!