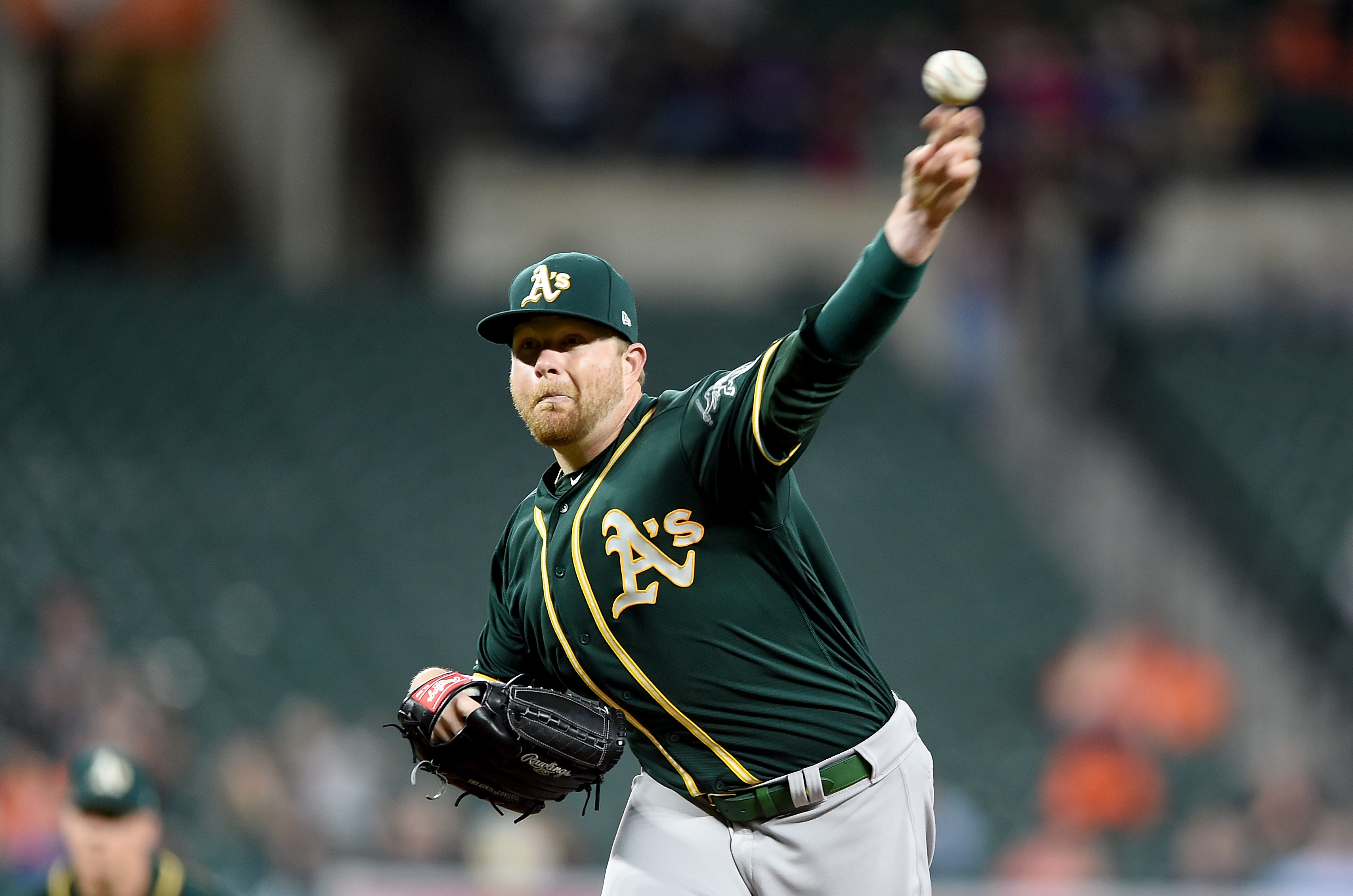 I like to think of myself as an extremely rational person. Stats over stories. Numbers over narratives. However, there's one major occurrence in sports that's difficult to ignore: Baby Swag. Simply put, it's when an athlete has a child and suddenly starts performing at superhuman levels. Sure, there are examples of people trying too hard to evoke Baby Swag. For instance, Philip Rivers and Antonio Cromartie had their supplies run dry around kid five; yet look no further than reigning NBA champion Fred VanVleet as evidence that "Baby Swag" still exists. Anyway, I bring this up because Oakland's starting pitcher this evening will be activated from the Paternity List prior to the Athletics beginning a series with the Rangers.
Will Baby Swag make Brett Anderson ($10,200) viable on tonight's featured Showdown slate? Let's get into it.
Note: All salaries will be Flex prices unless noted as Captain's Pick prices.
---
BETTING TRENDS
— The Athletics have trailed after three innings in each of their last seven games
— The 'Inning 1 OVER 0.5 runs' market has hit each of the A's past five Thursday night games against AL West opponents
— The Athletics have won each of their last six games at RingCentral Coliseum
— Nine of the A's past 10 night games after playing the previous day have gone UNDER the total runs line
Stats provided by DraftKings Sportsbook
---
SHOWDOWN STRATEGY
Oakland Athletics
The case for Anderson is a complex one, as the veteran doesn't really fit the archetype of a pitcher you'd generally be excited to use in a
DFS
setting. The most glaring issue is his overall lack of strikeouts. Among the 76 starters who have pitched enough innings to qualify in 2019, no one has a lower strikeout rate than Anderson's mark of 11.8%. Honestly, no one's even close. Fellow veteran Ivan Nova slots in as the lone other pitcher with a figure below 15.0% and he's at least up at 14.9% for the season. This tendency has obviously limited Anderson's ability to have an impact in fantasy. Despite the fact that the left-hander has surrendered three or fewer earned runs in 10 of his past 11 outings, Anderson's cleared the 15.0
DKFP
threshold just three times within that span of success. Heck, the 31-year-old completed his seventh quality start since June 7 the last time he took the mound against Minnesota and was still only able to muster 8.5
DKFP.
We're talking about a high-floor option with virtually no ceiling to speak of, yet, on this slate, he's the highest-priced player on the board. That's not exactly a combination that entices me.
However, if Anderson is a man who presents none of the traits that make for a desirable DFS arm; Texas is a lineup that makes for a tantalizing DFS opponent. At least they have lately. So far in July, the Rangers have the American League's lowest wRC+ at 77. They also possess baseball's highest strikeout rate at 29.6% – a figure that correlates directly with the fact that Texas sports MLB's worst strikeout rate against left-handed pitching for the entirety of 2019, as well. Really, knowing all that, it's not surprising that the last time Anderson faced the Rangers, he tied his season-high in strikeouts. Yet, as is his way, that meant just an underwhelming total of five for the LHP. It's likely we see a similar result this evening. Anderson's ability to mitigate dangerous opponent contact is a commendable skill – no AL pitcher with 200-plus batted ball events has a lower average launch angle than his mark of 4.8 degrees – but the surplus of contact itself makes Anderson more of an option in double-ups than GPPs.
Still, for all of Anderson's faults, he's not Ariel Jurado ($8,000). It has been an exceedingly rough go for the 23-year-old dating back to the beginning of June, a span of time that's seen Jurado pitch to an ugly 6.55 ERA with his own modest 16.0% strikeout rate. As you might anticipate with struggles so severe, Jurado hasn't been picky about the types of opponents that have given him issues over this stretch, with both RHBs and LHBs compiling to post a wOBA of over .375 against him. However, purely from a batted ball profile perspective, its been left-handers making more consistently solid contact. While Jurado's been able to at least induce righties into a 45.7% ground ball rate in June and July, lefties possess a massive 32.4% line drive rate to go along with an eye-popping 59.2% hard contact rate. It has really only a matter of time before some of these batted ball events start leaving the park. That's why my No. 1 target among Oakland's positional players is Matt Olson ($8,200). Yes, Olson's preferred to bat on the road this season, but he's an extreme fly ball hitter with a .295 ISO across the past two months. If anyone's going to take Jurado deep tonight, my guess would be Olson. Matt Chapman ($9,000), Mark Canha ($7,600) and Marcus Semien ($7,200) are equally viable plays considering their premium spots in the Athletics' lineup and the fact that the Texas bullpen has pitched to a putrid 5.34 FIP the past 30 days.
---
Texas Rangers
There's quite a bit working against Jurado this evening. Even if you'll allow yourself to suspend reality and ignore his terrible collection of results from the past two months, Oakland doesn't seem to be an ideal matchup for the right-hander. The Athletics are a team easily described as heavily favoring right-handed hitters. In fact, Oakland is one of just seven teams to have taken more than 2,000 right-on-right plate appearances so far in 2019. That's a lot of
RHB
s. So, while it has been lefties giving Jurado slightly more issues recently; there's still no way to get excited about using a pitcher against the A's that comes into tonight's outing with a massive 5.05
FIP
when opposed by a righty. Then there's the matter of where Jurado will conceivably be generating strikeouts. While his strikeout rate has risen from 14.1% as a reliever this season to 17.2% as a starter, Jurado is not someone who has shown the ability to induce swings-and-misses inside the strike zone. Of the 122 pitchers who have throw 70-plus innings this year, Jurado is actually one of only 11 to own a zone-contact rate of over 90.0%. That's a major detriment to projecting strikeouts in a vacuum, but it's even more of a problem when you're squaring off with an Athletics lineup that possesses the third-lowest chase rate in all of baseball (28.5%).
Texas' offensive options aren't all that tempting, either. Clearly, this is a squad that's going to miss Joey Gallo, who is believed to have broken his hamate bone earlier this week. I mean, they'll miss him as soon as this evening considering he's been far and away the club's best hitter when opposed by a left-handed pitcher. Yet, at the very least, the Rangers still employ Hunter Pence ($9,400). The veteran outfielder has been a revelation in his age-36 season, slashing .316/.357/.646 with a .410 wOBA in his 84 plate appearances versus southpaws. Danny Santana ($10,000) is another interesting piece on a slate where his five-figure salary doesn't seem unattainable. Santana's splits suggest that he prefers to hit as a lefty, though the gap between his outputs from each side of the plate has lessened significantly as the year has gone along. So much so, Santana is actually hitting .327 with a .327 ISO and a .406 wOBA versus left-handed pitching dating back to the start of June. Aside from that duo, the best options Texas has to offer are Elvis Andrus ($7,000) and Delino DeShields ($6,200); with the latter's ISO jumping 167 points when he gets to hit LHPs instead of RHPs.
---
THE OUTCOME
There are two things I'm sure of on this slate: I want to stack Oakland's hitters and I definitely want to avoid Ariel Jurado.
Matt Olson ($12,300 CP)
makes for a great Captain's Pick as one of the central pieces of the Athletics' attack, while players like
Mark Canha ($11,400)
and Marcus Semien
($10,800)
are moderately priced considering their respective spots in the batting order. Even Anderson, who I would never dream of bestowing 1.5x value to, could be viable if he's able to produce another boring quality start and pick up the four-points for a win. If nothing else, we know Baby Swag is on his side.
Final Score: Oakland 6, Texas 3
---
Put your knowledge to the test. Sign up for DraftKings and experience the game inside the game.
---
I am a promoter at DraftKings and am also an avid fan and user (my username is theglt13) and may sometimes play on my personal account in the games that I offer advice on. Although I have expressed my personal view on the games and strategies above, they do not necessarily reflect the view(s) of DraftKings and I may also deploy different players and strategies than what I recommend above. I am not an employee of DraftKings and do not have access to any non-public information.