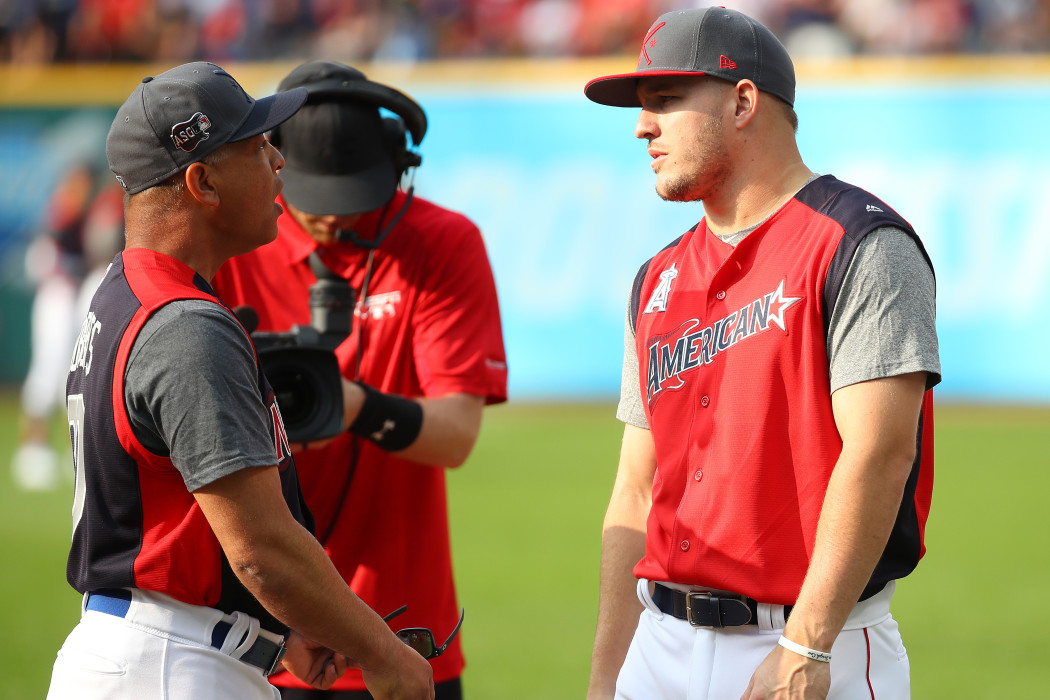 Tuesday's showdown slate features the 2019 MLB All-Star Game. Strategy for the All-Star Game can be challenging, as matchups and playing time can be difficult to predict. That said, there isn't much else going on in the sports world on Tuesday night, so this slate gives us something fun to get our skin in the game.
Christian Yelich's status was uncertain as he deals with a back injury, which forced him to withdraw from the Home Run Derby, but he is listed in the NL's starting lineup and is expected to play. Fantasy owners can get up-to-the-minute news, analysis, and lineups by downloading the DK Live app. You can also follow DK Live on Twitter at @DKLive.
The American League (-200) is the favorite over the National League (+170) on DraftKings Sportsbook, and the game's total runs is pegged at 8.5.
Note: All salaries will be Flex prices unless noted as Captain's Pick prices.
---
SHOWDOWN STRATEGY
On the pitching side, no pitcher threw more than two innings in last year's All-Star Game. Last year's NL starter Max Scherzer threw two innings and 32 pitches out of the gate, and was followed by one-inning spurts for the rest of the game until Ross Stripling threw 1 2/3 innings in relief spanning 39 pitches as the game went into extra innings. Last year's AL starter Chris Sale had a shorter start than Scherzer, throwing just nine pitches over one inning. Charlie Morton led both sides with 40 pitches in relief over two innings. Over the last three All-Star games, no pitcher has thrown more than 40 pitches or two innings in an appearance, and most pitchers average around 15 pitches and one inning per appearance. Three of the six starting pitchers in the All-Star Game over the last three seasons have pitched more than one inning.
On the hitting side, no batter recorded more than three plate appearances in last year's All-Star Game. Each starting leadoff hitter attained three plate appearances, and some reserves got to three plate appearances. Over the last three All-Star games, the starting leadoff hitter has gotten to three plate appearances four out of six times, making leadoff hitters the safest option to maximize their PAs.
National League
Left-handed pitcher
Hyun-Jin Ryu ($5,000; $7,500 CP)
will start the game on the mound for the
NL.
Ryu has been elite at preventing runs, posting a 1.73
ERA
over the first half of the season, and now has a ridiculous 1.83
ERA
over his past 32 starts dating back to the start of 2018, spanning 191 1/3
IP.
While that type of elite sub-2.00
ERA
is probably unsustainable long term, his peripheral statistics are also strong, posting a 2.93
FIP
over that time frame, with a 2.88 mark this season — better than the league average of 4.48. Ryu has been strong at limiting opponent contact quality, holding batters to an expected wOBA of .264 based on the exit velocities and angles of their batted balls, better than the league average of .322. In addition, Ryu has been excellent at limiting opponent extra-base hits, holding them to an isolated power of .119, better than the league average of .180.
Ryu draws a difficult assignment against the top of the AL batting order — it is the All-Star Game after all — and the first seven batters in the AL lineup can all bat from the right side, with six right-handed hitters and one switch hitter. Right-handed batters have made noticeably better contact quality off Ryu this season than left-handed batters. Ryu is not a huge strikeout pitcher — his 24% strikeout rate is only slightly better than average — which limits his fantasy upside to some degree, although he is the best NL candidate to accumulate the most inning volume as the starting pitcher.
NL pitchers available behind Ryu include:
RHP

Sandy Alcantara ($3,000)

RHP

Walker Buehler ($3,800)

RHP

Luis Castillo ($3,400)

RHP

Jacob deGrom ($4,800)

RHP

Sonny Gray ($3,000)

LHP

Clayton Kershaw ($4,800)

LHP

Will Smith ($3,200)

RHP

Mike Soroka ($4,600)

RHP

Felipe Vazquez ($3,600)

RHP

Brandon Woodruff ($3,200)

RHP

Kirby Yates ($3,400)
After Ryu pitches, NL manager Dave Roberts indicates that he will likely go to Kershaw, followed by deGrom. Both of these pitchers are candidates to pitch only one inning, but are safe to roster given that Roberts indicated that they will likely pitch. Of the available relievers, Yates has struck out the highest percentage of batters faced, striking out an elite 40.5% of batters. Will Smith (40%) and Felipe Vazquez (37%) also have big strikeout rates. Of the SP available in relief, deGrom has a heavy 31% strikeout rate, which will likely play up in a short spurt. The Mets' deGrom has struck out four of seven batters faced (57%) in two All-Star appearances, including a dominant three strikeout outing in 2015. Castillo, one of the hardest throwing starting pitchers in baseball, could also come out throwing gas and see his stuff play up in a short spurt. The
NL'
s starting batting order is as follows:
OF Christian Yelich ($9,800)
SS Javier Baez ($7,400)
1B Freddie Freeman ($8,800)
OF Cody Bellinger ($10,200)
3B Nolan Arenado ($9,400)
DH Josh Bell ($7,200)
C Willson Contreras ($5,800)
2B Ketel Marte ($8,000)
OF Ronald Acuna Jr ($9,000)
Of the starters, Bellinger is having the best season by both park adjusted metrics and contact quality, slightly edging out Yelich. Bellinger has hit 84 percent better than the league average when adjusted for the run scoring environment he hits in, compared to 80 percent better than average for Yelich. Bellinger's contact quality derived expected wOBA, which takes into account the exit velocities and angles of his batted balls, leads the
NL,
and is about 30 points better than Yelich's, which ranks second. However, Yelich's leadoff slot gives him the best chance at maximizing his plate appearances, boosting his fantasy value for this game. Baez is also an appealing option at the third lowest salary among NL starting hitters with his second slot in the order. Each batter in the two-hole saw three plate appearances in the 2018 All-Star game.
Yelich, Baez and Freeman are each set to face RHP Justin Verlander ($5,400; 8,100 CP) in the first inning, with Masahiro Tanaka ($5,100) likely to follow, although Tanaka's exact timeframe is not clear. While Verlander has been elite at preventing runs and baserunners, he has been home run prone, allowing a higher home run rate than average on the back of a lot of fly balls allowed. Verlander likes to pitch up in the zone with a high spin four-seam fastball and pitches off that with two breaking balls, a slider and a curveball. Bellinger, Yelich and Freeman all have excellent contact quality numbers against four seam fastballs, with Freeman posting the best contact quality metrics against four-seam fastballs of 95 mph or faster. Bellinger also has strong contact quality numbers against hard four-seamers.
NL reserves include
:
C Yasmani Grandal ($5,200)
C

J.T.

Realmuto ($4,400)
1B Pete Alonso ($7,600)
1B Max Muncy ($6,000)
2B Mike Moustakas ($5,000)
3B Kris Bryant ($5,200)
SS Paul DeJong ($4,000)
SS Trevor Story ($5,400)
OF Charlie Blackmon ($8,000)
OF David Dahl ($6,200)
OF Jeff McNeil ($5,000)
Of NL reserves, Alonso has the most pop, which was on display in Home Run Derby victory Monday and with him producing an isolated power of .354 on the back of 30 first-half home runs, tied with Bellinger for second most. Alonso's contact quality derived expected wOBA also ranks best among NL reserves. Alonso's ability to launch
long ding-dong-Johnsons
and hit the ball at strong exit velocity and angle combos gives him strong fantasy upside. Among cheaper options, Moustakas is a solid power hitting option, as his .288 isolated power is excellent.
---
American League
AL starter Verlander is posting the best swing and miss rate of his career, generating a swing and a miss on 15.7% of his total pitches, better than the SP league average of 10.6%. He has struck out an elite 32% of opposing batters, the second-best rate of his career behind only 2018, and has gotten batters to chase pitches outside of the strike zone at the best rate of his career. Verlander has also been baseball's best pitcher at preventing baserunners with a 0.81
WHIP.
That said, some of Verlander's peripheral statistics may indicate potential regression in the future. Batters have just a .181 batting average on balls in play against Verlander, which is generally considered a highly unsustainable number over the long term, especially given that number sat at .272 for Verlander last season. A normalization of Verlander's batting average on balls in play could result in a rise in baserunners allowed in the future. Verlander has also stranded 91% of baserunners, an elevated number that is also difficult to sustain. Verlander stranded 85% of baserunners with the Astros last season and 80% the year prior. Despite that, Verlander's elite ability to miss bats combined with him being the best AL candidate for inning volume given his starting role gives him the most fantasy upside among pitchers. AL pitchers behind Verlander include:
RHP

Jose Berrios ($4,000)

RHP

Shane Bieber ($3,600)

LHP

Aroldis Chapman ($4,200)

RHP

Gerrit Cole ($5,200)

RHP

Lucas Giolito ($4,800)

RHP

Shane Greene ($3,000)

LHP

Brad Hand ($3,200)

RHP

Liam Hendriks ($3,200)

LHP

John Means ($3,000)

RHP

Ryan Pressly ($3,600)

RHP

Masahiro Tanaka ($3,400)
AL manager Alex Cora said that Tanaka will likely follow Verlander, and that if the AL has the lead late in the game, Hand will pitch in the eighth and Chapman will be the closer. Among pitchers available in relief, Cole's explosive pitch arsenal could play up most in a short spurt. Cole has struck out 37% of opposing batters, the highest rate in the league among qualified starting pitchers. Recently, Cole topped out at 101 mph on his 110th and final pitch during Saturday's start, and a fresh Cole hitting the gas might be able to top that number in a sprinting mode. The
AL'
s starting batting order is the following:
OF George Springer ($9,600)
2B DJ LeMahieu ($7,800)
OF Mike Trout ($10,400)
1B Carlos Santana ($6,200)
DH J.D. Martinez ($7,000)
3B Alex Bregman ($9,200)
C Gary Sanchez ($6,600)
OF Michael Brantley ($5,400)
SS Jorge Polanco ($8,400)
Springer batting leadoff gives him strong fantasy value, especially facing a left-handed pitcher in the first inning, a handedness that Springer has destroyed with explosive contact quality this season. Springer has produced an expected wOBA of .440 vs.
LHP
based on the exit velocities and angles of his batted balls, significantly better than the league average of .322, and has posted big power-hitting numbers off lefties with a a .293 isolated power. LeMahieu batting second also gives him a premium lineup slot for plate appearances, although he doesn't possess as much extra-base pop as other All-Stars, producing an isolated power of .182, only slightly better than the league average of .180. Trout's greatness doesn't need to be expanded too much; he is the greatest hitter of his generation and has about as much upside as anybody on the slate given his ability to both hit for power (.334
ISO,
.646
SLG,
28 HR) and average (.301
AVG,
.453
OBP
). Trout's .334 isolated power leads AL starters, followed by Sanchez (.310). Trout leads all of baseball in contact quality, producing an expected wOBA of .477 based on the exit velocities and angles of his batted balls, a number better than both Yelich and Bellinger. Trout also leads baseball in park and league adjusted metrics, producing 86 percent better than the league average hitter. AL reserves include:
C James McCann ($4,200)
1B Jose Abreu ($5,600)
1B Daniel Vogelbach ($6,400)
2B Gleyber Torres ($4,800)
3B Matt Chapman ($4,600)
SS Xander Bogaerts ($4,600)
SS Francisco Lindor ($6,800)
OF Mookie Betts ($6,600)
OF Joey Gallo ($5,200)
OF Austin Meadows ($4,200)
OF Whit Merrifield ($5,800)
Gallo has the biggest upside off the bench with his gigantic raw power. Gallo's .367 isolated power leads all AL players, and he has hit 20 home runs in just 260 plate appearances. Chapman, Vogelbach and Abreu also have power hitting upside off the bench and are all tied with 21 first half home runs. Chapman has the best pop by isolated power in that group by isolated power at .268 and has solid contact quality metrics. Vogelbach is right behind Chapman in isolated power at .267, followed by Abreu's .243. By contact quality, the best AL reserve has been Gallo, followed by Betts.
---
THE OUTCOME
Since pitchers have a short shelf life in the All-Star game, hitters are probably the best way to go for the Captain's Pick. Batters at the top of the starting lineup are the safest plays to have the best chance at accumulating the most plate appearances, making batters like Trout ($15,600 CP), Yelich ($14,700 CP) and Springer ($14,400 CP) all excellent plays, given they all have power hitting upside and each will get an at-bat in the first inning with their lineup slots. Bellinger ($15,300 CP) is also a strong choice with his power hitting upside.
It's tough to predict the outcome of an All-Star Game, given player usage can be unpredictable. With the balls being juiced in 2019 reportedly due to a change in the manufacturing process, run scoring will be a candidate to be easier to come by than past Mid-Summer Classics. The AL has the game's best hitter in its starting lineup in Trout, but the NL has the next two in Yelich and Bellinger. It's a close call, but as the betting favorites, the AL will be candidates to win their seventh straight ASG.
Final score: American League 6, National League 4
---
Put your knowledge to the test. Sign up for DraftKings and experience the game inside the game.
---
I am a promoter at DraftKings and am also an avid fan and user (my username is timfinn521) and may sometimes play on my personal account in the games that I offer advice on. Although I have expressed my personal view on the games and strategies above, they do not necessarily reflect the view(s) of DraftKings and I may also deploy different players and strategies than what I recommend above. I am not an employee of DraftKings and do not have access to any non-public information.
---
Odds and lines subject to change. See website for actual odds.
If you or someone you know has a gambling problem and wants help, call 1-800-GAMBLER.