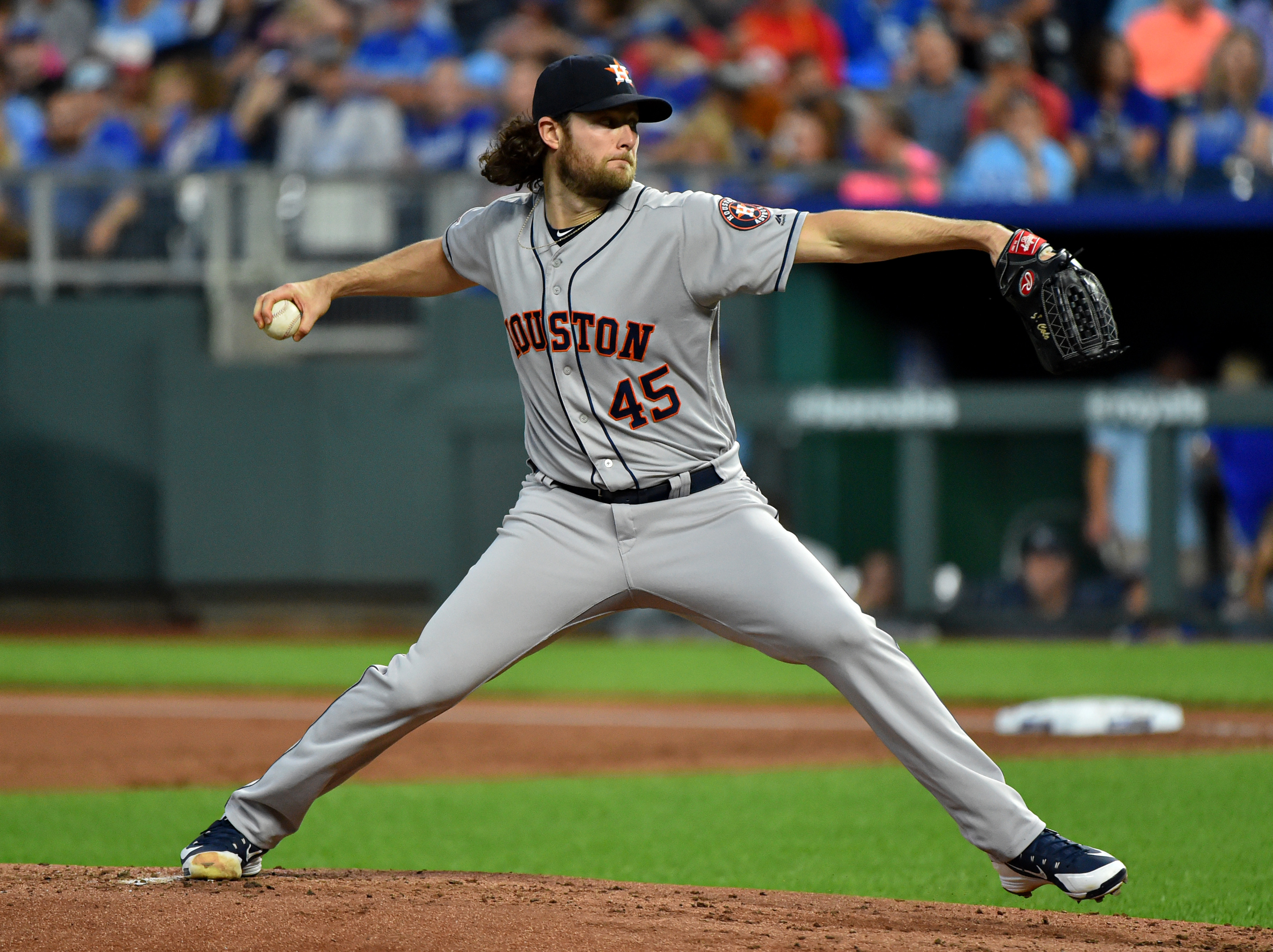 Tuesday baseball is back, and we have 13 games on tap for the main fantasy baseball slate. There are a wide array of pitching options, and there will be some tough decisions to make tonight. That is what I am here to help with!
Value also unexpectedly can open up due to lineup changes, making it important to stay up-to-the-minute with the DK Live app until lineups lock. You also can follow DK Live on Twitter at @DKLive.
---
1. Gerrit Cole, $13,000,
HOU

at

SEA

Cole has arguably been the best pitcher in baseball this season. He has a 2.61

ERA,

and a ridiculous 39.1% strikeout rate. Cole has recorded at least 10 strikeouts in his last seven starts. It also helps that he plays for one of the best teams in baseball, which has allowed Cole to total 18 wins on the year. Houston is a -480 favorite today on DK Sportsbook.

Seattle is an average offensive team against right-handed pitching, but they strike out a whopping 25.6% of the time. This obviously plays into Cole's strength of striking out an insane amount of batters. Cole has faced Seattle three different times this season, totaling 36 strikeouts in 21 innings, while allowing just four runs.

Cole is extremely expensive, but is worth every penny. There are other directions you can go in tournaments if you would like (it's a great pitching slate), but the Houston ace is about as safe and consistent a play you can have with nightly upside.
---
2. Noah Syndergaard, $9,000,
NYM

vs.

MIA

Thor has allowed four earned runs in each of his past three starts, and that has allowed his price to come down a considerable amount in time for a prime matchup with the Marlins. Additionally, there was some bad batted-ball luck going against Syndergaard, whose xFIP was around 4.40 in that time frame, over two runs lower than his

ERA.

This is a rough patch he should be coming out of shortly.

No team is a better slump-buster than Miami. They rank 29th in wRC+ against righties, and have a 24.8% strikeout rate against them. The last time Syndergaard pitched against them, he struck out nine batters in seven innings and allowed just two runs. Thor uses his sinker and fastball a combined 59% of the time. The Marlins rank last and next to last against those pitches respectively, according to FanGraphs' pitch value.
---
3. Max Scherzer, $11,000,
WAS

vs.

PHI

The Nationals have been taking it easy with Scherzer since he returned from injury at the end of August, but appear to be ramping him back up to full strength. The 109 pitches he threw in his most recent start were the most he has thrown since coming back, and the first time he has broken 100 since coming back. If we get something approaching full-strength Scherzer, this $11,000 price tag is going to end up a bargain.

The Phillies are slightly below-average against right-handed pitching, and strike out 23.2% of the time against them. Scherzer has faced Philly twice this year, allowing one earned run and striking out 19 batters in 12 innings. This is an elite pitcher, who can do elite pitcher things in any matchup.

Given his recent performances, I would not expect Scherzer to command high ownership on this slate, making him an excellent GPP option. He has a similar ceiling to Cole, but for $2,000 less and likely half of the ownership at most.
---
4. Jack Flaherty, $9,800,
STL

at

ARI

It has been a tale of two halves for Flaherty, who has been untouchable since the All-Star break. He has a second-half

ERA

of 1.05 and is striking out 33.4% of batters. Over his past 14 starts, Flaherty has allowed more than one earned run just three times.

The Diamondbacks are 21st in wRC+ against righties, and strike out against them 21.7% of the time. Flaherty does not have massive lefty/righty splits this season in terms of hits and runs, but his strikeout numbers go way down against lefties (about 12%). This could be a problem against an Arizona team that projects to have five lefties in the lineup. This doesn't kill Flaherty's floor, but it does impact his ceiling, which has him a little lower down the list than he otherwise would be.

Flaherty's performance over the second-half of the year likely warrants a price tag in the five-figure range. This is the kind of discount worth taking advantage of for cash contests if you don't feel like paying all the way up for Cole. I believe the next pitcher is a better tournament option.
---
5. Madison Bumgarner, $8,200, SF vs.
COL
Bumgarner has been struggling in September with an
ERA
of 5.63 for the month. He has still been pitching well for most of the year, making this price decrease perhaps a little too harsh given the matchup. Mad Bum still has that 30-plus point upside he flashed at the end of August.
The Rockies are a terrible offense, especially since they will be away from Coors Field. Against lefties, they rank 21st in wRC+, striking out 24.9% of the time. Away from home, they are abysmal, with a wRC+ of 74, and 26.6% strikeout rate. Though Bumgarner himself is only striking out about a batter an inning, this is a great spot for him to hit his ceiling.
In his two home starts this year against Colorado, Bumgarner has totaled 18 strikeouts in 13 innings, with a pair of runs allowed in each start. That demonstrated success plus a low price tag makes Bumgarner an excellent tournament play.
---
Put your knowledge to the test. Sign up for DraftKings and experience the game inside the game.
---
I am a promoter at DraftKings and am also an avid fan and user (my username is amicsta) and may sometimes play on my personal account in the games that I offer advice on. Although I have expressed my personal view on the games and strategies above, they do not necessarily reflect the view(s) of DraftKings and I may also deploy different players and strategies than what I recommend above. I am not an employee of DraftKings and do not have access to any non-public information.