Saturday night will mark the UFC's third visit to the empire state inside 12 months when they take to the Nassau Veterans Memorial Coliseum in Uniondale, New York. It's a fun card filled with several local New Yorkers which should make for an action-packed night of fights. Since NY is where I hail from, this one is extra special for me, as are all the NY events.
As you all have grown accustomed, I select the four underdogs that I feel have the most opportunity to upset the established favorites. Let's get started with the breakdowns of those bouts:
Ryan LaFlare $8200 / Alex Oliveira $8000
LaFlare is a talented wrestler who's managed to defeat six out of the seven opponents the UFC has put in front of him. Only Demian Maia has defeated him, and that's saying something. Here's the thing, though; all his wins, with the exception of Ponzinibbio, have been against grappling-heavy competition without the power and diversity that Oliveira brings to the table.
Oliveira took on former Bellator champion Will Brooks and out-worked him before ending the fight with a KO. In the rematch with Means, he finished off the lanky striker with a rear-naked choke in the second round. He's a savvy fighter with a long reach and decent fight IQ, making necessary adjustments as the fight wears on.
"Cowboy" takes this one in a close decision.
Alex Oliveira via
DEC
---
Rafael Natal $8800 / Eryk Anders $7400
Natal is a jack-of-all-trades, master of none. He's a serviceable gatekeeper with 16 UFC fights under his belt, however, he's the type of guy that does well at the regional level and crumbles when facing opponents from the next tier. Even though Anders is still wearing the shiny packaging of a regional promotion (LFA), he's got the potential to go far in his career.
Eryk Anders is a former collegiate linebacker (University of Alabama) with a great takedown game and nasty ground-and-pound. He carries power, as evidenced by four TKO wins (current record is 7-0), and won the LFA middleweight strap in his last fight.
It's a tall order for Anders, but I think he gets the job done before the final bell sounds.
Eryk Anders via (T)KO
---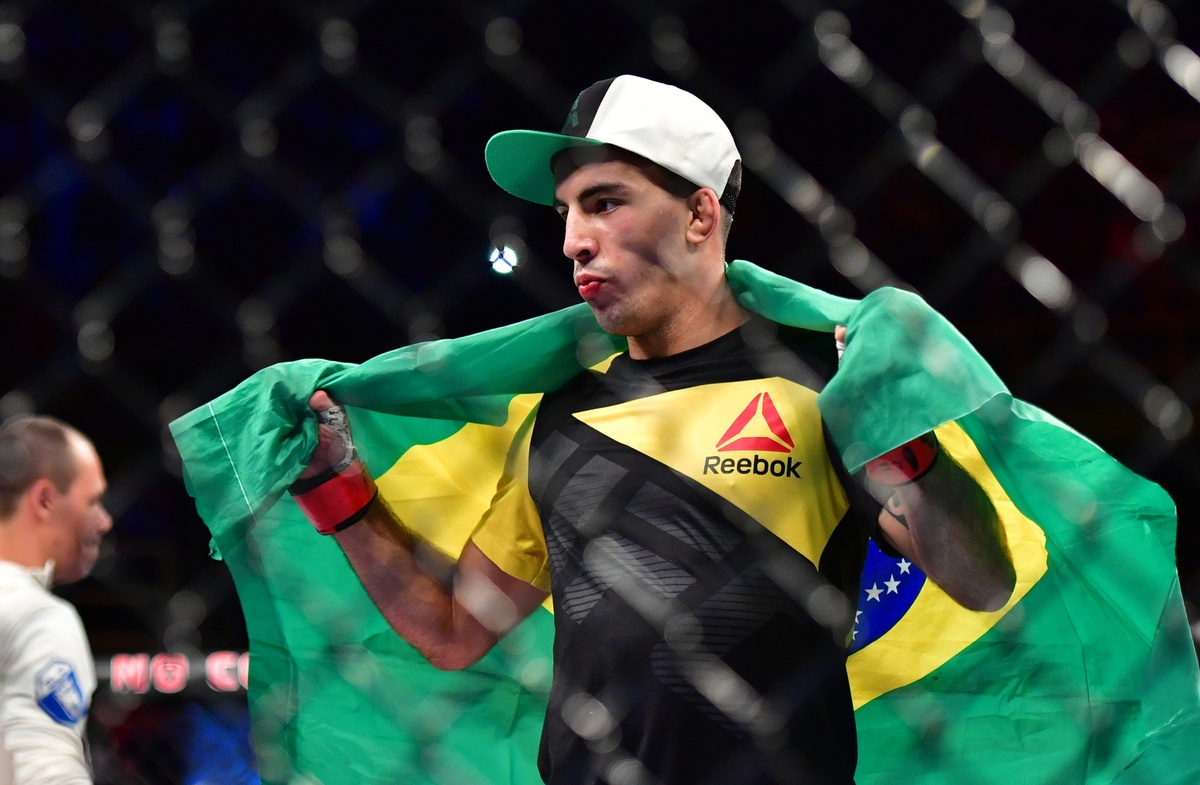 Jimmie Rivera $8300 / Thomas Almeida $7900
This is going to be a great contest. Both guys carry legitimate power and both are willing to stand in the pocket and trade, so fans all over the globe will likely be treated to an all-out dogfight here. Rivera has an all-purpose style and is very good at fine-tuning his approach on the fly, transitioning from striker to grindy wrestler (see Faber and Alcantara fights) as needed. There's not much downside to him other than he's untested at the elite-level outside a fight with an aging Faber.
Almeida also enters the bout with high praise, having only tasted defeat once in 23 fights, with that single defeat having come from the current bantamweight champion. The 25-year-old Brazilian is best described as a finishing machine, as he has ended all but two of his fights before the final bell. Twenty finishes in 23 fights. And 19 of those are by knockout. His style is impetuous, his defense is… sorry, that's Mike Tyson—briefly forgot who I was talking about. His style is aggressive and with a three-inch height and five-inch reach advantage, Thomas can make the most of range striking to set up those battles in the phonebooth.
This is guaranteed to be a fun contest, with Almeida getting the win inside the distance.
Thomas Almeida via (T)KO
---
Dennis Bermudez $8700 / Darren Elkins $7500
This is another scrap that has potential "fight of the night" honors written all over it. Bermudez is a former freestyle All-American collegiate wrestler who parlayed his mat experience into a solid MMA career. The native New Yorker will stand and trade, shot for shot, often taking damage in the exchanges, and therein lies the glaring problem with Bermudez, his defense. This propensity for leaving himself unprotected—both standing and on the ground—has seen his night go south on six occasions, and against a stud like Elkins, that porous defense is going to present a myriad of opportunities for the Team Alpha Male product to pick him apart.
Elkins is a grappling-heavy fighter who has really turned a corner in his last couple outings. Not only is he a great wrestler himself, his once suspect striking game has visibly improved under the guidance of Justin Buchholz and other TAM coaches. The thing about Elkins is that he has already established himself as a spoiler, most impressively in his last fight against Mirsad Bektić. "The Damage" is also incredibly durable, so expecting him to walk through Bermudez's offense is not an outlandish assumption to make.
This will be a close call, but Elkins should see the W Saturday night.
Darren Elkins via
DEC
---
I am a promoter at DraftKings and am also an avid fan and user (my username is crooklyn949) and may sometimes play on my personal account in the games that I offer advice on. Although I have expressed my personal view on the games and strategies above, they do not necessarily reflect the view(s) of DraftKings and I may also deploy different players and strategies than what I recommend above.