Saturday night's UFC event will mark No. 106 in the promotion's Fight Night series. Fortaleza, Brazil will play host to the 12-bout show that features Kelvin Gastelum taking on the legendary Vitor Belfort in the main event. Several other Brazilian staples are peppered throughout the card, including Bethe Correira, Edson Barboza, Alex Oliveira and the other legend, Mauricio "Shogun" Rua, who will be returning to action after a 10-month layoff against Gian Villante.
There's plenty of action for everyone, but we all know why we're here. We're here to get a handle on those fighters that might be able to play spoiler to the favorites. The mighty underdog is a force to be reckoned with, and on this particular card, there are four that I feel have the best opportunity to turn the tables. Let's get started:
Rani Yahya $8,600 / Joe Soto $7,600
Rani Yahya's legendary grappling is dangerous — no two ways about it. One look at his record shows that 17 men can attest to that fact, as they were all submitted by him. However, against other savvy grapplers, those that have learned not to panic in tight situations (see Tom Ninimaki fight), he struggles. His standup game isn't bad, but it's not outstanding, either.
Joe Soto may not have the 17 years of experience that Yahya has, but he's just the type of fighter that will likely give Rani some trouble. He's also a gifted grappler, with 10 of his 17 wins coming by way of submission. His growth has become evident over his last couple fights, and he's nowhere near as shopworn as Yahya.
While I don't think the fight will end in a finish, I do think that Soto will do what it takes to secure the victory.
Joe Soto via
DEC
---
Kevin Lee $8,300 / Francisco Trinaldo $7,900
Lee is a phenomenal, aggressive wrestler with an exceptional takedown game and great positional control on the ground. However, his striking could use some improvement, and his defense could also use some work (see Al Iaquinta fight).
Trinaldo is a tank with the strength of 100 men (okay, maybe that's Hercules). Still, Trinaldo IS incredibly strong and has a wicked standup game. His last fight saw him finish Paul Felder, a first for the Irish fighter. He's on a fantastic, seven-fight win streak, so his confidence level is likely surging, as well.
With his incredible power and Lee's propensity for leading with a questionable chin, there's no doubt in my mind that Trinaldo can get the job done come Saturday night.
Francisco Trinaldo via (T)KO
---
Jussier Formiga $8,400 / Ray Borg $7,800
At just 31 years of age, Jussier Formiga has a wealth of experience across his 12-year career. He's only lost to top-five fighters, but he's still had issues with strikers, and Ray Borg is a pretty darn good striker.
Borg's cat-like reflexes and speed make him a dangerous opponent for anyone, but against Formiga, he will likely employ an additional weapon from his arsenal—wrestling. He's exceptional in scrambles, and most importantly, he has great fight IQ. Against a wily veteran like Formiga, that will come in very handy.
Ray Borg via
DEC
---
Edson Barboza $8,700 / Beneil Dariush $7,500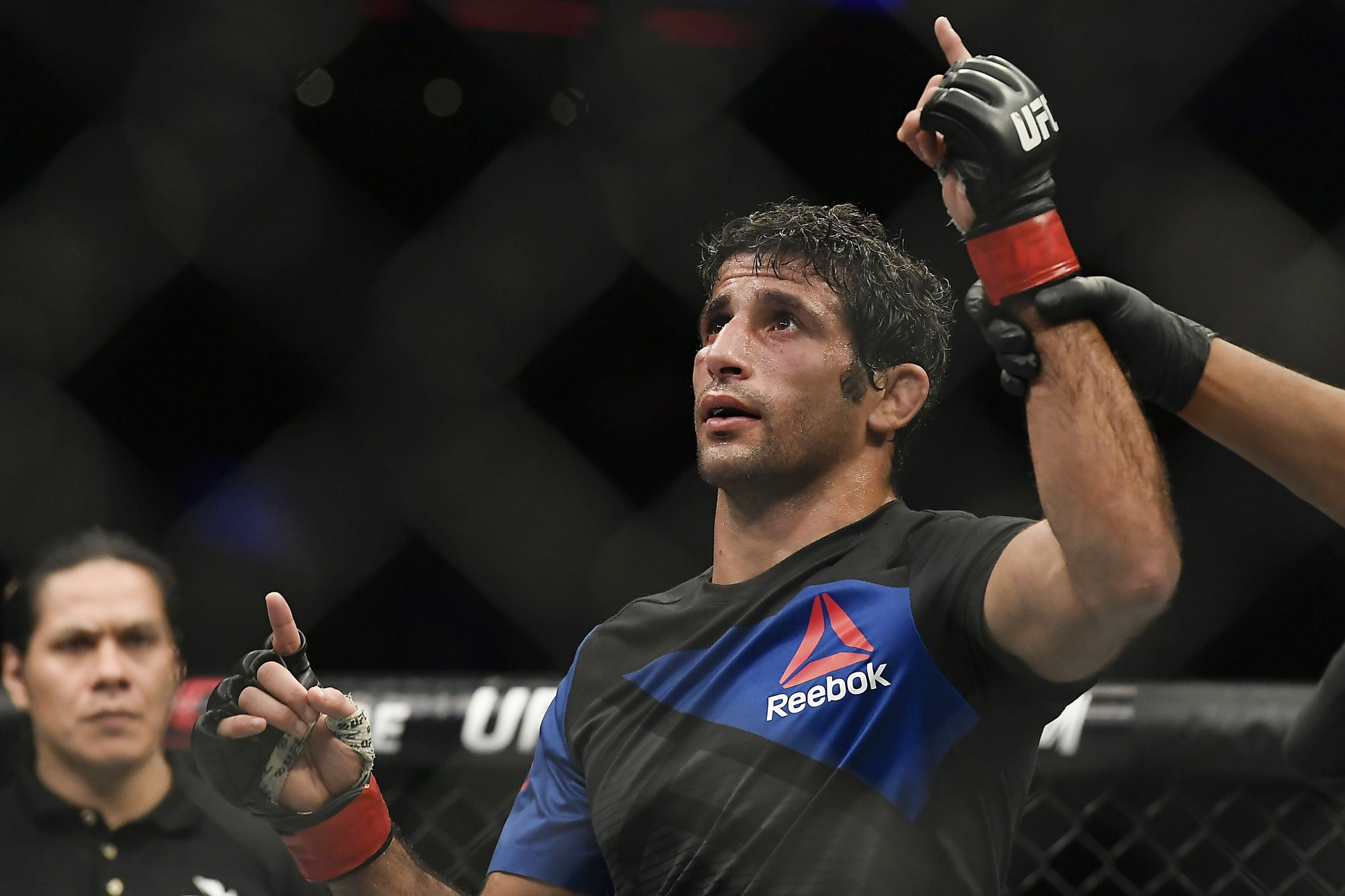 Edson Barboza's standup game is no joke, especially his kicks. His spinning wheel kick KO of Terry Etim is a highlight reel that is synonymous with great knockouts. He's as fast as a striking cobra and equally deadly. His fast footwork is a facet of his skill-set that is often overlooked, but is the bedrock of his excellent striking game.
The problem with Edson is that if he's forced to fight in close quarters, his defense becomes as porous as a sea sponge, and make no mistake, Barboza absolutely has a button on that chin, and it's been zinged before (see Jamie Varner fight). He is also susceptible to submissions, an area Dariush is exceptionally skilled at.
Beneil Dariush is an accomplished Muay Thai striker with excellent kicks of his own, but his short range striking and superb ground game is what I believe will be the game changer in this fight. Dariush is very aggressive, which should nullify Edson's tendencies towards range striking.
This one is going to be razor close, but I'm really liking Dariush here.
Beneil Dariush via
DEC
---
I am a promoter at DraftKings and am also an avid fan and user (my username is crooklyn949) and may sometimes play on my personal account in the games that I offer advice on. Although I have expressed my personal view on the games and strategies above, they do not necessarily reflect the view(s) of DraftKings and I may also deploy different players and strategies than what I recommend above.