Saturday night, the UFC heads to Houston for what some are referring to as the opening act for the big game. This card is special in that it marks the return of crowd favorite, Chan Sung Jung aka "The Korean Zombie," as well as a trio of fights from six ultra-tough ladies. It's a show that fight fans from around the globe can appreciate.
UFC Houston is also a show with a metric ton of upset potential. It's been a while since we've seen such dramatic pricing differential between opponents, so the opportunity to make some serious pointage off the underdogs is definitely heavy at this event.
Let's get started with the four fighters I've selected to shock the MMA world and upset their competition.
Dennis Bermudez $8,400 / Chan Sung Jung $7,800
Dennis Bermudez is a stout fireplug of a man whose output is absolutely insane. He's willing to stand right in the pocket and trade, mixing up kicks and punches with deadly effect. He's excellent in the clinch, and if all those things weren't enough to sell you on his fighting prowess, he's also a great wrestler. Here's the problem with Bermudez, though: his defense is about as porous as a sea sponge. He often gets into crazy striking exchanges with his chin high and absolutely no thought to protect it. He wades right in, head on the center line and often gets blasted, sometimes even finding himself up close and personal with the Bud Light logo.
Chan Sung Jung has been absent our adoring eyes thanks to conscription, but he's back, and all is right with the world. He's an aggressive fighter with snazzy footwork and excellent counters, which will aid him greatly against the "leads by his chin" Bermudez. His takedown defense is also worth noting, as it often keeps his fights in an upright position, but should the fight hit the canvas, he's pretty dang special there, as well. He's a good scrambler and has a mean twister that proved quite effective against Leonard Garcia in their rematch.
Chan Sung Jung via
SUB
---
Alexa Grasso $9,100 / Felice Herrig $7,100
Alexa Grasso is one of the best pure strikers to come along since Joanna Jedrzejczyk. Her combinations are crisp and her technique is sharp, although not exceptionally powerful. She's also very fast with those hands and is a good grappler.
Felice Herrig is a very strong girl in a small package. Her wrestling is excellent, thanks to the tutelage of Jeff Curran, and she's got excellent kicks, a marvelous Thai clinch and works a stiff jab, all courtesy of her champion level kickboxing background. She's also a serious opportunist who can find even the smallest openings to take advantage of. Her flawless back-take on Kailan Curran was quick and seamless, and it resulted in her choking out the Hawaiian prospect.
All in all, this is going to be a tough fight for both women, but I think Felice has the chops to edge out the win and put the brakes on Grasso's rise up the rankings.
Felice Herrig via
DEC
---
Jessica Andrade $9,300 / Angela Hill $6,900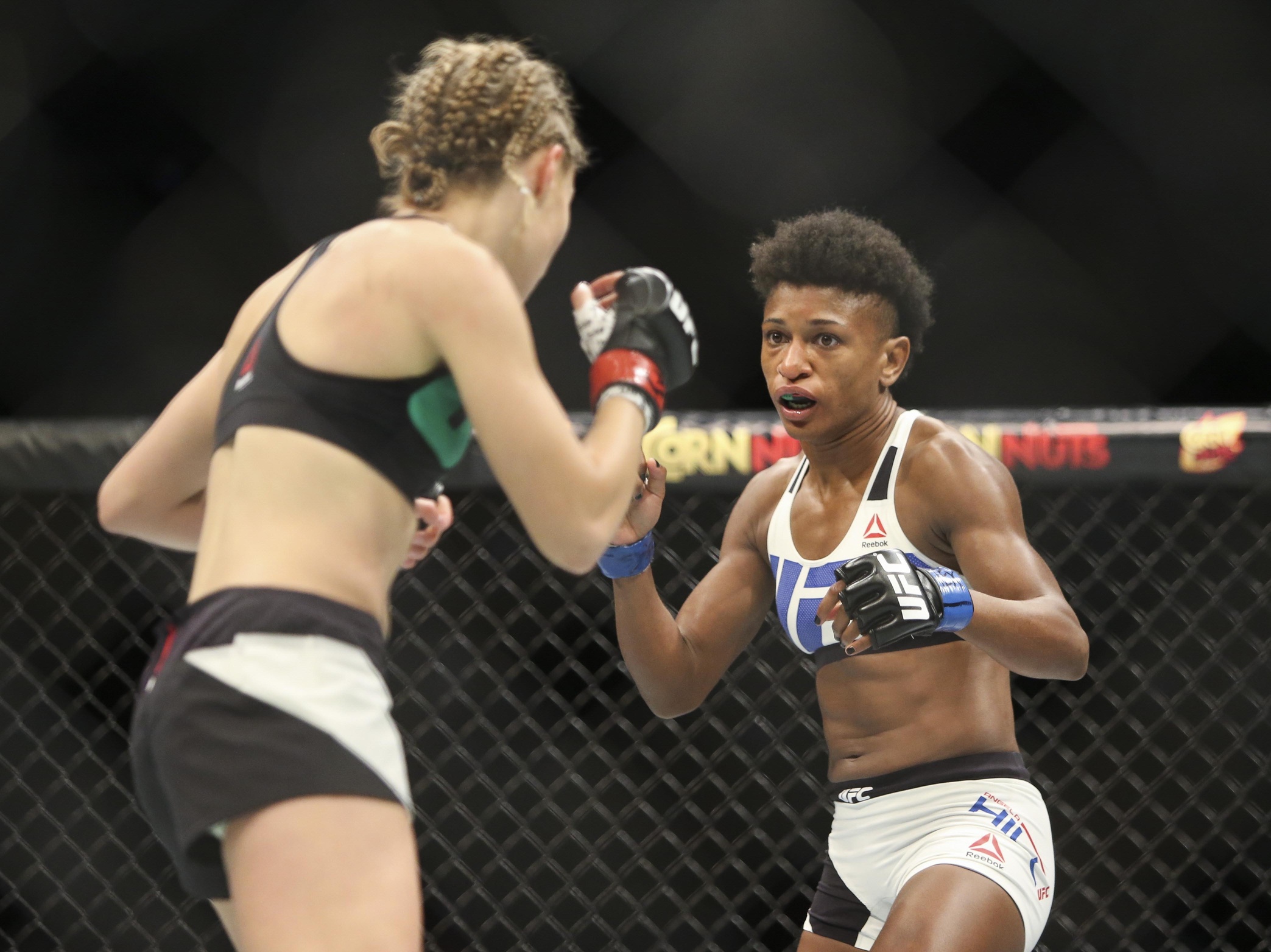 Jessica Andrade is a 5'2 power pellet. She's aggressive, packs a massive wallop and is a fantastic wrestler. She flurries those punches, both on the feet and on the ground from top position. She's a super tough girl who's quite well-rounded — but she can be beaten.
Angela Hill has been away from the UFC for 16 months, but has improved her skillset exponentially in that time frame. She has excellent footwork, and she uses it well, deftly maneuvering herself to pop strikes from angles and disappearing before her opponents know what's stung them. She's also got a great clinch, which is an area where Andrade can be exploited. She's got more than competent grappling, and that particular skill appears to be improving with each outing.
Angela Hill via
DEC
---
Tecia Torres $9,000 / Bec Rawlings $7,200
Tecia Torres' nickname "Tiny Tornado" suits her to a T. She has good, crisp standup that she uses in flurries to overcome her opponents (she also sometimes spins in circles, occasionally picking up cows), and is more than capable on the ground. She's coped well with larger opponents in the past, but she's primarily done so by utilizing her wrestling to get top position where she kind of wears them out.
Rawlings is known as a striker, but her performance against Seo Hee Ham showed she's more than happy to use her strength and size on the ground to frustrate any attempt at grappling. She has a real shot in this fight if she uses her length to keep Torres on the outside, and uses her sheer strength to bully Tecia out of favorable positions on the ground. Her striking really is the key here, though. A look at her fight with Paige VanZant shows that she was winning before the headkick ended her night early, but up to that point, she was really lighting Paige up.
Bec Rawlings via (T)KO
---
I am a promoter at DraftKings and am also an avid fan and user (my username is crooklyn949) and may sometimes play on my personal account in the games that I offer advice on. Although I have expressed my personal view on the games and strategies above, they do not necessarily reflect the view(s) of DraftKings and I may also deploy different players and strategies than what I recommend above.