The Octagon returns to Rio de Janeiro, Brazil on Saturday, June 3rd for UFC 212. In the main event, Jose Aldo fights Max Holloway in a featherweight title unification bout, with Aldo as the champ and Holloway as interim champ. In an important women's strawweight contest, former title challengers Claudia Gadelha and Karolina Kowalkiewicz go to battle.
In terms of name value, this isn't one of the UFC's stronger pay-per-view offerings. That doesn't mean it'll be a bad event, as there are several matchups that could produce fireworks in the cage. As we near fight night in Rio, here's a look at some of the UFC 212 fighters who could get your June off to a great start by getting high scores to propel your DraftKings team(s) to the top.
Max Holloway ($8,100) vs. Jose Aldo ($8,100)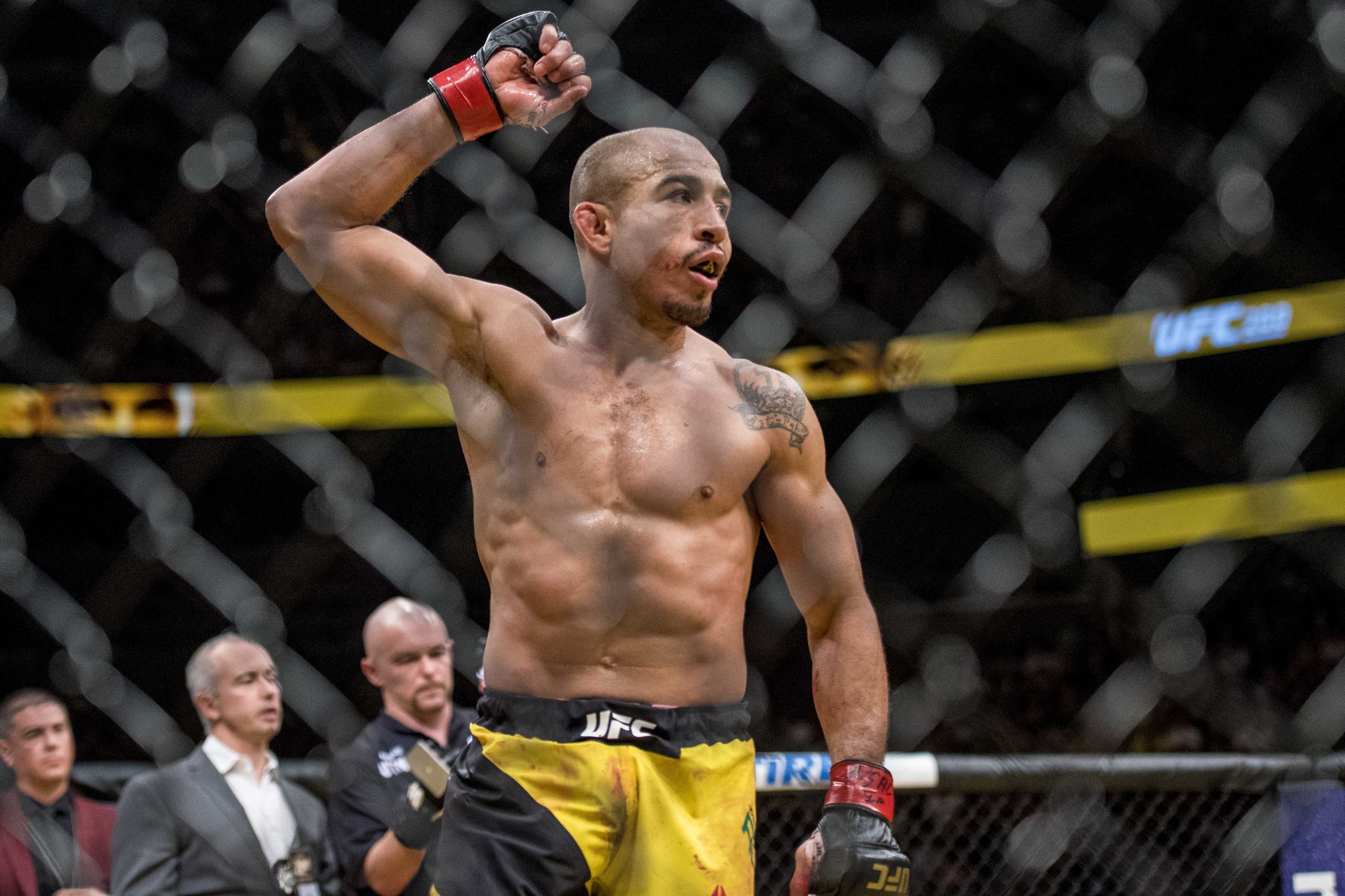 Featherweights
It took 10 straight wins for Holloway to finally get a shot at the featherweight title. He won the interim belt by thoroughly demolishing Anthony Pettis and becoming the first man to finish "Showtime." The Hawaiian also boasts victories over Ricardo Lamas, Jeremy Stephens and Cub Swanson. Aldo is, simply put, the greatest featherweight of all-time. After suffering a devastatingly quick KO vs. Conor McGregor, the Brazilian bounced back with a clear-cut decision win over Frankie Edgar at UFC 200. With McGregor no longer in the division, Aldo has since been promoted from interim to full champion.
Aldo is excellent everywhere and has been at the top for such a long time. Holloway is still only 25 years old, is a dynamic, unrelenting offensive threat, and has considerably improved his ability to finish fighters by knockout or submission. It's a tight call, but while I don't see Holloway finishing Aldo, I think we see a new champion crowned in a five-round thriller where Max's volume striking racks up the points.
Number of Note: 92. Don't expect Max Holloway to take Jose Aldo down even once. Aldo's takedown defense is an astonishing 92% dating back to his days in the WEC.
---
Vitor Belfort ($8,400) vs. Nate Marquardt ($7,800)
Middleweights
It's fair to say that Belfort's best days are behind him. He's been stopped in his last three fights, although the former light heavyweight champion had his loss to Kelvin Gastelum overturned to a No Contest after Gastelum tested positive for marijuana. Vitor's most recent win was a knockout of Dan Henderson in November 2015. Marquardt hasn't fared much better, going 3-7 in his last 10. His last fight was a dull unanimous decision loss to Sam Alvey, but he did pick up a nice KO of Tamdan McCrory last October.
Both men have had their chins compromised frequently in recent years, but Marquardt's noted awful track record against southpaws leads me to believe Vitor will turn in a vintage "Phenom" performance and get the quick knockout.
Number of Note: 18. Of Vitor's 25 career wins, 18 of them have happened in the opening round.
---
Paulo Borrachinha ($9,200) vs. Oluwale Bamgbose ($7,000)
Middleweights
Borrachinha competed on Season 3 of The Ultimate Fighter: Brazil. Although he was eliminated quickly and didn't receive a UFC contract, he earned his way into the Octagon with five wins on the regional scene. His Octagon debut was sensational, as he stopped Garreth McLellan in 77 seconds back in March. Bamgbose has been out of action for over a year and is coming off a decision loss to Cezar Mutante. His lone UFC win in three fights was a sensational one-minute mauling of Daniel Sarafian.
This is a striker vs. striker showdown. If the fight goes to the ground then it's Borrachinha's advantage. It's a matchup that's may wind up closer than some have projected, but I believe Borrachinha gets another finish. With that said, Bamgbose at $7,000 is by no means a terrible choice given the way this fight is likely to play out.
Number of Note: 15. 15 wins between Borrachinha and Bamgbose, 15 finishes in Round 1. Only once has either one of them gone into Round 2.
---
Marlon Moraes ($8,700) vs. Raphael Assuncao ($7,500)
Bantamweights
Moraes finally makes his UFC debut after a long stint as the bantamweight champion in World Series of Fighting. While at WSOF, the 29-year-old notably defeated Miguel Torres, Tyson Nam, Cody Bollinger and Sheymon Moraes. Assuncao bounced back from a loss to T.J. Dillashaw by edging out Aljamain Sterling in January. In fact, only Dillashaw has been able to beat him at bantamweight, but Assuncao's career has been recently been affected by numerous injuries, leaving him unable to compete regularly.
We'll learn a lot about both these fighters in this all-Brazilian affair. Is Moraes ready for elite UFC competition? Are Assuncao's days as a contender over? Moraes is very good on the ground but he's the much better, faster, more powerful striker. The dynamic changes if Assuncao can take him down or work off the counterpunch. Moraes takes this and establishes his place as an instant UFC contender.
Number of Note: 6. Assuncao has eight UFC victories and six of them have gone the distance. He's not an offensive machine, so he's a fighter to avoid picking even if you think he'll win.
---
Luan Chagas ($8,800) vs. Jim Wallhead ($7,400)
Welterweights
Chagas is still looking for his first career UFC win. He managed a draw against the favored Sergio Moraes at UFC 198, but then lost by rear-naked choke late in the 3rd round against Erick Silva last September. Wallhead is one of the more familiar names on the English MMA circuit over the years, and "Judo" Jim finally made his UFC debut in September 2016. Unfortunately for Wallhead, despite scoring a late knockdown, he would ultimately lose a split decision to Jessin Ayari.
If there's anything Chagas is shown, it's a willingness to brawl and impressive takedown defense. His fight IQ and gas tank are concerns, but he's got powerful striking, and I don't think Wallhead will be able to cope with the early onslaught Chagas is likely to provide. It's a close scrap given Wallhead's experience and more well-rounded game, but I think Chagas gets an impressive finish.
Number of Note: 3. While he doesn't have a win inside the Octagon, Chagas has already amassed three knockdowns in his previous two fights; once against Moraes, twice against Silva.
---
I am a promoter at DraftKings and am also an avid fan and user (my username is mookiealexander) and may sometimes play on my personal account in the games that I offer advice on. Although I have expressed my personal view on the games and strategies above, they do not necessarily reflect the view(s) of DraftKings and I may also deploy different players and strategies than what I recommend above.