We're just a few days away from UFC 202, and unlike the international, there will be no (figuratively-speaking) gold on the line at the T-Mobile Arena on August 20th. That said, Conor McGregor's main event rematch vs. Nate Diaz is a showdown that very much has a championship feel to it, and indeed will have more public interest than we've seen for most UFC title fights.
As we approach what hopes to be another magical night of fights in Las Vegas, let's take a look at some of the top choices on the card who could produce high scores for your DraftKings lineup(s).
Nate Diaz ($9,200) vs. Conor McGregor
Welterweights
It's been one heck of a turnaround for Nate Diaz. He's gone from 1-3 and not a "needle-mover" to another Pay-Per-View main event against "The Notorious" one, whom he's already beaten. Considering the circumstances surrounding the first matchup, Diaz turned in one of his finest performances ever. Contrary to what McGregor has said, Nate wasn't dominated for 8 minutes; Diaz's jab was on point, his punch timing was terrific, and when he has an opportunity to get the finish, he will get it one way or another.
Of course, it would be foolish to discount McGregor's chances on Saturday night. He's not gone from champ to scrub overnight, and he can KO anyone, including Nate Diaz. That said, I lean ever-so-slightly towards Diaz winning (and by stoppage) again. At $9,200, Diaz is a great value pick given what transpired in March.
Number of Note: 230. Nate has landed 230 significant strikes over his last two fights: 77 vs. McGregor, 153 vs. Johnson. Neither McGregor nor Johnson had previously ever absorbed that many strikes in a single fight in their respective UFC careers.
---
Anthony Johnson ($10,700) vs. Glover Teixeira
Light Heavyweights
When ranking the most powerful strikers in all of MMA, "Rumble" absolutely has to be towards the top of the list. A whopping 11 of his 15 knockout wins have come in the 1st round, which is a major plus for fantasy MMA players. He pounded out the surging Ryan Bader in less than 90 seconds back in January, emphatically reminding everyone that he is one of the best light heavyweights in the world.

This co-main vs. Teixeira is a real toss-up. Glover is a BJJ black belt and Rumble is historically suspect off of his back. Both men possess KO power but Teixeira has been wobbled by lesser punchers. Ultimately, if he's powerful enough to knock Daniel Cormier down, make Ryan Bader look like an amateur, and smash through Alexander Gustafsson in Sweden, Anthony Johnson can most certainly stop the Brazilian. I must admit, $10,700 is a steep price to pay, but could be worth it.
Number of Note: 4. Anthony Johnson has been submitted in 4 of his 5 losses, all of them by rear-naked choke. Glover Teixeira's most recent submission win (against Ovince St. Preux) was by … you guessed it, rear-naked choke!
---
Cody Garbrandt ($10,300) vs. Takeya Mizugaki
Bantamweights
Team Alpha Male's Garbrandt was given his first UFC main event slot back in May, when he emphatically thrashed fellow young 135 lbs knockout artist Thomas Almeida in just under 3 minutes, making it 6 1st round KO wins in 9 fights. Cody is a dangerous boxer with tremendous power and excellent finishing abilities. Admittedly, we haven't seen him take on any high-level takedown threat inside the Octagon, and Mizugaki neither aggressively pursues takedowns (3-for-13 in his last 5 fights) nor actively seeks submissions (1 career sub attempt in his UFC career, and 1 career sub win in his MMA career).
Mizugaki has had mixed results when taking on other prospects, defeating Erik Perez by split decision in 2013 but losing by arm-triangle choke to Aljamain Sterling last year. Garbrandt's yet to face someone as experienced as Takeya, but I see his superior athleticism and vaunted power coming through again to make another big leap towards a title shot.
Number of Note: 2. Takeya Mizugaki has only been finished with strikes twice in his 11 year, 32-fight career. One of those was against Dominick Cruz in 2014, but it was a ground-and-pound KO without a knockdown. Scott Jorgensen dropped Mizugaki twice in 2009, which marks the last time he's suffered an official knockdown.
---
Raquel Pennington ($9,200) vs. Elizabeth Phillips
Women's Bantamweights
If there's anyone who has flown under the radar as a contender at women's bantamweight, it's Raquel Pennington. Her only two losses in six UFC fights are to Holly Holm and Jessica Andrade, of which she avenged the Andrade defeat by submitting her last year. The TUF 18 alum edged out former title challenger Bethe Correia in April, displaying good body work, effective clinch striking, and impressive strength and physicality.
Considering the controversial decision vs. Milana Dudieva, Phillips is really unlucky not to be 2-1 in the UFC as opposed to 1-2. That said, given Phillips' relative struggles in her win against Jessamyn Duke last year, I think we'll see a breakout performance from Pennington and a one-sided victory.
Number of Note: 5. Pennington and Phillips have gone to a split decision a combined 5 times in the UFC. Raquel is 1-3, while Elizabeth is 0-2.
---
Neil Magny ($10,500) vs. Lorenz Larkin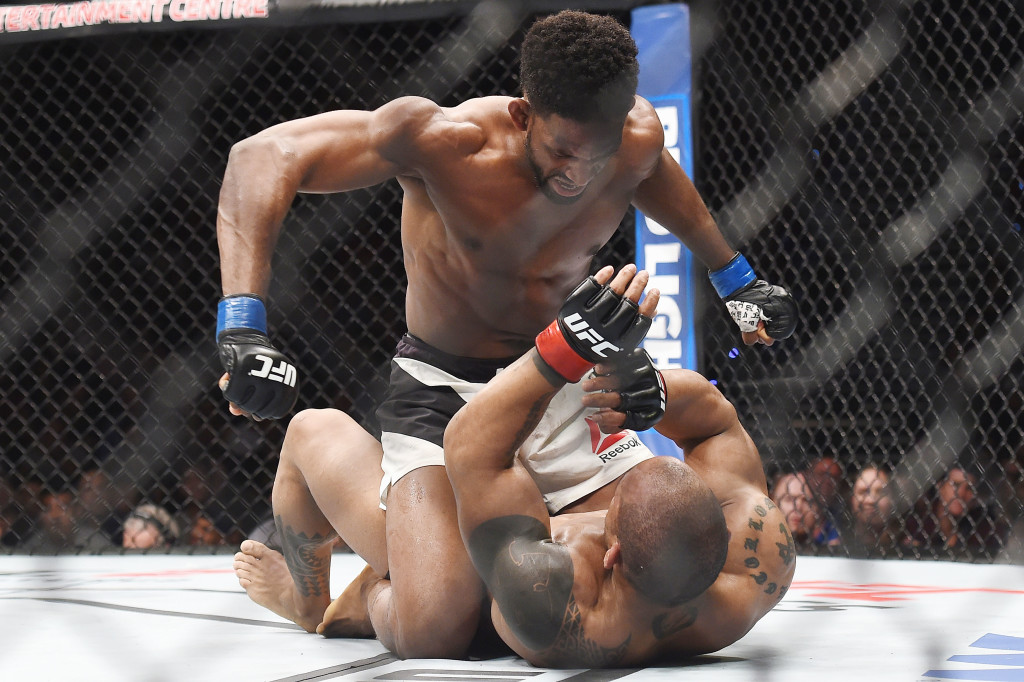 Welterweights
Believe it or not, this is only Magny's 2nd fight of 2016. He competed 5 times in both 2015 and 2014, making him one of the most active fighters on the roster. Only the great Demian Maia has beaten him over his last 11 bouts. We last saw Magny rally to become the first man to finish Hector Lombard. Magny is tall (6'3″) and has a very long reach (80″) for welterweight, and he puts it to great use. His skills continue to improve each time out, and he's more than earned his standing as a top 10 fighter.
While fans may expect this to play out predominantly on the feet, which may favor Larkin, I expect Magny to really test Larkin's ground game. Magny not only has underrated takedowns — he took Kelvin Gastelum down 6 times in their November 2015 clash — but his top game is outstanding. He does much of his damage, and often finishes fights, from dominant positions, and that's where I figure Magny will take full control of this highly intriguing feature Fight Pass prelim.
Number of Note: 4. Neil Magny's rise to the top has not been without a few scares. He's been knocked down twice in his last two fights (vs. Lombard and Gastelum), but managed to pull through in the end. Larkin's power has been better suited to 170 as opposed to 185, so Magny has to be very careful against "The Monsoon."
---
I am a promoter at DraftKings and am also an avid fan and user (my username is mookiealexander) and may sometimes play on my personal account in the games that I offer advice on. Although I have expressed my personal view on the games and strategies above, they do not necessarily reflect the view(s) of DraftKings and I may also deploy different players and strategies than what I recommend above.