Old White TPC in White Sulphur Springs, WV is host to the next stop on the PGA Tour: the Greenbriar Classic. The tournament has been held here every year since 2010, and since then the average winning score has been around -15. You are going to need to select some players who card lots of birdies to stay in contention this week. Here are some players – at every price range – to help you narrow your focus. Good luck!
Enter the PGA $250K Drive the Green – Only $3 Entry >> DRAFT NOW!!
High-Priced
Bubba Watson ($13,000) – Bubba has only played this tournament twice, including a T16 finish last year. In his eight rounds here, every one of them has been under par. Coming off a win at the Travelers Championship, he should show up on Thursday with all the confidence he needs to put up a low score.
Webb Simpson ($11,800) – If you read my PGA Breakdown, you'd know I think that what players need most this weekend is confidence. You know Simpson has the game to compete if he's feeling it and playing well. Well, if three top ten finishes in this tournament in his last four appearances doesn't give him confidence, I don't know what would.
Bill Haas ($10,500) – He is always near the front of the pack on Tour in terms of putting statistics, and this season is no exception. That's always useful, and on a course where you can consistently leave yourself makable putts, it can lead to big fantasy points in a hurry. He has made the cut four times in four tries here, and has one second-place finish (a playoff loss in 2011).
Kevin Kisner ($10,200) – Kisner's history at Old White TPC might scare off plenty of fantasy owners, leaving his ownership percentage lower than you might otherwise expect. And I can't say I blame them – he has missed the cut here all three times he's tried. But let's be real – he was not the same golfer at the time of any of those appearances that he has been lately. Since missing the cut at the Houston Open the first weekend in April, he has seven straight cuts made, including five finishes inside the top 12. He has only four rounds over par for that entire seven-tournament run.
Tony Finau ($9,800) – Finau is all of a sudden looking like the most impressive and successful rookie on tour this year, impressive in what has turned out to be a loaded field, at least so far. His T25 at the Travelers was his worst finish since April, and even with the US Open (where no one really scored big) being factored in, he is averaging just about 80 fantasy points over that stretch.
Mid-Priced
Pat Perez ($8,700) – He has made the cut every time he's played here, and has finished in the top ten two times out of four. Clearly, he likes the place. I like the fact that he's finished in the top-20 three times in his last four, and five of his last seven.
Tiger Woods ($8,600) – Admittedly, this is a bit of a stretch. But the logic works like this: a forgiving course, especially off the tee, could be exactly what Tiger needs to get his confidence back and get his game back in order. And if he can do that early in the Tournament, he certainly has the ability to put some pressure on other golfers come the weekend (if he makes it that far). This is a big risk, big reward play.
Cameron Tringale ($8,200) – He's finished inside the top-5 here twice, in 2011 and 2014, making this a perfect opportunity for him to get back on a winning track. But on a course that doesn't require a lot of length to be successful, he could have an opportunity to thrive.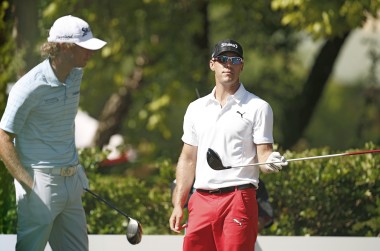 Will Wilcox ($8,100) – His first-ever PGA Tour event was here, last year, and he finished T4. He has only played in ten tournaments this year, and he has missed three cuts, but he also has five top-25 finishes (including two in the top-12). He clearly has the skills to compete, with multiple top-end finishes in year 1 of his career.
Low-Priced
David Lingmerth ($7,600) – Lingmerth got a victory at The Memorial Tournament just back at the beginning of June. He then promptly had a couple of weeks away from the tour, and came back last weekend to finish T64. But, he did that with only one round over par, and he should be able to stay relatively safe on an open course like Old White TPC.
Chris Stroud ($7,400) – He has made three of four cuts in this tournament, and made them with authority: he has a T18 and two other top-10's here. Past success = confidence. He also played very well at the Travelers last weekend (ending with T10). Recent success: confidence. Stroud should be dripping in it.
Steven Bowditch ($7,300) – Sometimes you just need an inexpensive option, who carries with him more risk of failure. Guys like him just make me so happy to watch.
Good luck!