Let's take a look at my top golfer's ahead of this weekend's Travelers Championship!
Golfers I Love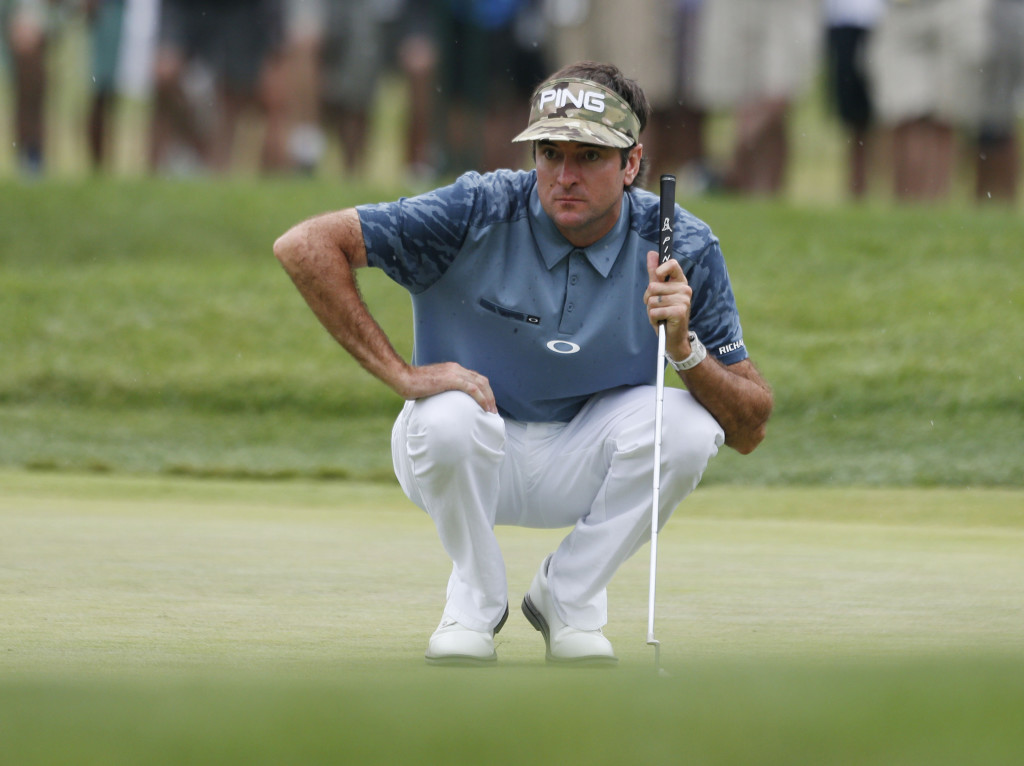 Bubba Watson ($12,300) – I think Bubba Watson's recent form is going to keep people away from him this week. However, Bubba Watson at the Travelers is not a situation I'm looking to pass up. With no finish above fourteenth place in nearly three months, Bubba does not have recent form to write home about. However, in Bubba Watson's last three top ten finishes at this event, his average finish position over the prior twelve weeks was fiftieth place. Don't let Bubba's recent form fool you, the last couple months of events have not set up well for him, but this one does.
Brooks Koepka ($11,200) – Despite coming off a recent ankle injury that forced Koepka to withdraw from the Open Championship, we saw him come out firing with 68-67 opening rounds that was easily good enough to get him to the weekend at the PGA Championship. Koepka had only one round in the 70's which was good enough to land him a fourth place finish last week. Now that we've seen what Koepka can do coming off his ankle injury, I'm ready to get on board this week that should favor players like Koepka who are long off the tee but have good scoring ability and a tee-to-green game to match.
Tony Finau ($8,300) – Finau is another golfer who is coming off a short string of underperformance. However, as was the case with Bubba, Finau was not well equipped to deal with some of the recent courses. Finau's length off the tee and par four scoring should serve his intentions well this week.
Bryson DeChambeau ($7,200) – We are back in a spot where rostering DeChambeau is viable after a long stretch of being extremely popular and overpriced, which is a combination ripe for fading. Bryson's ownership numbers have slowly but surely dropped since they peaked at Valero. He is by no means a lock to make the cut this week, but should have a good combination of low price and upside that makes him a decent GPP play this week.
Chez Reavie ($6,200) – My love for Chez Reavie is based on many reasons this week, and all of those reasons are his stats. Reavie is ranked in the top twenty-five in all of the following categories: Bogey Avoidance, Driving Accuracy, Good Drive Percentage, Par 4 Scoring, Proximity, Strokes Gained: Approaching the Green, and Strokes Gained: Tee-to-Green. I expect his ownership to be low, and his upside to be high this week which is a combination that should be well worth a shot at only a $6,200 price tag.
---
Golfers I Like
Matt Kuchar ($10,600) – I really like Matt Kuchar this week in GPP formats, primarily because he is coming off only his third missed cut since 2013. As hopefully you know, Kuchar made the hate section of my article last week primarily because of his consistent underperformance in majors. However, we're coming off the last major of the year in what will be a significantly weaker field. And, as such, Kuchar should have very good top ten upside and high likelihood to make the cut as is typically the case from week-to-week.
Jon Rahm ($9,800) – It may be surprising, but Rahm is actually underpriced when you compare his odds to his salary this week. While his total number of rounds recorded is too low to be counted in the official PGA Tour rankings, after eight rounds measured, Jon Rahm's statistics are nothing short of incredible. His Strokes Gained metrics rankings would land in the following ranks on Tour: Off-the-Tee, 2nd place; Approach-the-Green, 97th; Around-the-Green, 2nd; Putting, 1st; Total, 1st. Look for Rahm's stats to dip a bit as he gets more rounds under his belt, but so far this has been a trend that can't be overlooked in my mind.
Francesco Molinari ($8,900) – Molinari does not have the upside that I'm targeting in GPPs, but his performance recently has been extremely solid. Molinari's cut making ability is nearly unmatched in the salary ranges we find him in, and he makes an interesting choice this week for cash game formats with his fifteen of eighteen cuts made this year between Euro Tour and PGA events.
Ryan Moore ($7,800) – I would be ignoring my obligation to my readers if I didn't at least mention Ryan Moore in this week's article. With an average finish position of twenty-third over the course of nine years at this event, including five top ten finishes, you can expect Ryan Moore to be very popular this week. However, with Moore's incredible consistency and upside at the Travelers, it's really difficult to try to make a case for fading him at only $7,800. As such, I'll likely be taking Moore in a large percentage of my lineups.
Webb Simpson ($10,000) – I'm a bit surprised to see Webb Simpson with this high salary. However, with that price tag, that should lead to his ownership being quite low this week. Since his change in putting grip, we've seen Webb perform exceptionally well. Again, because of the price tag, I think his ownership will be low which could lead to a really sneaky GPP play because of his upside.
---
Golfers I Hate
Patrick Reed ($10,900) – Reed has been on a run of really consistent golf recently, and this is a fade that concerns me a bit. That being said, Reed has performed well on courses that have fit his mold extremely well up until now. The same cannot be said about the Travelers this week though, and with Reed facing back-to-back missed cuts here, I think I'll take my salary and spend it elsewhere.
Louis Oosthuizen ($9,300) – Don't be lured into the fact that Louis is inexpensive this week at only $9,300. Louis is notorious for underperforming in weak field events on small stages, and he has a course history at the Travelers that paints the same eerily consistent picture with a missed cut and a forty-seventh place finish in his two starts here. There isn't enough here that makes playing Louis worth it for me, so I'll be crossing his name off my list.
Shane Lowry ($7,900) – Shane Lowry is at roughly the same price he was at the PGA Championship which has me a bit torn since it means he's probably underpriced. The alternative though is that there is almost no price that I would take Shane Lowry after watching him miss cuts in three straight events. While that's probably an exaggeration on my end, I certainly won't be taking him in this particular situation.
Daniel Summerhays ($7,600) – After his third place finish at the PGA Championship last week, you can expect Summerhays to be very popular in most formats. I will not be following suit though, knowing that Summerhays has missed three straight cuts at this event and has a 74th place finish in his only made cut here. Despite Summerhays coming off a big finish, I don't think he has the tools to overcome a poor course fit this week.
Chris Stroud ($6,300) – I couldn't fault you for playing Chris Stroud this week by any means, particularly when you take a closer look at his history at this event. With eight straight made cuts and two top ten finishes in his last three finishes at this event, his course history is exceptional, but it's also the reason that I expect Stroud to be a very popular option this week. At only $6,300 his ownership could push the ten percent mark or more which is too high for my liking, particularly in GPP formats.
Do you have questions about golfers who aren't in this article? Get more weekly analysis and answers to any of your questions by following me on Twitter @BradMessersmith
---
I am a promoter at DraftKings and am also an avid fan and user (my username is IthinkIcan1) and may sometimes play on my personal account in the games that I offer advice on. Although I have expressed my personal view on the games and strategies above, they do not necessarily reflect the view(s) of DraftKings and I may also deploy different players and strategies than what I recommend above.