No golf tournament throughout the year can match the storied history associated with the Open Championship which has taken place since 1860 on some of the game's most remarkable courses. Even the greatest golfers in history have crumbled under the immense pressure of trying to earn the coveted Claret Jug. I've created a list of golfers I love, like and hate to help guide your selections.
Golfers I Love
Dustin Johnson ($12,000) – If you've been anywhere but under a rock the last month it should come as no surprise that Dustin Johnson makes the list of golfers I love. Coming off back-to-back wins and four straight top five finishes, Dustin Johnson has taken his seat as the second ranked golfer in the world behind Jason Day. Even scarier, is the fact that Dustin Johnson ranks second in Strokes Gained: Tee-to-Green, Proximity and Proximity from the Rough, all of which are going to be crucial on Royal Troon which features overtly small greens and difficult rough.
Adam Scott ($10,600) – In his three most recent events, Scott has finished 55th, eighteenth, and tenth which marks a trend that has held some weight historically. Just prior to his back-to-back winning performance earlier this season, Scott went from 56th to second before rattling off his two wins. As a golfer who has been under twenty percent owned in both majors this season, I expect Scott to make a great GPP option at low ownership with winning upside. Most convincing is the fact that Scott hasn't finished outside the top ten in any Open Championship in four years which is a feat that hasn't been accomplished by any other golfer in the field.
Sergio Garcia ($10,000) – You may be shocked to learn that Sergio Garcia has his own streak of four top five finishes in five events, with a win mixed in. His field leading Green in Regulation numbers will serve him well as he tries to continue his string of impressive results. His price makes him a fantastic value, so Sergio is both a GPP and cash game consideration for me this week with his combination of consistency and upside.
Branden Grace ($9,700) – While it's tempting to copy and paste Sergio's paragraph and replace the name with Grace's, I'll resist the temptation; however, the comparison is striking. Like Sergio, Grace has exceptional history at the Open Championship having made 100% of cuts at this event, and like Sergio, Grace has top ten finishes in four straight events. The only difference is that Grace is $300 cheaper and doesn't quite stand out as much as Sergio does in some of the important stats categories, but as the tenth ranked golfer in the world (higher than Sergio), Grace can certainly be expected to compete.
Matt Kuchar ($7,800) – I may be sounding a bit like a broken record, but guess who has a string of five top ten finishes in six events? While his recent form is definitely impressive, it may surprise you to know that based on statistics alone, Matt Kuchar fits the profile for this course better than any other player in the field, and he's under $8,000. Kuchar is going to be very popular this week but feels like a necessary component in any good cash game lineup.
Chris Wood ($7,600) – I'm breaking all the rules this week and adding a bonus golfer to my love section because I just couldn't leave Chris Wood off. While he may not be a household name, Wood turned pro in 2008 and has been around the block a few more times than you may think. It might surprise you to know that Wood has two top five finishes at the Open Championship (what was the British Open at the time) and finished 23rd in both this year's U.S. Open and last year's Open Championship. As the 24th ranked golfer in the world, I like Chris Wood as a major sleeper in this event.

---
Golfers I Like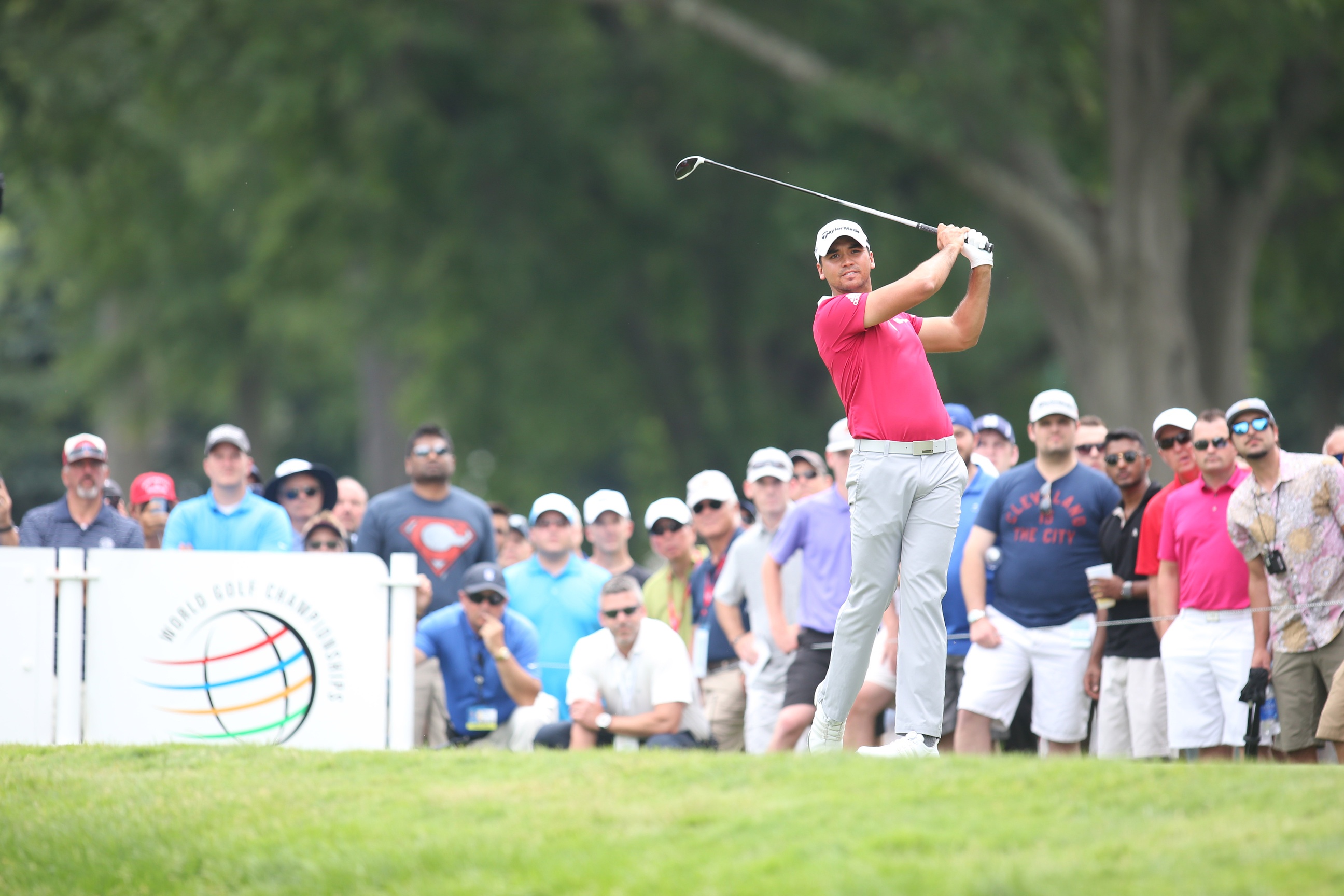 Jason Day ($12,300) – I could be wrong, but the idea of fading the world's number one player just doesn't seem like a good idea from ten thousand feet up. Jason Day does not have any incredible history at the Open, but he has completely turned a corner in the last two years, so his lack of history can be written off in my opinion. If we think back to The PLAYERS, you may remember that Day was in a similar spot and won in convincing fashion just this year. After all, being ranked in the top 25 in Strokes Gained: Tee-to-Green, Bogey Avoidance, Strokes Gained: Approaching the Green, Strokes Gained: Putting, and Birdie or Better Percentage is a luxury that not many players in the world have.
Rory McIlroy ($11,900) – It will be very tempting to look at Rory McIlroy's missed cut at the U.S. Open and write him off. However, the last time he missed a cut at a major Rory proceeded to rip off top 25 five finishes in every single major for ten straight. Don't take Rory lightly and don't expect McIlroy to take his recent missed cut lying down.
Bubba Watson ($8,000) – What a world we live in to be able to get the number five ranked golfer in the world at only $8k, with nearly twenty players being priced ahead of Bubba. Historically, Bubba has not been great in Open Championships; however, for his skill and upside he's practically free. On what planet does Bubba Watson belong $800 cheaper than Shane Lowry in price! Bubba's a past major winner, and has the talent to win in any tournament, and at his price Bubba doesn't even need to win to meet value.
Kevin Na ($6,500) – I mentioned last week that Kevin Na performs very well in tough field events and WGC events in particular, but Na also has a tendency to outperform his price in majors. Dating back to 2013, Kevin Na has made the cut in eight of ten majors and has been in the top fifteen twice in the last six events. To me, that's certainly enough upside to roster Na in GPP formats this week.
Gary Woodland ($6,300) – Woodland has made sixteen of eighteen cuts on Tour this season and has slowly but surely had results trending upwards on the leaderboard, highlighted by his second place finish at the Barracuda Championship last week. With Woodland's game trending upwards, his top twenty rank in Greens in Regulation, Strokes Gained: Approaching the Green, Strokes Gained: Tee-to-Green and Bogey Avoidance are just the icing on the cake.
---
Golfers I Hate
Jordan Spieth ($11,700) – I've made this mistake before and been burned by fading Spieth in majors, but I'm going to say that if a course existed that could conquer Spieth it would probably be a course like Royal Troon where the greens are small and difficult to hit. Spieth ranks only 164th in Greens in Regulation which has the potential to be detrimental on this course. We saw Spieth underperform at Oakmont which was also a punishing course to those golfers who weren't hitting greens consistently, and it's definitely possible there is a similar fate in Spieth's near future.
Rickie Fowler ($9,900) – While Rickie may still be a bit underpriced for his overall skill-set, I will be fading him this week. It's been over a year since we've seen Rickie Fowler finish inside the top thirty in what I would classify as the seasons biggest events (The PLAYERS, The Memorial, majors etc). We've seen him consistently underperform in this type of spot for years on Tour. Don't be fooled by the recent top ten Rickie put out two weeks ago at the WGC Bridgestone. Rickie was never really in contention and racked up 14 bogeys on his way to being one over par after two rounds in a no cut event.
Justin Rose ($9,400) – It will be very tempting to want to pencil in Rose at $9,400, however there is one word I find myself muttering as I erase his name each time he finds his way into a lineup of mine: Proximity. Rose's 184th place ranking in Proximity is one of the worst in the field, and as I may have mentioned before, the greens at Royal Troon are small. By small I mean infinitesimal. The eighth hole is nicknamed the postage stamp because of the size of its green, and yes it's because it's been compared to trying to hit a postage stamp with a pitch shot. If you aren't already following suit, you should be muttering the word "proximity" as you start building lineups this week and for that reason I'm going to pass on Rose.
Zach Johnson ($8,100) – It's going to be a very unpopular option to fade defending Open champion Zach Johnson because on the surface he checks out statistically and has been in great form and is at a great price. When I dug a bit deeper on Johnson I found that despite his above average ranking in Proximity, he is ranked only 163rd in Proximity from the Rough. Ordinarily this may not mean much, but for a golfer whose Good Drive Percentage is ranked 120th on Tour, you can expect Johnson to be playing quite a bit from the rough which won't bode well for him if it leads to him struggling to hit his targets.
Ernie Els ($7,300) – What's not to love about "Big Easy" Els as a golfer? As much as I love watching Ernie do battle with the youngster who grew up watching him win golf tournaments like the Open Championship, I don't think Els belongs in our DraftKings lineups. Els ranks outside the top 100 in any of the relevant stats categories I'm looking at, and despite a fifth place finish at the Quicken Loans two weeks ago, Els has only made 45% of cuts in the last sixteen weeks.
Do you have questions about golfers who aren't in this article? Get more weekly analysis and answers to any of your questions by following me on Twitter @BradMessersmith
---
I am a promoter at DraftKings and am also an avid fan and user (my username is IthinkIcan1) and may sometimes play on my personal account in the games that I offer advice on. Although I have expressed my personal view on the games and strategies above, they do not necessarily reflect the view(s) of DraftKings and I may also deploy different players and strategies than what I recommend above.