It seems like just yesterday we were all watching players tee off in the first tournament of the year in Hawaii. Now it's mid-march and were literally only two tournaments away before the first major of the year: The Masters. There is literally nothing better than watching golf at Augusta in the spring, except maybe winning a bunch of money while doing at it. DraftKings has now released pricing for its Masters Millionaire Maker tournament and I'm going to give you my early thoughts, and first impressions on the pricing. Specifically, who's looking like a possible must play, who's price might keep their ownership down, and who I might consider fading.
DRAFT YOUR PGA LINEUP
Augusta National Sneak Peak
Augusta plays different than almost any other course on the circuit. It's a long par 72 that contains a lot of wide fairways, lots of elevation and greens with harsh edges and fast runoffs. Built on a former tree sanctuary the course has seen some "improvements" over the years and most of them have lengthened the course making it more of bombers paradise. Distance off the tee obviously doesn't hurt here (it doesn't hurt on most courses) but the one stat that really matters on Augusta is how you play the par 5's. Winner's here have tended to play the par 3's and par 4's at even or just under par for the week but have generally been near double digits under par on the par 5's.
Familiarity with the course also doesn't hurt and Augusta is definitely a place you want your golfer to have experienced a couple times before using in your lineups. No winner since 1979 (Fuzzy Zoeller) has won here on their first attempt, and no winner has failed to make the cut at Augusta in the year before they won. We'll talk more about what to look for in your golfers during the lead-up to the Millionaire Maker but for now know that players with experience, who know how to score on Augusta's four par 5's, will be valuable allies this week.
---
Top Play
What does Adam Scott have to do to get to the top slot in the salary charts on DraftKings? As I write this article Scott is coming off of back to back wins (Honda and Doral) and a second place finish at the Northern Trust Open. All of the question marks that surrounded Scott at the start of the year have seemingly fallen by the wayside as we've seen the return of his normally dominant driving and tee to green game (1st in strokes gained: tee to green, 10th in driving distance) and also seen him rise to more than respectable levels of putting (43rd in strokes gained: putting). The key to Augusta has always been to hammer the par 5's and then hold on the rest of the way and Scott is currently the number one ranked player in par 5 scoring for the year. You can make arguments that he's not a great closer, should have more majors already etc etc etc, but right now there is zero doubt that he's coming into this tournament as the best player in the world. As a former Masters winner and only the third most expensive player on DK he's someone I'd want a lot of exposure to come Masters week. There's few players capable of matching his level at the moment.
Second Option
The other big name who's raised his level of play in 2016? Rickie Fowler. Yes, Fowler blew the Phoenix Open and yeah he kind of blew the Honda, but the stats don't lie, Rickie is playing the best golf of his life. Fowler currently ranks inside the top ten in pretty much every single statistically category of importance and has even increased his driving distance this year to where he now ranks inside the top 30 in that category for the first time in his career as well. While many may look to the former champions ranked above him as "safer" plays Rickie has proven himself at Augusta already with 5th and 12th place finishes and enters the tournament this season in much better form. Fowler proved himself to be a closer last season, winning three times overall and taking down perhaps the best field of the year at the Players. At $10,900 I think he's the best value of the top 6 and offers as much upside as any player in the tournament.
Pure Value
Assuming he tees it up at Augusta, expect Danny Willett to be one of the most popular plays of the week. I say assuming because even though Willett has already qualified for Augusta, his wife is due to give birth that week and he's gone on record as saying he'll skip the event if it coincides with the birth (what a guy!). Anyways, for DFS purposes if Willett does play he's got to be considered the value play of the tournament as he's currently the 11th ranked player in the world but comes in salaried at a price that see's him fall in with players who haven't shown his level of consistency or play yet this year.
Willett has already won on the European tour in 2016 and just missed taking down the first WGC of the year at Doral. He's someone else who can dominate par 5's and should take well to Augusta over the long run. At $8000 he's looking like an absolute steal.
When scrolling down through the salaries it was hard to see any obvious value targets stick out but once you start doing the math on Moore I think he's more than someone you should just "think about using" at the Masters. Moore has played well this year with four top tens on the season and a 3rd just a couple weeks ago in Tampa. Moreover, Moore has played well at Augusta, making the cut twice as an Amateur (including a 14th in 2005) and posting two top 15's as a pro. While he doesn't have the prototypical power game he's proven himself here time and again. With experience being a big factor here he's someone I wouldn't overlook at his price, and while there's potentially "sexier" picks in that range, Moore appears like the best pure value under 7k and someone to track up till Augusta.
Potential

GPP

targets
Why should you care about Louis Oosthuizen this week? Well first of all the guy just shows up in majors. In his last eight major appearances Oosthuizen has never failed to finish outside of the top 40 and has two runner-up finishes from last year at the US Open and Open Championship. While we haven't seen a ton of Louis this year in the US what we've seen is very encouraging as his last outing landed him a 7th place finish on a course that doesn't necessarily suit his skill set. Oosthuizen has proven he can perform on Augusta though and narrowly missed winning there in 2012. At $8800, with Hideki Matsuyama and the red hot Charl Schwartzel above him, and a dearth of quality players beneath him, I feel like he'll be the forgotten man in that price range and make for a potentially low-owned tournament target.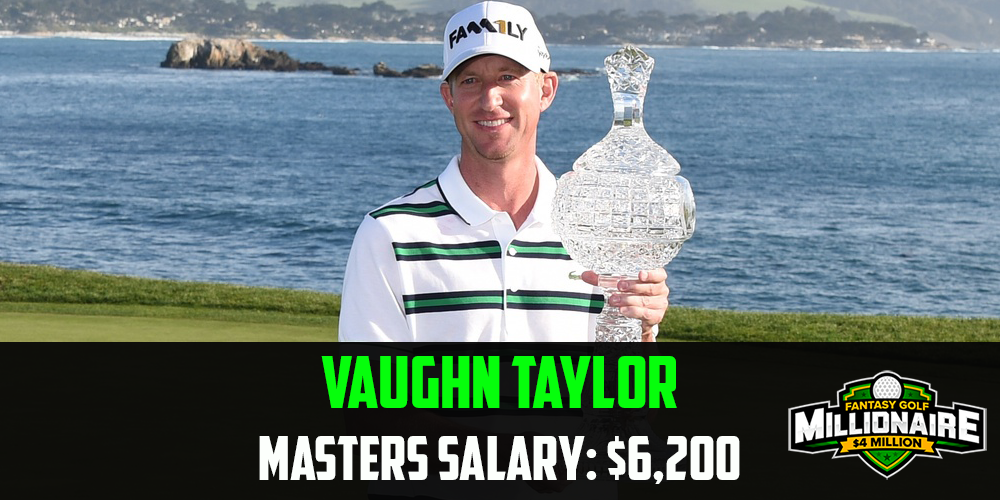 Taylor really was the talk of the town a month or so ago after his surprise win at Pebble Beach but since then he's missed a few cuts in a row and probably been forgotten about by most fantasy players. Taylor has some important connections to Augusta though; he was raised there and went to college there too. Taylor's win got him back in the Masters this year and while you'd like to see some form from him before entering the tournament you can bet he'll be doing everything in his power to ensure he gets four rounds of play in this year. In three previous appearances Taylor has two missed cuts and also posted a T10 at Augusta National. So while he's not exactly a lock for a made cut, he's proven if he does make the weekend here he can thrive and that alone makes him a pretty interesting boom or bust style of gpp play at $6200.
Overpriced?
While Stenson hasn't necessarily struggled at Augusta he hasn't exactly blown the doors off the course either. Stenson's awesome tee to green game plays anywhere but Augusta also requires a soft touch on and around the greens and that's something Stenson has struggled with. He comes in with poor putting and scrambling stats in 2016, and is also coming off a minor knee surgery he incurred over the winter. The hilly Augusta National isn't a great place for someone with a sore knee and given that you have Hideki Matsuyama and Justin Rose—both of whom have great records at Augusta—above and below Stenson I think he's slightly too expensive for the question marks he brings. If he shows form in the final tournaments Stenson might be an interesting gpp play but otherwise he's looking a little too expensive for me to play this year.