Rankings below are based on a mixture of expected output and DraftKings' NASCAR salaries for that day. The ordering is not based on highest projected fantasy totals, but rather by value of each driver. These rankings are not developed or provided by NASCAR, Inc., or its affiliates.
1. Dale Earnhardt Jr. (12,200) – Jr. sits 4th in the Chase standings with his lone win coming at Talladega. He has 2 wins at Pocono (2015 sweep) and 13 top 10s.
2. Jimmie Johnson (13,400) – Johnson's 4 wins on the season top all drivers. The #48 has 3 wins at Pocono with a sweep in 2004. It shouldn't surprise anybody if he finds Victory Lane again this week.
3. Jeff Gordon (11,300) – Gordon needs a win to make the Chase and cap of a great career. He leads all drivers with 6 wins and 31 top 10s at Pocono. His most recent win at Pocono was in 2012.
4. Denny Hamlin (11,600) – Hamlin is in the Chase and has the All-Star win. Out of 18 appearances at Pocono, Hamlin has 4 wins and 12 top 10s. He has also led 667 laps at the "Tricky Triangle."
5. Joey Logano (11,500) – Logano quietly sits in 3rd in the Chase standings. He has done well at Pocono and found Victory Lane in 2012. The Penske guy's have the ability to win every week.
6. Kevin Harvick (14,000) – Harvick hasn't had the success at Pocono like he has at other tracks (No Wins). He boasts an average finish of 10th at Pocono since 2013. Week after week, it is just hard to pick against "Happy"
7. Martin Truex Jr. (11,100) – Truex is the hottest driver on the NASCAR circuit. He sits in 10th in the Sprint Cup standings, but only because he hasn't had a win. He doesn't have a win at Pocono, but this has been his year and the Furniture Row team could make a splash at Pocono.
8. Kurt Busch (12,500) – Kurt is another 2 time winner at Pocono ('05, '07). He has had a strong year and fortunately shares a garage with Kevin Harvick. Kurt is 8th in the Chase and has his win, look for another strong run.
9. Matt Kenseth (10,200) – Kenseth has 8 Superspeedway wins over the course of his career. However, he has never won at Pocono. He has 3 top 5s at Pocono. He ended up 39th at Dover due to a broken track bar, but that shouldn't cause any worry this week.
10. Kasey Kahne (10,800) – Kahne flew under the DFS radar last week and finished 4th. Based on price, he still is a great mid-tier play. He has 2 wins at Pocono and drives for a Hendrick team that has seen a lot of success at the "Tricky Triangle."
11. Brad Keselowski (11,700) – BK is in the top 5 of the Chase standings with a win at Fontana. He's had success at Pocono with a win in 2011, and then nearly again in 2014. Each week, Keselowski is always flirting with the lead making him a serious DFS scoring threat.
12. Carl Edwards (10,300) – Edwards was set to have a good day at Dover, but pit road mishaps derailed his day. In the middle of his career, Cousin Carl was dynamite at Pocono, but over last several years he's been mediocre. With the recent price hikes to Kahne and Truex, the 19 may be the only affordable mid-tier play.
13. Kyle Busch (11,000) – Kyle needs to finish in the the top 30 in standings and pull off a win. Dover did nothing to help his cause. When he doesn't crash or blow an engine at Pocono, Rowdy does well. However, his price hike and the Dover mishap make Kyle a risky proposition this week.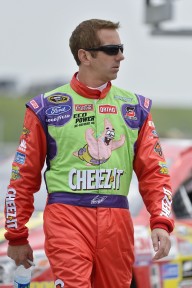 14. Greg Biffle (9,000) – The Bif was on a little bit of a roll before last week, but that was just hiccup. He averages a 16th place finish at Pocono. He's not a home run pick, but a safe play for the price.
15. Jamie McMurray (9,700) – No McDonald's jokes, I promise. Jamie Mac has been a top 15 driver each week, and that's about how he finishes at Pocono. He's a safe 50/50 play at Pocono (I was going to do a play on words with Grimace, but I'm not that clever).
16. Paul Menard (8,700) – Menard continues to take the title of Mr. Consistency. His average finish for the season has been 15th. Menard has 2 top 10s at Pocono, but has a win at Indy (a comparable track). All things considered, price and consistency is the play here.
17. Ryan Newman (9,500) – We predicted last week that Newman was due for a step back. His team had been lucky all season and his top finishes were not reflective of his team or car. The Rocketman is only a top 20 guy each week, but his past success at Pocono keeps him in play even at $9,500 (5 top 10s in the last 5 Pocono races).
18. Aric Almirola (8,300) – The Cuban Missile lived up to his name during the green-white-checkered finish at Dover. Almirola's Pocono stats leave much to be desired, but his 2015 stats trump past track performance. He's 12th in standings with an average finish of 16th in the $8000 range.
19. Clint Bowyer (9,200) – It's a little early to say that MWR has figured out their Toyotas, but Boyer performed well at Dover. In 15 out of 18 races at Dover, Clint has finished around the Top 15. He's a safe pick this week.
20. Kyle Larson (10,100) – Larson set the qualifying record at Pocono in 2014 with a speed of 183.438 mph. The only reason he isn't ranked higher is because of the lack of track history. He has 1 top 10 in 2 races at Pocono.