March Madness always gives us plenty of unpredictable upsets, sometimes deep into the tournament. It's going to happen again this year, and it probably will be a team that's not even on our radar. That's usually how this tournament works.
I'm going to do my best to help (or destroy) your bracket this season by looking at who could be some of the deepest sleepers in this tournament. I don't think Syracuse should even be in the field, but if they knock off Dayton in the first round, is that even an upset? Probably not. But if fellow 10-seed VCU were to make a Sweet-16 run … now we're talking.
See who Julian Edlow has as the Top 10 Best Players in this year's NCAA Tournament
To the picks! (And yes I gave away my first one).
10.

VCU
10 seed — West
It may have lost its coach in Shaka Smart to Texas, but VCU still wreaks havoc. This team took a share of the Atlantic-10 regular season title and made it all the way to the championship game in the A-10. The Rams open up against 7-seed Oregon State, which wouldn't be a huge upset, but I love VCU in this game. The real thrill starts in the next round when VCU would likely get Oklahoma and based on its tournament history, this is a game they can compete in.
---
9. Pittsburgh
10 seed — East
Much like the above scenario, Pitt taking down Wisconsin wouldn't be anything to write home about but if they can get it done, its a team that can give a legit Xavier team a run for its money in the second round. I have Xavier winning the game in my bracket, but if you're looking to be different, Pitt is well coached and knows how to play with elite teams.
---
8. Gonzaga
11 seed — Midwest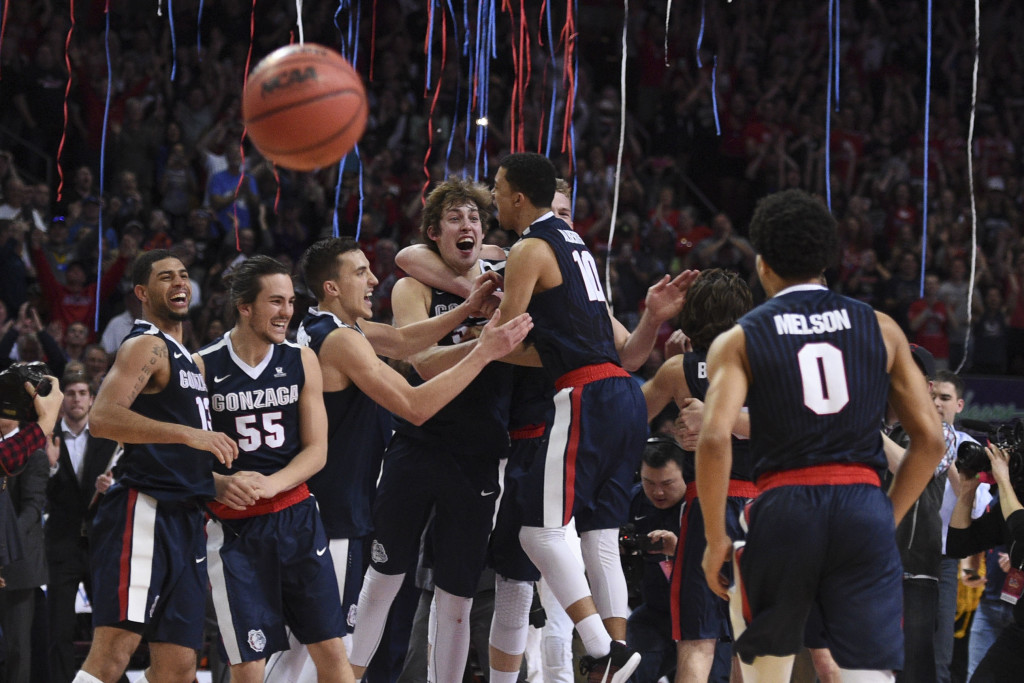 Gonzaga vs. 6-seeded Seton Hall is pretty much a pick 'em game. That says a lot about how highly thought of the Zags are come March. The contrarian pick is almost to go with Seton Hall in this scenario since they're rarely in this position. But the Zags have a ton of talent to not only compete with Hall but also Utah in the next round. Gonzaga to the Sweet-16 as an 11-seed is a very real possibility … especially if Utah were to go down.
---
7. Northern Iowa
11 seed — West
Northern Iowa taking down a 6-seed in Texas won't have nearly the same popularity but I think they have a real chance in this one. Shaka Smart being on the opposite sideline scares me but this UNI team was 3-0 vs. the top-25 this season, including a win over No. 5 Iowa St. AND No. 1 overall UNC! Talk about big win potential…
---
6. Michigan
11 seed — East
The Wolverines snuck into the tournament and are kind of difficult to figure out. "Top-50 wins" were very important to the committee this season — something Michigan had four of. Pretty good until you realize they went 4-11 against those top-50. That said, Tulsa STINKS, so it's easy to like them in their play in game. That would leave the Wolverines with a very winnable matchup against the Irish … a game I like them in.
---
5. South Dakota State
12 seed — South
Bracketology rule: You must take a 12-seed over a 5-seed. Typically I abuse this rule … in 2013 and 2014 I think I took all eight 12-seeds combined and they actually went 6-2. I'm not as in love with them this season but a couple can pull it off. The Jackrabbits are one of those teams. They went 26-7 this season but get matched up with an elite Maryland team that showed No. 1 overall potential during the season. If they had a better matchup, I'd love SDSU but they can take this game if Maryland continues their sluggish play.
---
4. Yale
12 seed — West
Yale is going to beat Baylor. Baylor is way more athletic, way more talented, and should absolutely win this game. However, Yale has won 17 of its last 18 games, and can actually ball much better than you probably think they can. The rest of my explanations are pure gut feeling, which is why I'll probably just look like an idiot when Baylor wins. But remember, if Yale wins I'm a genius.
---
3. Hawaii
13-seed — South
Now we're getting into serious upset territory. Cal is a really talented team. They probably have four NBA players, including a pair of lottery picks. But the Bears are running straight into the buzz saw that is the Hawaii Rainbow Warriors! In all seriousness, this team went 27-5, which is pretty damn good no matter the schedule. Their best defense is that they only lost by three points to Oklahoma, so they know how to do battle with a powerhouse. No matter who wins I really feel this is going to be a close game but what the hell, I'm going Rainbow Warriors!
---
2. Iona
13-seed — Midwest
Iona stole Monmouth's bid by knocking them out in the Metro Atlantic Championship. As a result, the Gaels are one of the hottest teams entering the Big Dance. Their eighth win in a row happens to be the best win of the season for Iona, who now has to face Iowa State. Led by Georges Niang, this would be a tough upset, but Iona's the type of hot team that could pull it off.
---
1. Fresno State
14-seed — Midwest
Time for the LONG shot. Fresno stole San Diego State's bid in the Mountain West and they've actually been a red hot team over the past couple of months. The Bulldog's last loss in regulation came on February 3rd and they enter as winners of nine straight. I like this Fresno State team a lot, the problem is Utah is a really, really good team. It's very hard to pick against Utah, despite the whooping Oregon put on them, but Fresno St. is the type of 14-seed that has a puncher's chance.
Find me on Twitter for comments: @julianedlow
---