Welcome to Wednesday and the monstrous 14 game slate that we have to work our way through. We have a TON of teams expected to put up high totals tonight as there are 11 teams projected to put up 76+ points. There are a number of juicy match-ups that we need to take advantage of as well as a few games that could be sneaky for fantasy purposes. Let's take a look at who we should be considering and as always, hit me up on Twitter (@Razzle11Grinds) with any questions you may have!
Guard
Studs
Anthony Barber, NC State ($9,300) vs UNC – Barber is coming off of a couple of rough performances and he had a very rough game against UNC the first time they faced off, however I think with this one being at home Barber is going to come to play in this one. This game offers us the second highest projected total of the night and NC State is going to do whatever they can to pull the upset.
Maurice Watson Jr., Creighton ($8,300) vs Marquette – Early look at the Wednesday night slate has me definitely in love with Watson as a play. He gets a home match-up with a Marquette team that he just put 41.75 fantasy points against. Watson has taken 52 shots over the last three games and has averaged 38 minutes over that stretch. Creighton is expected to be one of nine teams expected to score 77+.
Demetrius Jackson, Notre Dame ($8,200) vs Wake Forest – This game is expected to see 160+ points put on the scoreboard in this one and the last time these two faced off Jackson went for 44.75 and he approached a triple-double that night for the Irish. This game is going to be an exciting one to target and I would not blame you for wanting to stack it in your GPPs.
Justin Jackson, UNC ($6,900) vs NC State – I want to get a piece of UNC in this game against NC State and Jackson seems like the most logical choice as he is playing extremely well for the Tar Heels. He has gone for 28+ in four straight games and is trying to step up to be the number 2 man behind Brice Johnson, which is what UNC needs down the stretch.
Other Options – Gary Payton II ($10,100), Damion Lee ($7,900), Josh Hart ($7,900), J.J. Frazier ($7,900), Bryant Crawford ($7,800), Jordan Woodard ($7,000), Quinndary Weatherspoon ($6,800), Peter Jok ($6,600)
Values
Allonzo Trier, Arizona ($5,900) vs Colorado – Trier went for 35.5 fantasy points the last time out and seems to be getting back into game shape following his injury. Trier's price is still $900 less than what it had gotten to in December. I want to take advantage of that while I can and Arizona is expected to win a pretty close one on the road.
Haanif Cheatham, Marquette ($5,500) vs Creighton – Cheatham is coming off of a 37.25 fantasy point performance and the dude has HAM in his name, what else do we need? Cheatham has been extremely impressive in his freshman season and if it wasn't for Ellenson, would be Marquette's best player at this point in the season. He did struggle a bit the last time these two teams met, however I want to trust his solid play over the last month or so a bit more than that one game.
Caleb Martin, NC State ($5,400) vs UNC – It's tough to predict which of the Martin's is going to pay off his price point, so I am going to go with the one that would appear to have the highest upside in this match-up tonight. Caleb has gone for 30+ points in 3 of his last 5 games and ironically those are the only 3 games in which he eclipsed the 30 minute mark over his last 5.
Robert Hubbs III, Tennessee ($5,100) vs South Carolina – Normally I want to find you some guys in the low $4K's to put in this spot, but I could not just throw Hubbs in the other options. Punter has been lost for what could be the season and Hubbs had to step up last game and he definitely did as he went for 32.75 fantasy points. Hubbs has always had the ability to randomly put up impressive game point totals and now the Vols need him to do a bit more.
Other Options – JaJuan Johnson ($5,700), Anthony Clemmons ($5,200), Que Johnson ($4,900), Cody Martin ($4,900), Anthony Collins ($4,800), Shembari Phillips ($4,600)
Forward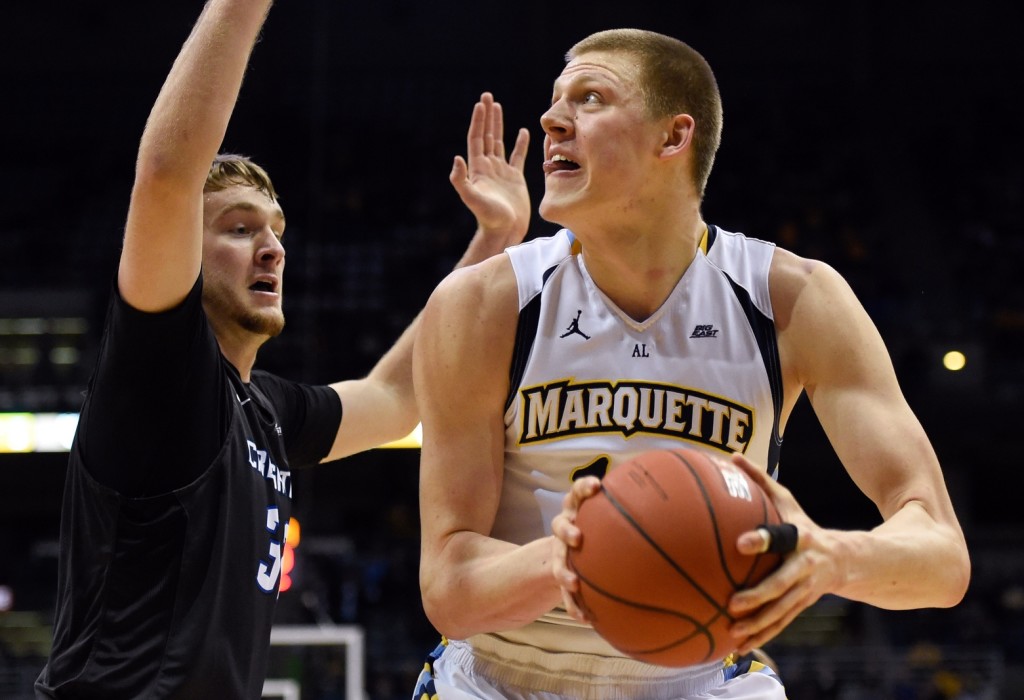 Studs
Henry Ellenson, Marquette ($9,100) vs Creighton – Ellenson has a pretty ridiculous upside and while I am a bit worried with this game going on the road, I just can not ignore what he has the ability to do for a Marquette team that I thought would be a little bit better than this, this year. Creighton gives up 53.3% of the points that they allow from 2 point territory, so I expect Marquette to attack the paint in this one.
Jarrod Uthoff, Iowa ($9,000) vs Wisconsin – Uthoff and Iowa are coming off of an embarrassing loss to Penn St and now get a pretty hot Wisconsin team at home. The narrative is there as Uthoff is a former Badger and he seems to always come to play against them. He has gone for 34+ fantasy points in 7 of his last 10 games, with a high of 55.25 coming just two games ago. His three point shooting has been a bit cold recently, however we know that the Badgers are traditionally destroyed by the outside shot.
Michael Carrera, South Carolina ($8,400) vs Tennessee – As much as I would LOVE to see Carrera still priced in the 7500-7900 range, I can not lie to you, I am going to have a lot of Carrera as this match-up just looks extremely juicy at home for him. South Carolina is one of five teams expected to put up 80+ points tonight and a guy like Carrera should be able to get us a monster double-double.
Bonzie Colson, Notre Dame ($7,000) vs Wake Forest – With Auguste coming into this game with a knee issue and being questionable, I have to really like Colson against a very weak interior. Wake Forest is dealing with the suspension of their best player, Devin Thomas, and the dismissal of a promising front court member in Cornelius Hudson. Colson could dominate the paint area in this one against a very inexperienced weak front line.
Other Options – Brice Johnson ($10,000), Armani Moore ($8,500), Cinmeon Bowers ($8,300), Dillon Brooks ($8,100), Chinanu Onuaku ($7,900), Abdul-Malik Abu ($7,500), Tres Tinkle ($6,900)
Values
Khadeem Lattin, Oklahoma ($5,800) vs Oklahoma St – Lattin put up 26.5 fantasy points the last time these two teams met and even though I swore to myself that I would not recommend him again, here I am looking at him in this home game for Oklahoma as he is coming off of a monster 42.25 fantasy point explosion. I don't necessarily want to chase that point total, however I do know that Lattin has the ability to run very hot and when he is at his best he is racking up boards, getting put backs, blocking numerous shots and stepping into passing lanes.
Doral Moore, Wake Forest ($5,300) vs Notre Dame – I do not know what to do with Moore in this one as his price has rocketed up $2200 over the last 10 games and now I do not think he is an automatic plug and play. He obviously has the upside as evidenced by his last game as he went for 37.25 points in just 20 minutes of action. While ND does not have a top defense, they are definitely better than Boston College is so we could see some regression back to the 20-ish fantasy point mark. He has been extremely efficient so far and if that continues, he could certainly pay off at $5300.
Mark Donnal, Michigan ($4,800) vs Northwestern – Donnal is coming off of a 42.25 fantasy point performance, which followed up a 26.75 fantasy point performance just a week ago. Both of those games came on the road and Donnal gets to head back home tonight. Donnal has fallen into a rut for awhile, however he had shown us some flashes of fantasy upside this season and while I do not think he goes for 40+ in this one, I think he has a very good shot at going for 25+ which is more than enough.
Deng Adel, Louisville ($4,300) vs Pittsburgh – I was EXTREMELY impressed watching this kid compete against Duke as he stepped up to take on Ingram on the defensive end and he really took him out of the game before being switched onto Allen and Kennard to bother them late. This kid is going to be extremely good and I really hope he is able to stay healthy going forward. We do get him at an $800 price jump after he put up a solid 22.75 points. There will be ups and downs with this talented freshman, however I am willing to take those chances after the way he played against Duke.
Other Options – V.J. Beachem ($5,700), Leyton Hammonds ($5,500), Vitto Brown ($4,900), John Collins ($4,900), Isaiah Hicks ($4,700), Toby Hegner ($3,900), Derek Reese ($3,500)