The weekend is upon us and what better way to get into the weekend than with some really high scoring CBB games? The Friday night slate brings us just 4 games to work with, however those 4 games have over/unders of approximately 139, 152, 153 and 164. Let's take a look at who we should be considering and as always, hit me up on Twitter (@Razzle11Grinds) with any questions you may have!
Guard
Studs
A.J. English ($10,100) – English probably has as high of an upside as Felder does, but at a cheaper price point. He actually plays in the game expected to be the highest scoring of the night and the last time these two teams met, English went for 64.5 fantasy points. There is bad blood between these two teams as it nearly turned into an all-out brawl at the end of the last game.
Justin Robinson ($9,100) – Robinson went for 47.25 fantasy points the last time these two met and as I said there is definitely no love lost between these two. The last game saw 212 points put on the scoreboard and while I would bet the under on that number, the game is projected to see 160+ points scored. Robinson's upside is below English and Felder, however he is the number 1 guy on Monmouth.
ShawnDre' Jones ($6,500) – There is going to be plenty of points put up in this game as VCU loves to speed things up and due to that, Richmond is going to get the tempo boost. Jones went for 35.25 fantasy points the last time these two teams met. Jones plays big minutes for Richmond so I would expect him to see 35+ in this one.
Other Options – Kahlil Felder ($11,400), Isaiah Williams ($7,400), Makai Mason ($6,700), Korey Billbury ($6,400), Micah Seaborn ($6,300)
Values
TeVonn Walker ($5,800) – Valpo gets a big time tempo boost in this game tonight and are expected to put up 80+ points. Walker put up 24 game points the last time these two teams met as Valpo put up 84 points en route to a 17 point road victory. Walker has always been capable of monster games, but has lacked the consistency needed. He makes the ideal GPP play tonight.
Devin Cannady ($4,900) – This is the second time that Princeton has been a part of a slate this season and it will be the second time I have brought him up as a value play. Cannady put up 26.5 fantasy points the last time these two teams met and is coming off of a 28.75 fantasy point performance in the last game for the Tigers.
Collin Stewart ($3,900) – Stewart may be the biggest beneficiary of the injury to Deon Jones over the long run as he should see a boost in minutes. We have already seen Stewart show us a 30 fantasy point upside on the season and in a fast paced, high-scoring game he certainly could approach that kind of a night with how he is able to shoot it.
Other Options – Nick Victor ($5,800), Je'Lon Hornbeak ($5,100), Trey Davis ($4,800), Doug Brooks ($4,700), Myles Stephens ($3,200)
Forward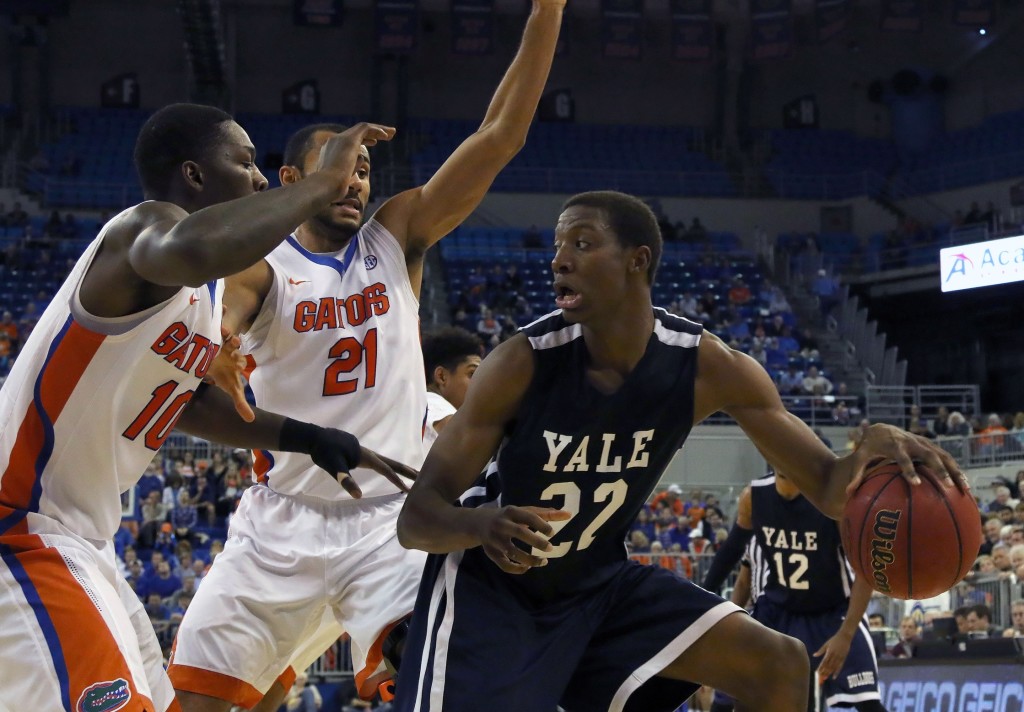 Studs
Justin Sears ($8,400) – Sears is Yale's top player and while he may not offer much more than a 50 fantasy point upside, that is all we really need to more than payoff his price point tonight. The last time against Princeton, Sears managed to put up 49.5 fantasy points. His usage has taken a step up since that game and with the increased rate, he could definitely bypass that last performance against Princeton.
Henry Caruso ($7,700) – Caruso was one of my top plays the last time we had a chance to use them and he definitely paid off by putting up 41 fantasy points and tonight he gets to face a team that he went for 26 game points and 38.5 fantasy points against just three weeks ago.
Jordan Washington ($6,200) – Washington had a huge role in the near brawl at the end of the game the last time these two teams met and he had to deal with a suspension because of it. He exploded in his first game back from that suspension and then went cold over the next handful of games. I expect him to come out motivated in this one and he could certainly go 50 as he went for 51.5 in that first game back.
Other Options – Terry Allen ($9,400), Alec Peters ($8,400), T.J. Cline ($7,800), Vashil Fernandez ($6,300)
Values
Aaron Rountree ($5,700) – Rountree has been playing extremely consistently for Iona and has been a beast on the defensive end as he has racked up blocks in a hurry over the last few weeks. Rountree has 15 blocks over his last 4 games and while the match-up is not idea, the over/under makes it intriguing enough that I think Rountree can pay off his price point.
Marshall Wood ($4,700) – Wood is a way to differentiate our lineups with a small slate as he has big time upside that goes along with an extremely low floor. Wood is capable of getting scorching hot from three point land and when he does that, he racks up fantasy points in a hurry. He saw 30 minutes the last time these two teams met as a F who can handle the ball a bit against the pressure of VCU.
Other Options – Brandon Sherrod ($5,900), Steven Cook ($5,300), Pete Miller ($5,200), Justin Tillman ($4,500)