We have a really nice 10 game slate for a Tuesday and a few of the games offer extremely nice match-ups from a fan standpoint as well as a fantasy standpoint. Let's take a look at who we should be targeting in tonight's games!
Guard
Studs
A.J. English ($9,800) – English has ridiculous upside as we recently saw with his near 70 point fantasy outburst. In his last game out he managed 49 fantasy points while taking just 8 shots which shows you how English is able to rack up fantasy points. The Tulsa back court doesn't play much for defense, so I would expect English to continue his impressive ways.
Daniel Hamilton ($8,600) – Hamilton put up a 50 fantasy point performance his last time out and we get him at a $100 discount compared to the last time we were able to use him, I just don't get it! Hamilton is due for a triple-double any game now and a big time game like this one could certainly be where he steps up and gets it.
Caris LeVert ($8,100) – LeVert is rounding into form after missing most of last season due to injury. He has put up back to back 41+ point fantasy outings and SMU has nobody that can keep up with his athleticism in this one. I think its safe to predict another 40+ fantasy point performance tonight.
Shaquille Harrison ($7,600) – I think this game could be full of fantasy goodness and I expect somebody from Tulsa to try and keep up with English and the best bet to do that is Harrison. He has shown us nearly 60 fantasy point upside this season and that kind of upside for just 7.6K is definitely worth targeting in GPP's.
Other Options – Demetrius Jackson ($8,000), Zeek Woodley ($7,600), Trevon Bluiett ($7,400)
Values
Joe Thomasson ($5,500) – Thomasson has slumped a bit of late, however he has gone for over 43 fantasy points already this season and to get 45 fantasy point upside for just 5.5K is something I will look to do every night. Thomasson is definitely a GPP play as he has struggled the last few times out.
Austin Tillotson ($5,400) – Tillotson is the opposite of Thomasson as he has been playing really well and is coming off of a 10 3-point attempt game in which he put up 28.5 fantasy points. The reason I point out the 3-point attempts is that Tillotson and Colgate take on the zone defense of Syracuse tonight. Tillotson also has 4 games of 7+ assists on the season.
Ahmad Walker ($4,600) – Walker is an excellent GPP option as he is coming off his worst performance of the season while also battling foul trouble. Walker has three games of 33+ fantasy points this season and at just 4.6K you can not argue with the upside.
Other Options – Deyshonee Much ($5,200), Michael Oguine ($4,800), Devonte Hall ($4,400), Grant Benzinger ($4,100), J.P. Macura ($3,800), Biggie Minnis ($3,600)
Forward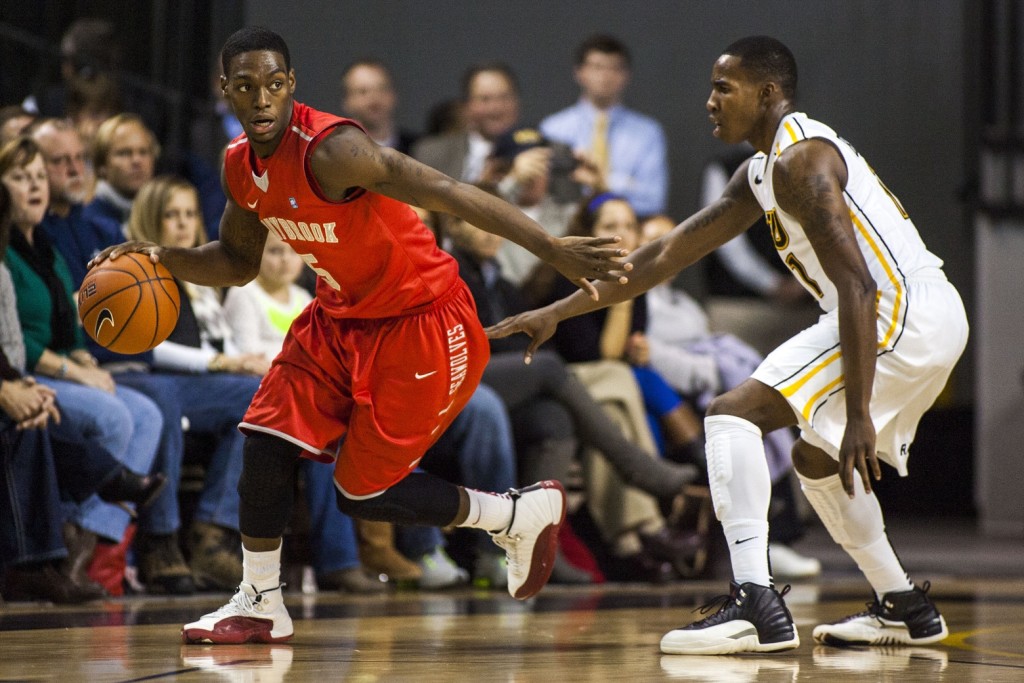 Studs
Jameel Warney ($9,000) – Warney has a really tough match-up against the interior of Notre Dame, however it's extremely tough to ignore the 70.75 fantasy points that he put up his last time out. Warney's lowest output as far as fantasy points goes this season is 36 points so he offers an excellent floor along with an extremely high ceiling.
Michael Gbinije ($8,000) – Gbinije is an excellent cash game option as he is such a big part of the Syracuse offense and seems to be very safe for 35+ fantasy points. He doesn't offer the same ceiling as some of the others around his price tag as I would put it around 45-50 fantasy points.
Zach Auguste ($8,000) – Auguste vs Warney is going to be a great battle to watch as Auguste has double digit rebounds in all but 1 game so far this season. Auguste offers us 60 fantasy point upside while offering us a pretty similar floor to Gbinije, maybe slightly lower.
Dorian Finney-Smith ($8,000) – DFS is doing great things for the Gators so far this season and has managed 41+ fantasy points in three straight, even while struggling at times from the field. He has an outside shot at a triple-double in this game and that upside is tough to ignore at just 8K.
Taurean Prince ($7,600) – Prince has gone for 44+ fantasy points in 3 of his last 4 and I think he gets overlooked as most see Gathers and his double-doubles and are instantly drawn to that. Gathers is a solid cash game play, however Prince is the one I want in GPPs.
Other Options – Devin Williams ($7,600), Martin Breunig ($7,500), Tyler Lydon ($6,900)
Values
Rayshaun McGrew ($5,200) – McGrew is coming off of a 31 fantasy point game and the team is going to need him against Notre Dame as Warney is going to get all of the attention. I think McGrew's ceiling is around 35 fantasy points which would nearly be 7x, and I can't complain about that.
Ishmael Lane ($5,000) – Lane has similar upside to McGrew, however he does have a tougher match-up as he takes on the interior of Baylor in this one. Lane is definitely a GPP play as he does offer us that 7x upside, however he has a floor of about 2.5x in this one.
Fabijan Krslovic ($4,500) – This is going to be a tough match-up for Krslovic and Montana as it is very tough sledding against the front line of Gonzaga. At just 4.5K it is really tough to ignore somebody who has a 33.75 and 35.25 fantasy point performance already this season.
Kamari Murphy ($3,500) – Murphy's minutes have crept up over the last two and he has responded with 44.5 fantasy points in those two games. At just 3.5K, you can not ignore the 22.25 fantasy point per game average over the last two as he has stepped into the starting lineup.
Other Options – Ivan Cruz Uceda ($4,200), Isaiah Wilkins ($4,000), Tom Rivard ($3,800), Aaron Rountree ($3,000), Brandon Watkins ($3,000), Anthony Lawrence Jr ($3,000)