Welcome to another Wednesday as we get 7 games that offer team totals ranging from 63 to 87 points as well as some big time basketball players, some of who you may have never heard of. There are a number of GPP style cheap guard plays available tonight so you will want to put in a little extra research to pick the one, two or even three that you think are in the best spot.
Guard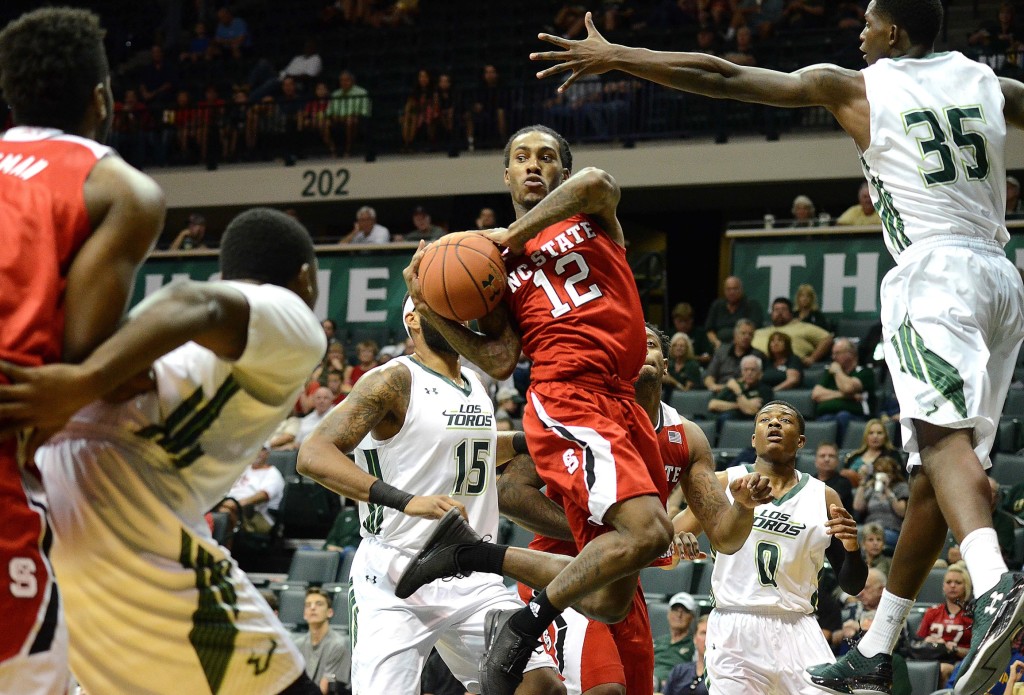 Studs
Anthony Barber ($8,500) – Barber is super quick which is why he is referred to as Cat Barber. He has struggled a bit with his shot so far this season, however that has not stopped him from continually firing away. He gets to the foul line a ton and is not afraid to mix it up for rebounds. NC State has the 4th highest team total on the night and Barber should be the one that you target in this game.
Marcus Paige ($8,100) – I love how Paige plays as he never seems to get to high or too low during a game. He is still rounding into form as he has just 3 games under his belt so far this season. I expect an explosive do everything game at some point in the near future. The one thing that scares me is the fact that he tends to play passively against second tier teams. With that said, UNC is without Kennedy Meeks in the middle so Paige may have to step up a bit.
Patrick McCaw ($8,100) – McCaw really disappointed fantasy owners two games ago and I think some may hold that against him which should keep his ownership down. He is coming off of a 47 fantasy point performance and is very easily capable of approaching 50 in a game. He has multiple steals in every game so far this season with a high of 7 in a game. Blocks and steals are a way to shoot up the leader boards in a hurry.
Elijah Brown ($7,800) – I debated Rathan-Mayes in this spot however Brown has been much more consistent while being able to approach 45 fantasy points. I think XRM has the higher ceiling however Brown has the higher floor and has a higher share of his teams shots. UNM has a team total of 74 points in this game.
Other Options – Xavier Rathan-Mayes ($7,400), Kris Yanku ($7,200), Trey Freeman ($6,900), Ian Baker ($6,700), Craig Sword ($6,600), Louis Dabney ($6,100)
Values
Trey Davis ($4,800) – Davis is coming off of a 31.25 fantasy point game and has a high game of 42 earlier this season. He does not take a ton of shots, however he chips in everywhere and is capable of racking up numbers in all categories. He unfortunately offers us a 14 point floor, which means he should be considered for GPPs only tonight.
Torry Johnson ($4,800) – Johnson plays a ton of minutes for NAZU while putting up a decent amount of shots. The one thing that is scary is the fact that he is scoring dependent as far as fantasy goes, even though he does have 1 double-double on the season so far. This game is not expected to be very close, so NAZU is going to need all the scoring they can get.
Ike Nwamu ($4,200) – The last time we got to use Nwamu I recommended him and he went out and laid a dud but he bounced back last game and put up 21.75 fantasy points in 27 minutes. UNLV is expected to win a close game in this one and Nwamu's athleticism will certainly help them get that W. He offers us a 25 point ceiling at this point which is good enough for 6x return.
Quinndary Weatherspoon ($3,000) – I was trying to figure out why Weatherspoon was the minimum and I just could not find a reason at this point as he offers us 30 fantasy point upside while having gone for 22.5, 15.25 and 26.25 fantasy points over his last 3 games.
Other Options – Matt Taylor ($4,800), Justin Simon ($3,800), Ahmad Caver ($3,800), Cameron Reynolds ($3,800), Jorge Perez-Laham ($3,300), Haiishen McIntyre ($3,200), Von Julien ($3,200), Marcus DeBerry ($3,200), Andre Fox ($3,000)
Forward
Studs
Pascal Siakam ($10,100) – Siakam offers ridiculous upside as he could approach 70 fantasy points in any game he plays as he has an insane rebounding rate while being the team's best offensive player and drawing an insane amount of fouls per 40 minutes. Siakam is certainly not cheap, however I think you have to find a way to get him into at least one of your lineups.
Terry Allen ($8,900) – Allen has put up a 60 fantasy point game already this season and has been playing excellent basketball for Richmond. He should be able to dominate the interior in this one. If you feel the desire to fade Siakam, I would make sure you have exposure to Allen this evening.
John Brown ($8,500) – Brown is another guy who has gone for over 60 fantasy points in a game this season and even though this match-up is tough, I think Brown will step up and do his best to keep High Point in this game. Brown has approached a triple-double so far this season so that shows you how important he is to this team.
Gavin Ware ($8,000) – Ware offers us 50 fantasy point upside while being Mississippi St's best player in a game with a total of 154 points. He is coming off a game where he fouled out and managed just 22.25 fantasy points and that may keep people off of him and that is just fine by me. The one thing that bothers me is the fact that he does not get to the line very much even though he has a solid skill set and is capable of getting to the rim.
Dylan Osetkowski ($7,000) – Osetkowski is a GPP play at $7K as he generally does not look for his shot, however he rebounds extremely well and is capable of putting up 40 fantasy points while finding his way to a double-double. The match-up is tough as he goes up against UNC, however he does a great job of not fouling on the defensive end.
Other Options – Tim Williams ($7,900), T.J. Cline ($7,200), Stephen Zimmerman Jr. ($6,700)
Values
Ben Carter ($5,500) – I really like Carter as he flies under the radar but keeps putting up very solid games for UNLV. He has low-30's fantasy point upside and is coming off of a 28.5 fantasy point performance in his last game. This game is expected to be close and that is when guys like Carter generally step up and make big plays.
Isaiah Hicks ($5,200) – I am all over Hicks tonight as I expect him to get a ton of minutes with the loss of Kennedy Meeks. Hicks is coming off of a 21.25 fantasy point performance while playing 23 minutes and I would expect those minutes to creep closer to 28 in this game. I do wish Hicks' price was a little lower, however the $5.2K price tag might keep his ownership down slightly.
Jernard Jarreau ($4,900) – Jarreau is a transfer from Washington who originally was transferring to Oklahoma St, but managed to end up at Tulane. He offers us 30 point upside in a game that Tulane is going to need to show up with energy to even think about having a chance. He is certainly capable of putting up a double-double in this game and should benefit from the lack of Meeks in the middle for UNC.
Zoran Talley ($4,600) – Talley might be my favorite F value play as his minutes have been on the incline recently and he has responded with some very nice fantasy performances for ODU. He has averaged 14 points and 7 rebounds over his last two games, while showing the ability to avoid foul trouble all season long which is going to be important against Richmond.
Tarique Thompson ($3,400) – Thompson does not play a ton of minutes, however he is very active when he does see the court and offers us 20 fantasy point upside while playing just 14-18 minutes per game. He is coming off of a 14.25 fantasy point game in which he saw just 14 minutes of action. He is basically a point per minute performer and should he ever end up seeing 20+ minutes for any reason at all he would destroy his value.
Other Options – Beejay Anya ($5,200), Denzell Taylor ($4,400)