As the NCAA Tournament gets underway it's popular tradition to remember the all-time greatest upsets in March Madness history. Let's flip that around, because it's even more fun to remember the greatest near upsets that we almost had.
A 16-seed has never beaten a 1-seed… but five of them have come pretty damn close.
---
10. #16 Seed – Fairleigh Dickinson
1985: First Round vs. 1-seed Michigan
A really good 26-3 Michigan team turned out to be not nearly the team they were expected to be. They crept past Fairleigh Dickinson 59-55 but then lost to 8-seed Villanova by the same exact score in the next round. That 'Nova team went on to become the lowest seed ever to win a National Championship, taking down Patrick Ewing's Hoyas in the final — one of the greatest successful upsets of all time.
9. #16 Seed – Princeton
1989: First Round vs. 1-seed Georgetown
This is commonly known as the closest a 16-seed has ever come to victory. It didn't go to overtime but Princeton had two looks at game-winners in regulation, both of which were rejected by Alonzo Mourning. Mourning finished with 21 points and 13 rebounds, virtually doing it all for the Hoyas. Princeton kept themselves in this one by keeping it wildly low scoring but ultimately fell short 50-49.
8. #16 Seed – East Tennessee State
1989: First Round vs. 1-seed Oklahoma
TWO top seeds almost went down in 1989 and both of them were just as close. East Tennessee State somehow got off to a 17-point lead in this one in the first half. That cushion gave them a chance but a talented Oklahoma team led by Mookie Blaylock and Stacey King got just enough done to win by a point, 72-71.
7. #16 Seed – Murray State
1990: First Round vs. 1-seed Michigan State
Yes, a top seed has been taken to overtime before. Murray State knocked down a 3-pointer to force OT before Steve Smith's Spartans just barely pulled away, 75-71, in the extra five minutes. How was Murray State able to hang around in this one? Popeye Jones, of course! Popeye played all 45 minutes and went for 37 points and 11 boards.
6. #16 Seed – Western Carolina
1996: First Round vs. 1-seed Purdue
This Purdue team was very well-rounded but lacked a star. Western Carolina made that very evident as they stuck with the Boilermakers for the entire game. Western Carolina was able to get off a 3-point attempt for the win and a 2-point attempt for overtime, but both barely missed and Purdue hung on for a 73-71 win.
5. #11 Seed – Loyola Marymount
1990: Elite Eight vs. 1-seed

UNLV
This was the season that the legendary Hank Gathers passed away after collapsing on the floor during a game for Loyola Marymount (this was Reggie Lewis before Reggie Lewis). 11-seeded LMU averaged 139 points per game that season (not kidding) and in wake of the death of its best player, fought all the way to the Elite Eight. They knocked out New Mexico State, defending champ Michigan AND Alabama on the way, before falling short to the stacked top seeded UNLV — the game wasn't close but the fact that LMU even got a shot at UNLV in this bracket is amazing in its own right.
4. #10-seed – Gonzaga
1999: Elite Eight vs. 1-seed UConn
Gonzaga was relatively unknown at the time until bursting onto the scene in 1999. The Bulldogs knocked off Minnesota, Stanford and Florida as underdogs before falling to eventual champion UConn by just five points in the Elite Eight. This was the run that sparked the Zags to become the team we know them as today. For the Huskies, it was their first of four championships. Richard Hamilton was at the helm of this particular championship run.
3. #11 Seed – George Mason
2006: Final Four vs. 3-seed Florida
GMU might have lost by 15 in this one but they were an 11-seed in the Final Four! They did what none of these other Cinderella teams were able to and knocked off top seeded UConn in the Elite Eight. George Mason also knocked off Michigan State and UNC on the way, behind lots of senior leadership and five players averaging 11+ points per game. Imagine if they'd been able to make the title game …
2. #10 Seed – Davidson
2008: Elite Eight vs. 1-seed Kansas
"Dell Curry's son is a decent little shooter who is fun to watch at Davidson," said everyone in 2008. Turns out Steph Curry is pretty good but it all started his sophomore season when he put Davidson on his back in the NCAA Tournament. This 10-seed knocked off the Zags and then 2-seed Georgetown and 3-seed Wisconsin behind 103 total points from Steph. Curry had a bad shooting game on his way to 25 points in a 59-57 loss to top seeded Kansas (who went on to win it all) and was denied an attempt at a game-winner. Yes, we were robbed of Steph in the Final Four.
1. #5/#8 Seed – Butler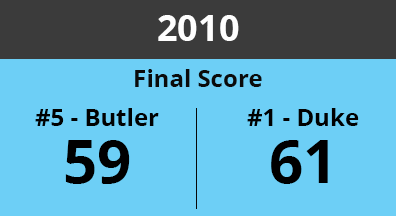 2010: Title Game vs. 1-seed Duke
2011: Title Game vs. 3-seed UConn
We now know Butler as a staple in March thanks to Brad Stevens building up the program during this stretch. At the time they were building it, the Bulldogs were absolutely shocking the world. A small school like Butler in back-to-back title games? In 2010 they knocked of top seeded Syracuse, Kansas State and Michigan State before losing to Duke by the slimmest of margins on Gordon Hayward's full-court heave. After losing Hayward to the NBA, Butler came right back as an 8-seed to run through another 1-seed in Pittsburgh, Wisconsin and Florida before meeting … 11-seed VCU in the Final Four, of course. Butler went on to lose to Kemba Walker's Huskies.
Find me on Twitter for comments: @julianedlow
---